Why does BBC Worldwide not make more profit for the Licence Fee payer?

Brian Butterworth published on UK Free TV
Looking at the current disagreement between the BBC Trust (BBC Trust: Mark Thompson's claims are 'bizarre' - ITV News) and former Director General Mark Thompson ( Mark Thompson: Chris Patten misled parliament over BBC payoffs - Media - The Guardian ) has me thinking.

In particular the revelation the " BBC agreed to fund £687k payoff after executive's move to commercial arm - Media - theguardian.com "

"The BBC agreed to fund a redundancy payoff of nearly £700,000 to a former senior executive using licence fee money, after she moved to BBC Worldwide, the corporation's commercial arm. "

It has always struck me that BBC Worldwide seems to be operated as a plaything of the BBC management. So I have gone though the entire Annual Reports from BBC Worldwide (BBC Worldwide Annual Reviews) and plotted the income and profits. As they date back to 1995, I have adjusted the values using the Retail Prices Index.




It does appear that over the years, BBC Worldwide has tripled the income, but the return to the Licence Fee payer has been poor. Looking at the percentage profit made, you can see: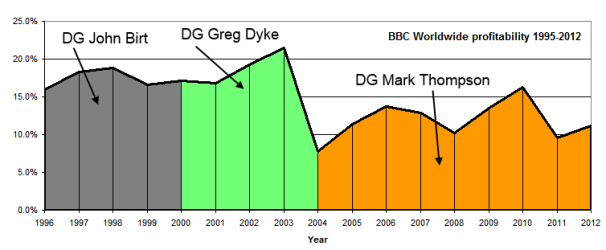 This does rather suggest that BBC Worldwide is performing poorly in terms of the income it makes to reduce the Licence Fee.

If BBC Worldwide had maintained the average performance between 1995 and 2003, which was 18% profit, the BBC would have had an extra income during Mark Thompson director-generalship of £595 million (at 2012 prices).

Which is rather more money than the alleged £30 million wasted on management payoffs.

But what can be done?

The best suggestion I can come up with is to convert BBC Worldwide into a public liability company, with perhaps 51% of the shares remaining with the BBC. You could argue that would provide a much needed cash reserve for the BBC's UK operations, and going forward BBC Worldwide plc might be keener to make a profit with shareholders, rather than BBC managers, keeping a watchful eye.

I would be interested to hear if anyone has any better ideas.
Comments
Thursday, 20 February 2014

Briantist: No matter who heads the BBC, nobody is going to do a perfect job, or be a perfect person (something Douglas Adams might have occasionally agreed with!).

You were quite right to point out that even a figure like Reith was, in reality, less than perfect, and anyone who thinks that the BBC should be sliced and diced because of 'scandals' should take the long view.

If you look at the list of BBC scandals from the twenties onwards, many would have been front page news today, but were hushed up or dealt with via backroom deals. Peter Eckersley's love life might have been public knowledge after Dorothy Clarks divorce, but before that it was very much kept within the establishment. Likewise, the coverage of the General Strike simply would not have been allowed today, and Churchill's absence from the BBC in the thirties would be a clear cause celeb.

You can see why the BBC becomes more controversial from the late 1950's onwards - more output and a changing attitude to sex, religion, class and politics. Try watching an interview with Macmillian from the late fifties - bland would be the kindest description. By the early sixties, TW3 is lampooning politicians in a way that simply didn't happen before (and TW3 only got away with it because they were part of Current Affairs, and so didn't have to abide by BBC rules on comedy). There is a reason that Mary Whithouse starts 'Clean Up TV' in 1964 - there are finally things on it that actually might offend her.

For the past 30-40 years, the BBC has had to deal with upset politicians, moralists and anyone else who does not like something. As technology has got more immediate, there is less time to censor, check or think about what goes out, and there is more output than ever before. They also have to put up with more ideological sniping than before - the critics very often have an agenda.

Thanks to Twitter and 24 hour news, you can create a storm out of anything, and the BBC is often so keen to show how unbiased it is by reporting every problem in far worse a light than most peple on the street think it actually is. Perhaps some perspective is needed next time there are questions raised about the BBC and its leadership.

MikeB's 2,579 posts

MikeB: What you say makes much sense.

Nothing is perfect and having a system where providers are in it for their own gain still does not result in everything going the way consumers would like.

As I say, the BBC makes a mistake and it does so in an effort to provide a public service. It picks itself up and learns from it.

A private company makes a mistake and it does so in an effort to fulfil its own interests.

Dave Lindsay's 5,724 posts
Select more comments
Your comment please