9 weird ways that the weather will actually stop you watching free TV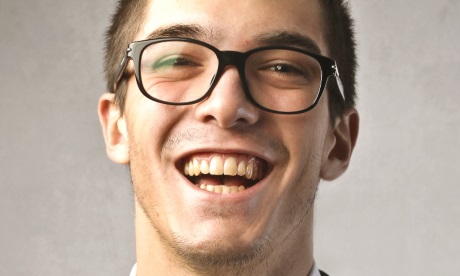 1. No satellite signal? Check your dish for snow!
Normally, if you get 'No Signal' or 'Technical fault' on your Sky or Freesat box there is a solution:
What can I do when my Sky Digibox says 'No Signal' or 'Technical fault'?
However, if it has snowed you will also find the same message. And there is nothing wrong with your box, or viewing card. This time it is the simple matter of there being snow on the dish or LNB. See more at
No satellite signal? Check your dish for snow!
2. What is the Inversion Effect and why does it effect my Freeview TV reception?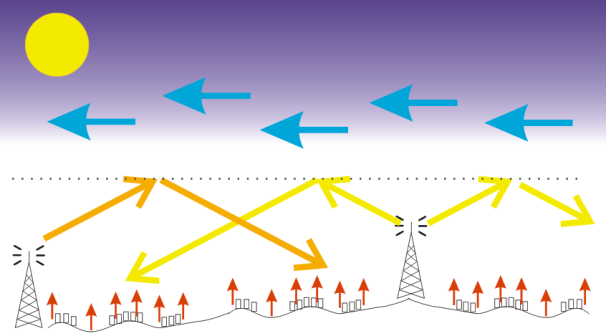 When there is high atmospheric pressure (
BBC Weather - UK Pressure chart
) as the sun heats up the ground the warm air gets trapped underneath the colder air higher up. At the point where the warm air gets trapped under the cold air this creates a layer that is, in effect, a mirror for the television signals.
I recommend you look at the
Tropospheric Ducting Forecast for VHF and UHF Radio and TV
page for a current forecast - yellow, orange, red, and pink indicate that conditions are perfect for the effects listed above. See
What is the Inversion Effect and why does it effect my Freeview TV reception?
3. Your satellite TV signal is scatted by rain

"Rain fade refers primarily to the absorption of a microwave radio frequency (RF) signal by atmospheric rain, snow or ice, and losses which are especially prevalent at frequencies above 11 GHz. It also refers to the degradation of a signal caused by the electromagnetic interference of the leading edge of a storm front." See
Rain fade - Wikipedia, the free encyclopedia
Which free digital TV system will give me the most reliable reception? - Freeview Interference - ukfree.tv - 11 years of independent, free digital TV advice
4. Seasonal tree growth is now in the way of your aerial
The TV signal needs a line-of-sight from the transmitter to your aerial and anything that gets in the way and is connected to the ground will do exactly what your aerial does and grabs a bit of the signal. In the winter the tree will absorb a little of the signal, but you can still watch TV. However, as the leaves grow they act as bigger and bigger aerials themselves and block the signals from getting to your aerial. In effect the aerial is in the "shade" of the transmitter!
5. The wind has rattled your rooftop aerial and now it's pointing the wrong way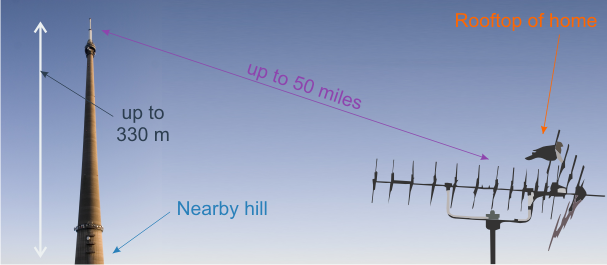 If it's been windy, you might find that the Freeview signal is not working. It is also sensible to check that your aerial has not been moved or damaged by wind or weather as first step.
For good reception, the roof top aerial should be pointing directly at the transmitter mast. If, for some reason, it no longer is you will need to replace it. For safety reasons, you should use a professional: falling from roof-height is invariably fatal.
BBC News - Entertainment - Rod Hull dies in rooftop fall
Which free digital TV system will give me the most reliable reception? - Freeview Interference
6. Rain water has got into your aerial cable because you didn't loop it
The coaxial cable that is carrying the signal to the interior of the building is exposed to the weather.
Sometimes the cable can also carry out the not desired function of a water pipe: rainwater can be piped through the coaxial cable and finish in the your TV or set top box.
The simple solution is a loop right before the connector deflecing water drops towards the outside. More at
Info 11 - May 2012 - Televes
7. Your aerial has been hit by lightening
Yes, it does happen. From
BBC News - Lightning strike hits Bolton house 'melting' the curtains
A lightning bolt hit a house in Bolton, blowing a hole in the roof before it travelled down the chimney, exploded in the fireplace and "melted" the curtains.
Margaret Hart, 70, and her husband had to stay with a neighbour after the strike destroyed the fuse box and blew light switches off the walls.
8. The TV transmitter has iced up ... and fallen down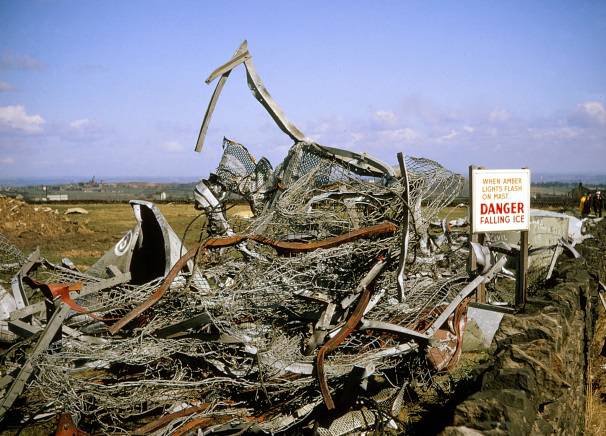 "if you had been watching BBC North television forty years ago, you might remember this happening to your picture! Screens across Yorkshire went blank after the one thousand two hundred foot tall transmitter collapse in icy weather"
(Photo from
41. Collapse of Emley Moor TV mast - 1969 - Flickr - Photo Sharing!
)
9. An extremely powerful solar flare destroys all the satellites around the world
"When aimed directly at Earth, major solar flares and coronal mass ejections can pose a threat to astronauts and satellites in orbit. They can interfere with GPS navigation and communications satellite signals in space, as well as impair power systems infrastructure on Earth."
See
Solar Flare, 2013's Most Powerful So Far, Sparks Radio Blackout, NASA Says (PHOTO)
HowStuffWorks "Solar Flares and Coronal Mass Ejections"
Comments
Wednesday, 15 January 2014

Think you forgot one. If the sun is directly in the line of sight of a satellite dish the signal may be lost for some minutes.

trevorjharris's 367 posts
Thursday, 16 January 2014
Ron Lake
5:17 AM
Wakefield

I was learning to drive when this was being built and we went up to Emley Moor every day to see the progress. They had a board on the end of one of the site huts recording the height on that particular day. Wish I had taken pictures.

Ron Lake's 73 posts

trevorjharris: Good point. Sun outage - Wikipedia, the free encyclopedia details it. I was trying to work out a calculator to say when it would happen at a specific location. Predicting Solar Outages - Sun Interference seesm to have details.

Briantist's 38,844 posts

Ron Lake: I've always had a soft spot for Emley Moor Mast.

Some of my school friends lived in Skelmanthorpe, so I was often in the area.

No need for a TV aerial!!!

Briantist's 38,844 posts

Briantist: But Brian, you always say a rooftop aerial is required!

Dave Lindsay's 5,724 posts

Dave Lindsay: How true! But in Skelmanthorpe you didn't use a top-top aerial, you just put a TV somewhere and it worked.




Looks like things have not changed...

Briantist's 38,844 posts

Briantist: And of course it is a tower rather than a mast. It holds the record of being the tallest free-standing structure in the UK.

The concrete for the foundations was poured 24 hours a day for three weeks!

Dave Lindsay's 5,724 posts

Dave Lindsay: Yes, indeed. Emley Moor is 20.9m taller than The Shard.

Briantist's 38,844 posts
Ron Lake
11:51 PM
Wakefield

And unlike the shard was NOT financed by the saudis lol. Forgot to mention. I was learning in a BUS, strange sight at the side of the building site, a bus with 'L' plates haha. Dave, I was referring to the metal one that fell down by the way. I am now almost 70. I reckon it was only standing for about 10 years. Not sure just how long they were 'off air' but I believe the BBC were the first back on, a very weak and watery signal from an outside broadcast 60 foot 'Eagle Tower.


Ron Lake's 73 posts
Friday, 17 January 2014

Ron Lake: Have you read this?

mb21 - The Transmission Gallery

All you ever wanted to know about Emley Moor transmitting station.

Dave Lindsay's 5,724 posts
Select more comments
Your comment please