Your suggestions (and my corrections) for 2014 please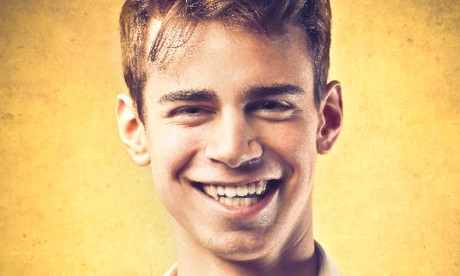 Brian Butterworth
published on
UK Free TV
Firstly, here is a list of some of the "backend" changes I have made to UK Free TV.


Special transmitter details
Caldbeck (Cumbria, England) transmitter
now shows the ITV
Border England
and ITV
Border Scotland
services
.

Ridge Hill (County of Herefordshire, England) transmitter
: I have merged together two entries for
Ridge Hill
(a legacy of the
analogue
ITV-1 service, back in 2006 -
ITV West extended to North Gloucestershire
) and the ITV
West
service is now shown on the same page as all the rest.

Rowridge (Isle Of Wight, England) transmitter
: Thanks to serling work from
Sean
we now have notification from Arqiva about the correct transmission details for com7 and com8 from that
mast
.

Transmitter Meta Tags
If you search on Google and get information up about transmitters from UK Free TV, the "meta" information now shows the correct number of multiplexes and all of their
channels
and powers.

Interfaces with Twitter and Facebook
I have obtained better icons for the sites listed in the
Zeitgeist
section. So, if you look at a "Read This" page, you see a better look, for example
Read this: London Live reveals its bright lights for the big city - Media - theguardian.com
now looks like
When such a page is posted on Facebook, it now keeps the correct large icon: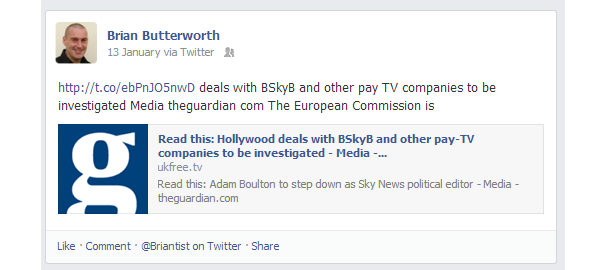 And pages posted on Twitter now get the full format for the extended tweet:
http://t.co/KAbovDRm8o MikeB has posted Mike Dimmick Hopefully certain parties might read your summing up of the BBC 039 s benefits put

— Brian Butterworth (@Briantist) January 15, 2014
Over to you
One in 20 people from the UK visited UK free TV last year. I would love to be able to extend the site to make it useful to more people.
I would love you to tell me how the site could be made even better so we can
help
even more people enjoy
Freeview
,
Freesat
,
Sky
(No
Card
) and online TV viewing.
Comments
Thursday, 16 January 2014
B
Bob Huckin
9:08 PM
Nottingham

I think the site is pretty much spot on as it is.
As a Freeview + HD viewer, it's invaluable in letting me know when additional channels are imminent and when to retune the box.
Continued good luck with it all.

Bob Huckin's 9 posts
Bob's:
map
B's Freeview map
terrain
B's terrain plot
waves
B's frequency data
B's Freeview Detailed Coverage

Briantist: The site is incrediably useful, and I've learnt a great deal from it in a relatively short time. There was some discussion a little while ago of how to alert people to FAQ's and what sort of information those asking a question should include, so perhaps something along those lines might be useful.

The thing I do notice which does need an upgrade is the 'Connecting it all up' page Connecting it all up | Installing | ukfree.tv - 11 years of independent, free digital TV advice . It dates back to 2006, and even in the last 3/4 year, a lot has changed on the back of a TV.

HDMI is now the main connection, and for a 32in and above 3 is average (4 or 2 sometimes, depending on the brand/cost). On all 3D TV's (and many 2D ones as well), one of the is Audio Return Channel (ARC), which allows a 1.4 HDMI cable to communicate with a home cinema system or soundbar bi-directionally. Some high level TV's will also have a HDMI 2.0 input for 4K, etc.

There is just one scart now, and on certain brands, it is highly likely to be a kind of plugin system, with the wires hanging down. You will still have RGB inputs , but the yellow RCA (Composite) phono input has gone this year, although the Red/White ones remain for use with the RGB.

VGA/DVI has long gone (modern laptops have HDMI outputs and wifi/DLNA has made this less useful anyway), but you will instead often find at least one USB (often 3 on a higher level set).

Digital opitical (SPDIF) still remains, as does the 3.5mm headphone socket (apart from HDMI, now the only ways to get an audio signal out of a set), as does the UHF socket (!), and there are often F connections (for Freesat or generic sat. tuners).

In a similar vein, pretty much no blu-ray player has analogue outputs, and very few Freeview HD boxes (Humax, Philips and Segam do). HDMI is now the standard.


MikeB's 2,579 posts

MikeB: Thanks very much for that.

I appreciate your feedback on that page.

Google says there are "About 139,000 results" for ukfree.tv - so it is sometimes hard for me to remember to go back and look at pages.

Briantist's 38,906 posts
Friday, 17 January 2014

1) Don't muck it up by going all Yahoo! It's nice to have a page that is mostly useful content.
2) Remove the big picture background and stock photos. I sometimes use this site over VNC and images are slow.
3) If you want to grow revenue I would expand into Europe

Tim's 8 posts

I like the information you provide but am still not clear how I get at it! I receive your emails on certain topics and sometimes (like now) post a comment but afterwards I can't see a way to access these topics (and my comments). I the way is there, it can't be obvious or, surely, I would have found it. I would also like to see a list of all the topics I have commented on and hence see all my posts.
Also, occasionally, I make a post and when that topic comes up in your email, the post is not there.
So, what I am saying is that I (personally) would like to have the access to the topics/posts more clearly shown so that I can keep track of the items that I am interested in.

Thanks

Tony Hill's 65 posts

Tony Hill: To see what you've ever posted - click on "37 posts" next to your name to see your posts: All posts by Tony Hill | ukfree.tv - 11 years of independent, free digital TV advice

Or... at the top right you will see "Site settings".

This should show the first link as "Tony Hill's comments". You can access your posts from there.

Perhaps this needs better signposting?

Briantist's 38,906 posts

Tim: If you make the browser window less wide, then the background picture will disappear entirely.

I'm not intending to make the site like Yahoo, that I can confirm.

Can you explain a bit more what you mean by "expand into Europe"?

Thanks

Briantist's 38,906 posts
Sunday, 19 January 2014

Tony Hill: I've been thinking about your comments and I have made the following changes.

First, I have made the format of the setting box clearer. Your picture will appear at full 60x60 size, and I have changed the wording of the "flat blue links" to, I hope, make it clearer what they do, and who for.




The second example here is of how the same blue links appear by a poster's message. To assist with the understanding of what the "9 posts" link does, I have changed the wording to make it clear that it links to "Username's 9 posts"





As these are cached by the server's file system, you might find it takes a few hours for them to regenerate in the new format.



Briantist's 38,906 posts
Monday, 20 January 2014
T
Tony Hill
10:53 AM
Dorchester

Briantist: Very useful update. Thanks


Tony Hill's 65 posts
Tony's:
map
T's Freeview map
terrain
T's terrain plot
waves
T's frequency data
T's Freeview Detailed Coverage

Tony Hill: Thanks. Let me know if you have any additional thoughts.

Briantist's 38,906 posts
Select more comments
Your comment please