Your suggestions (and my corrections) for 2014 please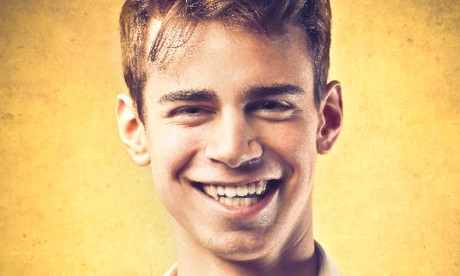 Brian Butterworth
published on
UK Free TV
Firstly, here is a list of some of the "backend" changes I have made to UK Free TV.


Special transmitter details
Caldbeck (Cumbria, England) transmitter
now shows the ITV
Border England
and ITV
Border Scotland
services
.

Ridge Hill (County of Herefordshire, England) transmitter
: I have merged together two entries for
Ridge Hill
(a legacy of the
analogue
ITV-1 service, back in 2006 -
ITV West extended to North Gloucestershire
) and the ITV
West
service is now shown on the same page as all the rest.

Rowridge (Isle Of Wight, England) transmitter
: Thanks to serling work from
Sean
we now have notification from Arqiva about the correct transmission details for com7 and com8 from that
mast
.

Transmitter Meta Tags
If you search on Google and get information up about transmitters from UK Free TV, the "meta" information now shows the correct number of multiplexes and all of their
channels
and powers.

Interfaces with Twitter and Facebook
I have obtained better icons for the sites listed in the
Zeitgeist
section. So, if you look at a "Read This" page, you see a better look, for example
Read this: London Live reveals its bright lights for the big city - Media - theguardian.com
now looks like
When such a page is posted on Facebook, it now keeps the correct large icon: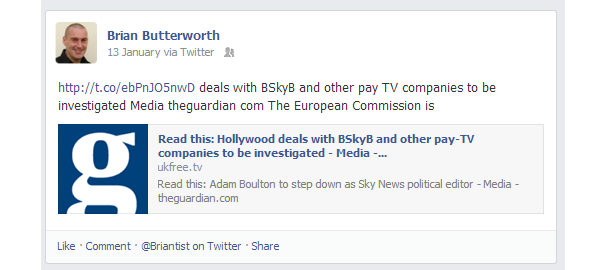 And pages posted on Twitter now get the full format for the extended tweet:
http://t.co/KAbovDRm8o MikeB has posted Mike Dimmick Hopefully certain parties might read your summing up of the BBC 039 s benefits put

— Brian Butterworth (@Briantist) January 15, 2014
Over to you
One in 20 people from the UK visited UK free TV last year. I would love to be able to extend the site to make it useful to more people.
I would love you to tell me how the site could be made even better so we can
help
even more people enjoy
Freeview
,
Freesat
,
Sky
(No
Card
) and online TV viewing.
Comments
Monday, 20 January 2014

Tony Hill: Thanks. Let me know if you have any additional thoughts.

Briantist's 38,908 posts

Brian, can you do an article of dream boxes.
In particular what you can and cannot do with them.
Can you provide a list of possible channels available?

Jpurkis's 82 posts

Can I change my name and Email address easily without losing my previous posts?

Jpurkis's 82 posts
Tuesday, 21 January 2014

Just a tiny presentational suggestion - it would be very helpful if the UHF CHANNEL NUMBERS could be more prominently displayed beside the PSBs and COMs, they are what we need for tuning.

I wouldn't need to ask if my filing system (brain) was better organised. I've probably got the list in 10 different places and can't find any of them!

Patricia's 8 posts

Patricia: I'm really not sure what you mean. I'm not sure how much more "prominently" you want them?







Sorry if I'm missing what you mean.



Briantist's 38,908 posts
T
Tony Hill
1:27 PM
Dorchester

Briantist: Just one other thing, perhaps. The other day I was looking for a list of all the questions/email topics (not just the top questions) and I found an A-Z (I think it was A-Z) listing of them all but I don't know how I got there.

Perhaps a direct menu heading as a link would be useful - to me anyway!

Tony Hill's 65 posts
Tony's:
map
T's Freeview map
terrain
T's terrain plot
waves
T's frequency data
T's Freeview Detailed Coverage
Sunday, 26 January 2014
C
Charles Stuart
7:28 PM
Bristol

In the days of analogue TV, it was very easy for a competent DIYer to install a TV aerial. With digital, it is much harder. Could I suggest a tool where one inputs a postcode and the program generates a list of transmitters likely to serve the address and the direction in degrees that one should point an aerial? As an example, Mendip is almost due south of me, so my postcode of BS15 1EF would generate a direction close to 180 degrees, maybe 177 or 183 degrees. I realize that sometimes an obstruction or some other thing can cause an effect that means that reception is slightly better if the aerial is slightly out of alignment but I think my idea would generally work.

Charles Stuart's 159 posts
Charles's:
map
C's Freeview map
terrain
C's terrain plot
waves
C's frequency data
C's Freeview Detailed Coverage

Charles Stuart: Digital UK already has such a tool. If you are to be entirely accurate then you will need to take into account how far Magnetic North is from either True North or Grid North (depending on which Digital UK uses).

Dave Lindsay's 5,724 posts

Charles Stuart: That said, I don't think it's that critical and there are probably factors that will be more likely to cause poor reception such as objects between the transmitting and receiving antennas.

Dave Lindsay's 5,724 posts

Dave Lindsay: I thought that the difference between grid north and magetic north was about one degrees at the moment?

Magnetic Declination



Briantist's 38,908 posts
Select more comments
Your comment please