Been missing the Digital Switchover? Good news! There is going to be another

Brian Butterworth
published on
UK Free TV
I must admit that I have been occasionally called to task to when I posted here on UK Free TV some possible changes to the Freeview transmission frequencies for around 2018. It does rather seem as if this warning was as accurate as it was well intentioned.
The "700" band.
Going back to the May 2012, I introduced Ofcom channel bingo II - introducing the bands.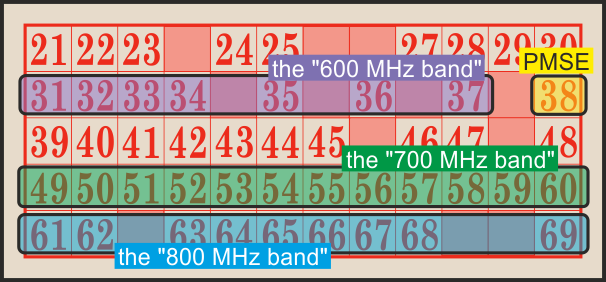 At DSO the "800MHz" band, the old C61-C69 was given over to 4G services. At the moment, the "600MHz" band is used for the interim Freeview HD channels, and the "700MHz" for Freeview.
What the plans now approved by Ofcom commit to, is to removing the "700MHz" band – C49 to C60 and auctioning it to the 4G mobile broadband networks.
"These international developments are important because mobile spectrum needs to be used internationally to provide the economies of scale required to ensure a wide availability of devices at reasonable cost." … "EU states to … make the 700 MHz band available for mobile data use by no later than 2022" [1]
What does this mean for the viewer?
In the end, it should mean more-or-less the same Freeview service for most homes.
One thing is certain, and that is Ofcom "will not seek to ensure the continued delivery of the interim multiplex", so that will be the end of the extra Freeview HD services.
Because there will be a need to provide the same TV services in less broadcast frequencies there may be some knock-on effects. This MAY include moving the COM multiplexes to DVB-T2 transmission, so they will only work with Freeview HD boxes.
The change in frequencies may also need some homes to change their aerials (to wideband, if they don't have them) and very tiny number may need the "4G" filters.
Timescales
Looking at the Arqiva indicative timescales [2]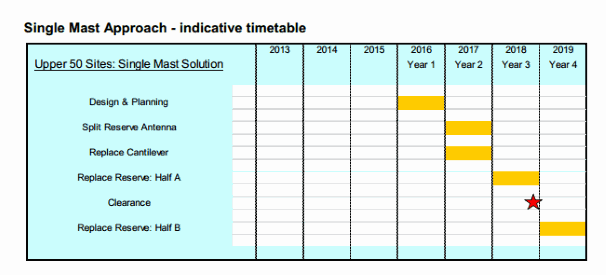 It would seem that switchover events might take place in 2018.
Will this be the last change?
"The report also recommended that the 470 MHz -694 MHz band continue to be reserved for terrestrial broadcasting and PMSE until 2030" so it could be that there will be more changes in the coming decade.
What does this mean for the broadcasters?
The following diagram shows how the main Freeview masts operate.
The preferred plan that Ofcom has indicated is the Arqiva "Reduced Scope' Solution (RSS) plan.
This will mean that some reduction in DTT power output levels will be acceptable whilst the services are moved to the reserve (in the sense of a "backup") outputs. Whilst the reserve is in use the primary systems will be change to operate on the new frequency allocations.
Once the national "clearance event" happens, the backup transmitters will be change to work on the new frequencies. The obvious issue here is that the DTT system will be running without a backup – at least from some masts for some time.
Keeping the backup systems in place would require the provision of up to 21 temporary masts. Given that the whole network of transmitters is still less than a decade old, it might be reasonable to think that the system will operate OK without the backups.
[1] Ofcom - Decision to make the 700 MHz band available for mobile data – statement - 19 November 2014
[2] 700MHz High Level Estimate Single Hop & PSB MFN/COM SFN Plans - Arqiva Limited, May 2014
Comments
Saturday, 22 November 2014

I agree with Mr Stuart - It is very annoying, particularly for the the elderly & technophobes who can be very upset by disruption to their beloved TVs. Sadly in the end this about Money, Money & More Money, so it is going to happen, and I believe this is only the start of it.

Sometime in the next decade access to high speed internet is going to reach a critical mass and I predict that DTT is going to get pruned right back. I can see a situation where only a single mux remains for 'public safety' reasons.

James's 11 posts
J
Jane Moore
4:36 PM
Ballyclare

will senior citizens be out of pocket as these changes always costs money?

Jane Moore's 2 posts
Jane's:
map
J's Freeview map
terrain
J's terrain plot
waves
J's frequency data
J's Freeview Detailed Coverage

As an experienced TV engineer for many years and Technical Training Manager (now retired) I think there is a misconception, at least in Charles Stuart's offering, as the 600 MHz band is well utilised for Freeview transmissions - especially the HD services. The frequency range from around 450 MHz all the way up to high in 700 MHz range is currently used for Freeview and Freeview HD multiplexes.
Selling off the band above 700 MHz means that the required services have to be crammed into ever more crowded spectrum. To do this many services have reduced 'bit rates' meaning poorer results that are more susceptible to problems.
Further, the concept that TV 'broadcasts' can be transfered to the internet is seriously flawed as the service is not likely to be as widely available as is RF transmissions and many will not have a fast enough service to watch TV without constant buffering. The Government's requirement is for a 2Mbps service and that is no good enough for TV. OfCom are clearly being driven by the commercial desires of the mobile phone companies and ignoring the wants/needs of average TV viewers. As a regulator, they fail the 'customer comes first' test in my opinion.

MikeP's 3,056 posts

Totally agree, Ofcom are a total waste of time, they are only interested in the next greasy palm coming there way.

Ian's 497 posts
Ian's:
map
I's Freeview map
terrain
I's terrain plot
waves
I's frequency data
I's Freeview Detailed Coverage
Sunday, 23 November 2014
M
Mr David Blake G3MWV
9:02 AM
Cromer

This is another case of Ofcom going mad money making. The frequency bandwidth for public television transmission should be made wider to improve HD transmissions. In time to come all television will be in HD ? 4K this move will not help in the long run. NO Ofcom you have got this wrong think again of the long term situation not short term money making.

Mr David Blake G3MWV's 2 posts
Mr's:
map
M's Freeview map
terrain
M's terrain plot
waves
M's frequency data
M's Freeview Detailed Coverage

Its already started flim 4+ 1 have moved to HD mux but in SD mode... only Freeview HD TV and boxes will pick it up... but not on SD tv and box.... what a pain.

rob's 171 posts

Mr David Blake G3MWV: the 700 MHz band is being harmonised for mobile broadband use across the EU so it would be very difficult for the UK to go it alone in keeping it for DTT, due to the potential interference.


mark's 181 posts
J
Jeff Eastmond
9:21 AM
Clevedon

@Geoff Friday 21 November 2014 8:04AM

The BBC 'Licence' is more like a Tax. You have to pay it, and the BBC seem to spend more on lining their executives and managers pockets and employing more administrators than producing the programmes which we expect the money to be used for...


Jeff Eastmond's 1 post
Jeff's:
map
J's Freeview map
terrain
J's terrain plot
waves
J's frequency data
J's Freeview Detailed Coverage
A
Alastair Harris
11:07 AM
Southampton

I think what most people want are plenty of channels of good quality with a clear uninterrupted picture.Ever since I've had Freeview I've experienced intermittent pixillation problems,either when there are electrical 'disturbances' in the house,ie. switches,heating going on/off & also at other random times when even half the picture can get 'blocky'. What is the best course of action for this ?

Alastair Harris's 1 post
Alastair's:
map
A's Freeview map
terrain
A's terrain plot
waves
A's frequency data
A's Freeview Detailed Coverage

Extremely annoying. When Winter Hill went digital in 2009, all channels remained at the top end of the band. Since then, at our flats we had to replace two aerials (one corroded, the other blown over), so we purchased band C/D replacements. Now OFCOM is selling off the top end of the band we will have to purchase replacement aerials at considerable cost and inconvenience.

Oh I hear you say, you should have bought a Broadband aerial. Well perhaps we should, perhaps we should have realised that Ofcom would change all the frequency allocations again and again. Perhaps we should go all satellite, where at least Ofcom can't do this as frequency allocations are subject to international agreement through the ITU.

R. Mark Clayton's 2 posts
Select more comments
Your comment please