Been missing the Digital Switchover? Good news! There is going to be another

Brian Butterworth
published on
UK Free TV
I must admit that I have been occasionally called to task to when I posted here on UK Free TV some possible changes to the Freeview transmission frequencies for around 2018. It does rather seem as if this warning was as accurate as it was well intentioned.
The "700" band.
Going back to the May 2012, I introduced Ofcom channel bingo II - introducing the bands.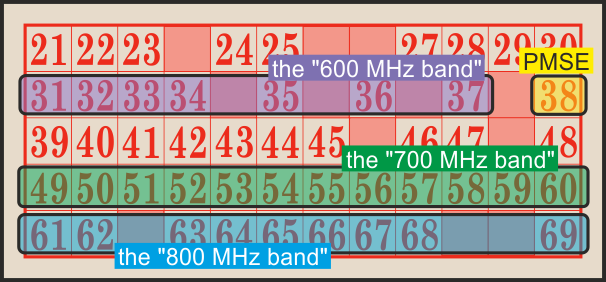 At DSO the "800MHz" band, the old C61-C69 was given over to 4G services. At the moment, the "600MHz" band is used for the interim Freeview HD channels, and the "700MHz" for Freeview.
What the plans now approved by Ofcom commit to, is to removing the "700MHz" band – C49 to C60 and auctioning it to the 4G mobile broadband networks.
"These international developments are important because mobile spectrum needs to be used internationally to provide the economies of scale required to ensure a wide availability of devices at reasonable cost." … "EU states to … make the 700 MHz band available for mobile data use by no later than 2022" [1]
What does this mean for the viewer?
In the end, it should mean more-or-less the same Freeview service for most homes.
One thing is certain, and that is Ofcom "will not seek to ensure the continued delivery of the interim multiplex", so that will be the end of the extra Freeview HD services.
Because there will be a need to provide the same TV services in less broadcast frequencies there may be some knock-on effects. This MAY include moving the COM multiplexes to DVB-T2 transmission, so they will only work with Freeview HD boxes.
The change in frequencies may also need some homes to change their aerials (to wideband, if they don't have them) and very tiny number may need the "4G" filters.
Timescales
Looking at the Arqiva indicative timescales [2]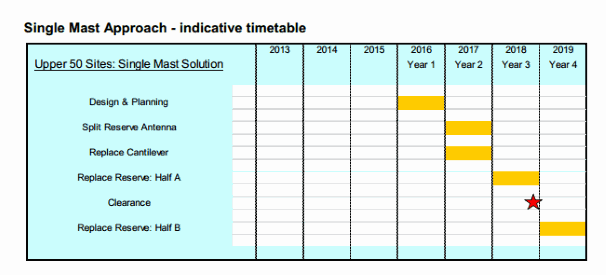 It would seem that switchover events might take place in 2018.
Will this be the last change?
"The report also recommended that the 470 MHz -694 MHz band continue to be reserved for terrestrial broadcasting and PMSE until 2030" so it could be that there will be more changes in the coming decade.
What does this mean for the broadcasters?
The following diagram shows how the main Freeview masts operate.
The preferred plan that Ofcom has indicated is the Arqiva "Reduced Scope' Solution (RSS) plan.
This will mean that some reduction in DTT power output levels will be acceptable whilst the services are moved to the reserve (in the sense of a "backup") outputs. Whilst the reserve is in use the primary systems will be change to operate on the new frequency allocations.
Once the national "clearance event" happens, the backup transmitters will be change to work on the new frequencies. The obvious issue here is that the DTT system will be running without a backup – at least from some masts for some time.
Keeping the backup systems in place would require the provision of up to 21 temporary masts. Given that the whole network of transmitters is still less than a decade old, it might be reasonable to think that the system will operate OK without the backups.
[1] Ofcom - Decision to make the 700 MHz band available for mobile data – statement - 19 November 2014
[2] 700MHz High Level Estimate Single Hop & PSB MFN/COM SFN Plans - Arqiva Limited, May 2014
Comments
Sunday, 23 November 2014

R. Mark Clayton: "Oh I hear you say, you should have bought a Broadband aerial. "

Not at all. I suspect what you meant is "bought a Wideband aerial", which every single bit of advice that has been given to the public and industry for the last decade has been saying, for this very reason.

Briantist's 38,906 posts

Geoff:" Payview and subscription BBC might be as close as 2018! Is this not NOW called a TV licence?"

Not at all. Please see BBC 2017: Tell me about the 16 options to collect the BBC 4 billion quid a year? and BBC 2017: The problem with turning Freeview into Payview to keep the 3% happy .

Thanks


Briantist's 38,906 posts

Why can't you get subtitles on ITV player?

mal's 5 posts

With the addition of more frequencies being made available for 4G use, does this mean if you have already have, or even possibly acquire a new 4G mobile in the very near future, that it may not work on all the 4G frequencies in a few years time? In other words are the present 4G phones capable of using ALL the present and future planned frequencies?

Moatway's 4 posts

What will this mean for those of who are stuck with Freeview-Lite? We get a very minimal service as it is, if we lose our HD channels because of this change then they may as well just pull down the transmitters and give everyone a dish.

Andrew's 1 post

Moataway. It is probable that most of the 4g phones on the market currently can work on the 700mhz band. I have checked the specs for the Samsung Galaxy S5 and that phone can certainly work at 4g 700mhz & I suspect that is the case for most current 4g phones on the market.

David Pinfold's 42 posts

Andrew: There is no reason why you'd lose your HD channels - in fact with the move to T2 tuners, you may well get some more. You havn't given a postcode, but its not impossible you might get reception from a main transmitter, and of course you could get a dish right now - its often a very good idea of those relatively small numb er of people who can only use a Light transmitter.

MikeB's 2,579 posts
Monday, 24 November 2014

Brian , if mobile networks keep going up a G number every 3 or 4 years ,what happens to to the original frequencies for 2 or 3G use ,can`t they be reallocated to Freeview or mobile use again ?

Richard E's 42 posts

Richard E: to be fair.. They don't do that.

3G came in in 2003, about ten years before 4G.

As 4G is for internet broadband, mobile phones still use GSM and 3G from synchronous communications, phone calls, which is where they make the money.

If GSM is ever cleared it won't be suitable for TV as no TV receivers have ever used the frequency allocations.

Vodaphone has already switched some GSM allocation to 4G.

Briantist's 38,906 posts

I have created an epetition. Though I've focussed the title on a desire to keep the extra HD channels, the meat of the petition is to get the government to stop another retune: Keep extra Freeview HD Channels - e-petitions .

Charles Stuart's 159 posts
Charles's:
map
C's Freeview map
terrain
C's terrain plot
waves
C's frequency data
C's Freeview Detailed Coverage
Select more comments
Your comment please