What is in store for the next round of BBC regional TV cuts?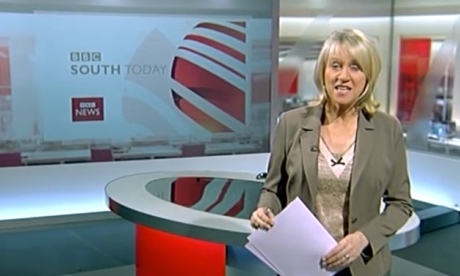 Brian Butterworth
published on
UK Free TV
Here is the cuts graph again, for the period ending 2016/17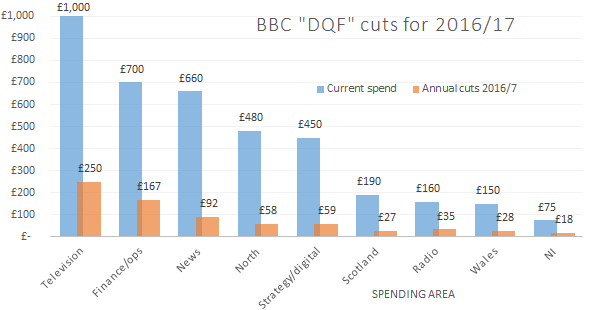 I have looked at this topic before in the Why the BBC should abandon 700+m "regional news" to fund local radio, BBC three… article.
BBC Regional News in England is very expensive - perhaps half of the BBC One budget, if 25% cuts are to be made then the regional news seems an option.
There are basically two options here: reduce the output, or reduce the regions.
Option 1: Reduce the regions
There are 14 regions in England (on top of Wales, Scotland and Northern Ireland). One option would be to reduce that down to 8, each with 12.5% of the homes in. Here is a how that might work out: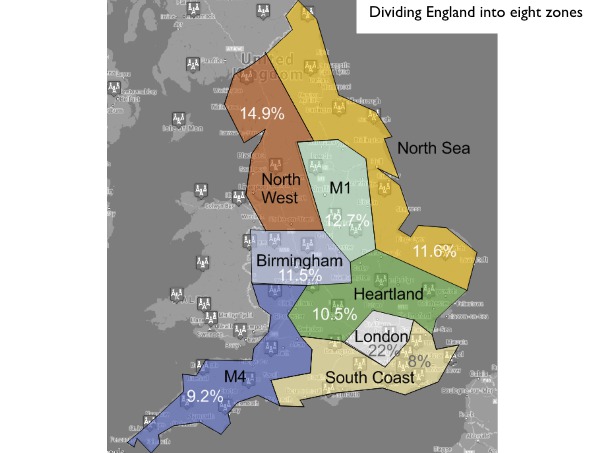 This would mean "joining" some regions ("Leeds" and "East Midlands"), keeping some the same ("North West", "London") and splitting some ("West Midlands"). The above scheme notes that London+Heartland+SouthCoast is 3 eighths in total.
Such a scheme would be more equitable in terms of budget breakdown, but someone, somewhere is going to feel "distant" from their news centre.
These changes would make sense from a money-saving perspective. Larger regions would mean fewer studios and savings on broadcast costs, especially satellite where each BBC One region is broadcast separately.
Here's how the figures work out
Option 2: Reduce the output
Another option would be to keep all the 14 England regions, but reduce the number of broadcast minutes a year.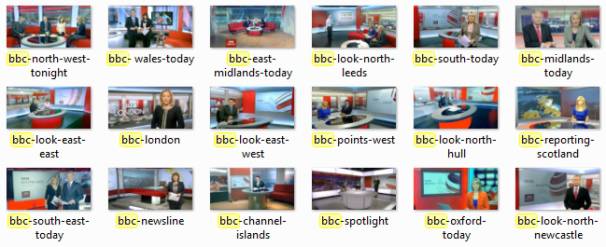 Currently the regions insert their own content for a few minutes per hour during Breakfast weekdays, for a quarter hour at 13:30, half an hour at 18:30, an update at 19:57, seven minutes at 22:25. At the weekend there is segments of Sunday Politics and news updates, with regional documentaries Inside Out.
To save 25% of the budget, the weekday evening programmes could be taken back to 22.5 minute, with shorter late updates and less minutes during Breakfast. The Inside Out programme could be broadcast for only 75% of the current hours.
Compared to Option 1, this option will not reduce the number of BBC studios or satellite broadcasts, but may be more acceptable to the viewer. Extending the national news by four minutes and starting the One Show three minutes sooner could cover the loss somewhat.
Over to you
Would you accept shorter programmes and bigger regions, or the same programmes covering larger regions?
Comments
Monday, 8 December 2014

If you combine the regions as suggested there's not much point in having them at all, I'm in Leicestershire I don't care what's happening locally in Leeds! If I lived in Norfolk and tuned into local news only to find out it was covering Middlesbrough I would be a bit miffed to say the least.

Ian's 497 posts
Ian's:
map
I's Freeview map
terrain
I's terrain plot
waves
I's frequency data
I's Freeview Detailed Coverage
Tuesday, 9 December 2014

Absolutely ridiculous. Some of the regions are too big as it is! Joining South East and South is a nonsense!

Rex's 1 post

I'd agree with many comments above. Here in Gloucestershire, we are very well served by BBC Points West. Forming a region that ran from south of Birmingham to Lands End would be crazy and meaningless in terms of social geography. (We have had experience of ITV's botch of West and South-West areas, and that was too big...).

Savings for me, if required, could come from dropping the bulletins in the BBC1 breakfast programme, as here in the West, the bulletin feels like a Radio Bristol bulletin, with little inclusion of stories from BBC Radio Wiltshire, BBC Radio Gloucestershire or BBC Somerset Sound. Breakfast is a time for BBC local radio.

I'm not that convinced about Inside Out either. Couldn't those stories be a significant item in the main evening regional news?

andrewp's 38 posts
Wednesday, 10 December 2014

I agree with enlarging the North West tv region to take in Cumbria;because it is part and parcel of North West England officially, Cumbria and North East should NEVER have been joined in the first place to be honest.

Anthony's 52 posts
Thursday, 11 December 2014

I live on the division of west Midlands and east of England if I put my post code into my freesat box I end up with west Midlands news which is hereford or stoke on Trent nothing local at all to get my local news from look east west had to put in central northampton post code and now get news for my area have set this up for other people in village

R Watts's 3 posts

R Watts: As you have found out, all the postcode is required for with Freesat is to give the "correct" regional news. Therefore you are free to put in any UK postcode in order to get the desired regional output as the default BBC One and Channel 3 (ITV/STV/UTV).

Dave Lindsay's 5,724 posts

R Watts: That said by Dave Lindsay, including what you have discovered for yourself is the plus point about Freesat, as exactly the same thing can be experienced by viewers who have taken out a contract with Sky.

The problem they have being, that the viewer has no way of altering the situation except by phoning Sky and trying to convince them ("not" always an easy task) that the news services associated with their post code, which is programmed into their viewing card, is not in reality correct for their location, the task being made somewhat easier if the viewer is able to provide the Sky operator with an alternative post code, for example, some premises (large store or Post Office) based in the nearest town known to be well within the area covered by the news services desired, said premises having been chosen from such as the yellow pages.

Once Sky have accepted the basis of the complaint, they will proceed to alter the data programmed into the viewing card via an over-air download, this on some occasions taking a couple of hours or so, the viewer being instructed to leave the box on BBC1 and "not" to alter anything until the screen blanks out for 10 seconds or so, returning with the new info having been programmed into the card.

jb38's 7,179 posts

jb38: Is it not the case that the broadcasters with regional variants set the service area for each and therefore, strictly speaking, the postcode system can't be "wrong".

The coverage area of the terrestrial transmitters is surely going to be a deciding factor in the service area. We don't know R Watts' location, but it is the case that in some places Waltham (East Midlands) isn't available due to the terrain but Sutton Coldfield (West Midlands) is [in the area locals feel more part of East Midlands].

Dave Lindsay's 5,724 posts

Dave Lindsay: The post code system is incorrect for various areas as far as news coverage etc is concerned, as even in my own area of Stamford West, the post code associated with the area results in East Midland news which mainly covers what happens in Nottingham, or in some cases even Derby, likewise the weather affecting same, whereas most who reside in Stamford are involved with Peterborough and surrounding areas.

This by the way, is exactly the same whether it be Sky, Freesat or Freeview.

jb38's 7,179 posts

On sky you can get any bbc or itv region you want, bbc are in the 900s and itv is available in other channel menu.

In my town 90% of aerials point at sutton coldfield, pointless as we are in the east midland, at least sky know where we are.

Ian's 497 posts
Ian's:
map
I's Freeview map
terrain
I's terrain plot
waves
I's frequency data
I's Freeview Detailed Coverage
Select more comments
Your comment please