New! 1000s of new DAB and FM radio coverage maps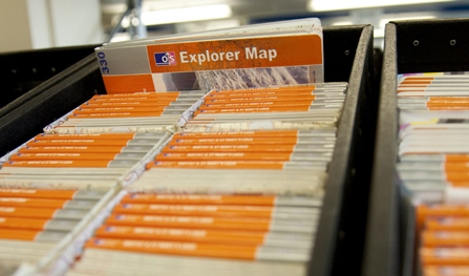 Brian Butterworth
published on
UK Free TV
After 24 hours of eight CPUs chucking away at the data, I can now proudly announce that UK Free TV will now show you coverage maps for all of the UK radio and television transmitters.
In addition, the code has been cleaned up and now provides a consistent interface. You can now always single click to get the coverage and double-click to load up a page of details.
Digital (DAB) Radio
Here is an example from https://ukfree.tv/radio/digitalstations/BBC_Radio_Cymru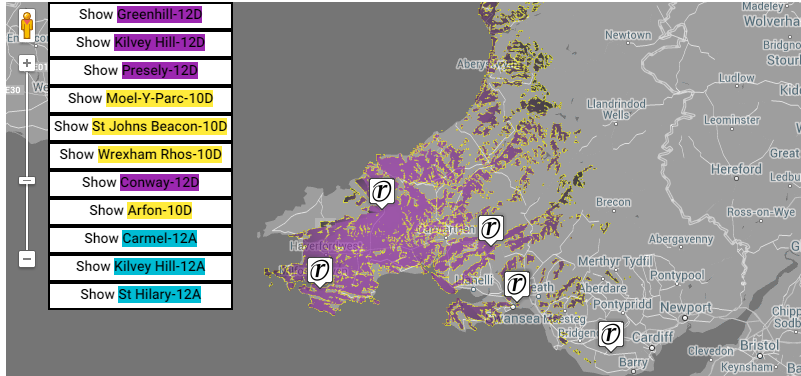 On a map of digital sites, you can click on the buttons at the top right to show a service/mast, or on the marker, or double-click the marker to get the full details. The different colours show the different broadcast "blocks" (transmission frequencies).
Analogue Radio
https://ukfree.tv/transmitters/analogueradio/Llanrhaeadr_ym_Mochnant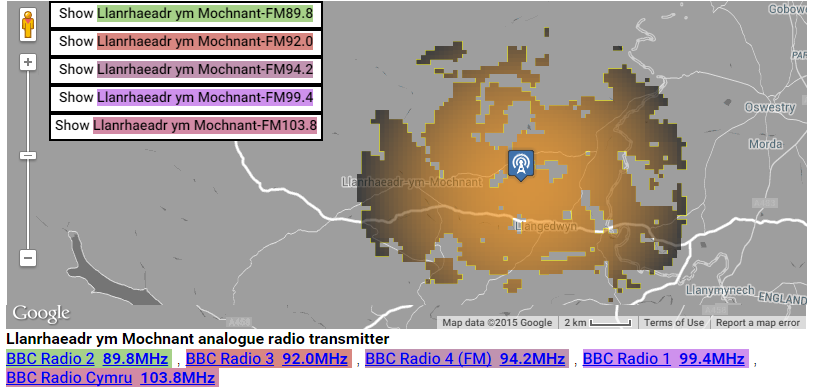 On this analogue map, you can use the buttons to select a frequency and site combination, or click to show a site, or double click for more details.
DAB Multiplex Maps
https://ukfree.tv/radio/multiplexes/11B/Liverpool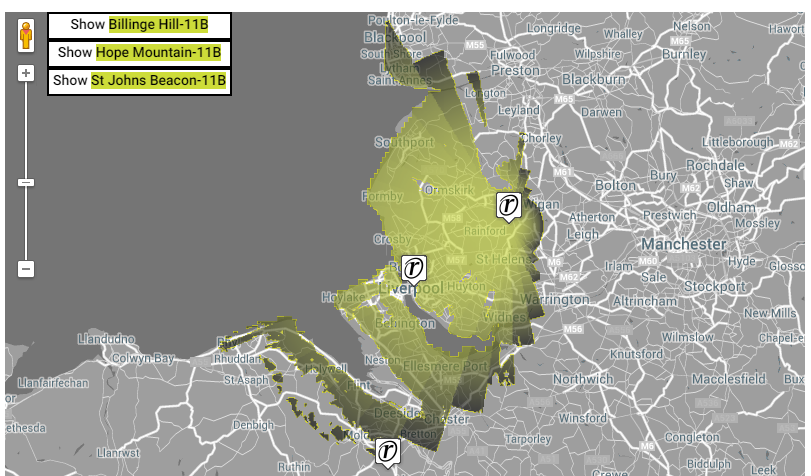 This is a multiplex map, so the colours are all the same.
Enjoy!
I really hope that you find these useful, and enjoy exploring the reception possibilities.
Comments
Thursday, 19 March 2015

Wow Brian!

I love it much better and more clearer... I want to say Well done chap! very impressed.


rob's 171 posts
Friday, 20 March 2015

Brilliant addition to the site. Very useful.

Thanks Brian

Phil's 39 posts

Phil/rob: Thanks. It is always good to hear that the work is useful and appreciated!

Briantist's 38,907 posts
Saturday, 21 March 2015

I'm having trouble on understanding which pages I need to visit after putting my postcode in the settings.

Matt's 22 posts
Matt's:
map
M's Freeview map
terrain
M's terrain plot
waves
M's frequency data
M's Freeview Detailed Coverage

Briantist: Am I right in thinking that these will be right because effectively the radiation patterns are published by Ofcom in its tech parameters spreadsheet? (These being attenuation figures every 10 degrees.)

Dave Lindsay's 5,724 posts
Sunday, 22 March 2015
P
Paul Murphy
9:25 PM
Bourne End

Thanks for your improvement work. I just tried a postcode which showed the wrong transmitter feeding the area. Please look to amend the transmitter for SL8 5DQ. It's not High Wycombe but it should list the Wooburn Transmitter (which is also closer). Your map of the Wooburn coverage area as shown here: Wooburn (Buckinghamshire, England) Freeview Light transmitter includes this postcode area so I'm not sure what's gone wrong. Both are relays of Crystal Palace though. I hope that helps.

Paul Murphy's 6 posts
Paul's:
map
P's Freeview map
terrain
P's terrain plot
waves
P's frequency data
P's Freeview Detailed Coverage
Monday, 30 March 2015

Dave Lindsay: yes, that is correct. All the FM and DAB plots are direct from the Ofcom spreadsheet

I have also added new code to do the AM areas too.

Briantist's 38,907 posts

Paul Murphy: Thanks for your post.I've had a good look and it seem to be at one of those knife-edge positions.Sometimes this happens when the postcode (all of it) resolves to a large area. In a city, a postcode can sometimes refer to just one building, or just a few. In rural areas the postcode can be quite a physically large area.You are right, if you use the GPS option on your phone you would get the "right" answer, but the postcode isn't accurate enough.

Briantist's 38,907 posts
Friday, 13 November 2015

I love the new maps, but they're not updating?

Lincs FM has gone on air on the LincsMux and Yorks MUX gone, but the maps aren't updated to show the new coverage area?

Thanks

Peter Wright's 23 posts

Peter Wright: Thanks... The coverage maps are generated by a separate system that I will need to run and then upload... I will sort this as soon as I can.

Briantist's 38,907 posts
Select more comments
Your comment please