New! 1000s of new DAB and FM radio coverage maps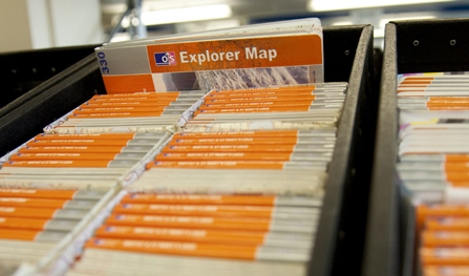 Brian Butterworth
published on
UK Free TV
After 24 hours of eight CPUs chucking away at the data, I can now proudly announce that UK Free TV will now show you coverage maps for all of the UK radio and television transmitters.
In addition, the code has been cleaned up and now provides a consistent interface. You can now always single click to get the coverage and double-click to load up a page of details.
Digital (DAB) Radio
Here is an example from https://ukfree.tv/radio/digitalstations/BBC_Radio_Cymru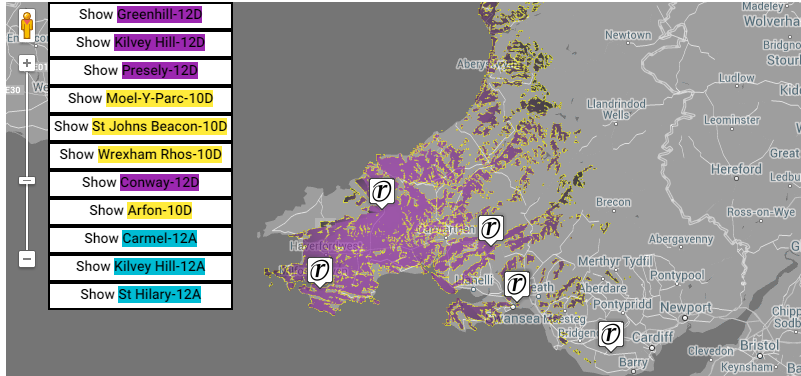 On a map of digital sites, you can click on the buttons at the top right to show a service/mast, or on the marker, or double-click the marker to get the full details. The different colours show the different broadcast "blocks" (transmission frequencies).
Analogue Radio
https://ukfree.tv/transmitters/analogueradio/Llanrhaeadr_ym_Mochnant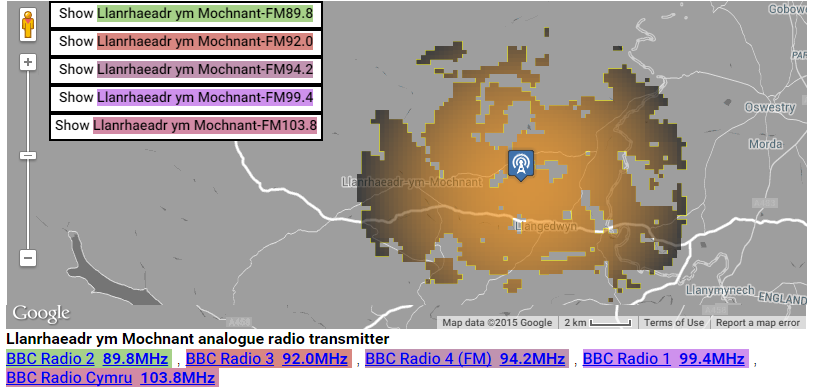 On this analogue map, you can use the buttons to select a frequency and site combination, or click to show a site, or double click for more details.
DAB Multiplex Maps
https://ukfree.tv/radio/multiplexes/11B/Liverpool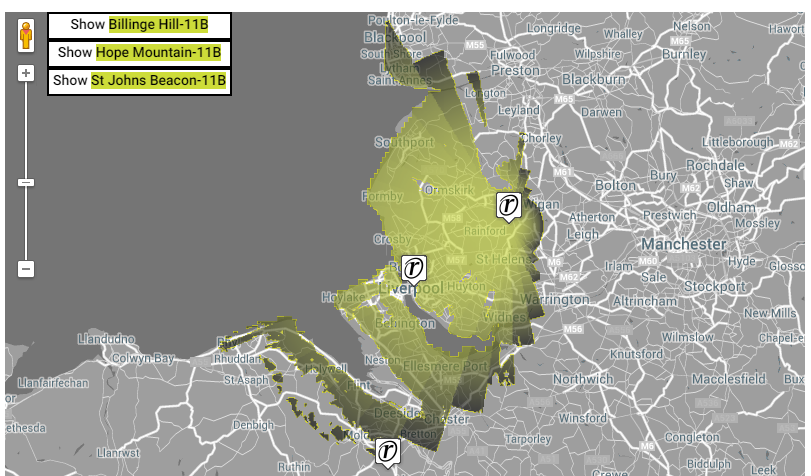 This is a multiplex map, so the colours are all the same.
Enjoy!
I really hope that you find these useful, and enjoy exploring the reception possibilities.
Comments
Tuesday, 17 March 2015

Well worth a look - Lichfield (Staffordshire, England) DAB transmitter - two different DAB services on the same mast.

Briantist's 38,908 posts

Another interesting map - Great Massingham (Norfolk, England) DAB transmitter shows the difference at this site between the BBC National DAB and the D1 National service.

Briantist's 38,908 posts
Wednesday, 18 March 2015

I'm a little confused....

DAB National D1 is missing from the Belmont Mast.

Also in the DAB list Absolute 90's is missing. Have they gone?

And I did notice in my car, that Absolute 80's has increased to 80Kbs from 64.

Blimey go away for a few weeks for work, and return to find everything has changed!

pw69's 23 posts

Pw69: the system is showing all radio as BELMONT transmitter - DAB: BBC National DAB Radio Weak Signal from 10:03 yesterday to 15:52 yesterday. "I guess this means an ongoing fault...

Briantist's 38,908 posts

... Absolute radio 90s is on selected local multiplexes
Details of Absolute Rad 90s DAB radio station shows them as.Absolute Rad 90s multiplexesBirmingham
Edinburgh
Glasgow
Humberside
Inverness
Lancashire
Leeds
Liverpool
London 1
Manchester
N. Ireland
Sheffield
Tayside
Teesside
Tyne & Wear

Briantist's 38,908 posts

Hi,

Sorry I meant it's missing off the list on the Belmont page... Belmont (Lincolnshire, England) DAB transmitter

I thought Absolute 90's used to be on the National multiplex?

pw69's 23 posts

Pw69: the data is supplied direct from Ofcom.

Briantist's 38,908 posts

pw69: Absolute 90s was replaced by Magic on D1 earlier in the year. Bauer puts Magic on D1, puts Absolute in mono | RadioToday

Briantist's 38,908 posts

pw69: There was an error in the colour codes for the Yorkshire Multiplex that was hiding D1 on Belmont, I have fixed it now so you can see all the stations listed. Thanks.

Briantist's 38,908 posts
Thursday, 19 March 2015

Wow Brian!

I love it much better and more clearer... I want to say Well done chap! very impressed.


rob's 171 posts
Select more comments
Your comment please