Which 29 stars wrote Prime Minister Cameron to ask him to protect the BBC?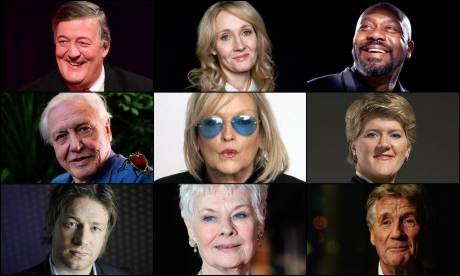 Brian Butterworth
published on
UK Free TV
Dear Prime Minister,
We have seen that the Government has pledged to modernise the licence fee, return funding that had been diverted to pay for broadband roll-out, and increase the licence fee in line with inflation in return for the BBC taking on the costs of licence fees for the over-75s.
The Government and the BBC are now entering the charter review.
We are writing to place on record at the very start of the process our concern that nothing should be done to diminish the BBC or turn it into a narrowly focused market-failure broadcaster.
In our view, a diminished BBC would simply mean a diminished Britain.
The BBC is a very precious institution. Like all organisations, it has its faults but it is overwhelmingly a creative force for good.
Britain's creative economy is growing and enjoying unprecedented success.
The BBC is at the heart of this as the global showcase for our creative industries.
The BBC is trusted and loved at home by British audiences and is the envy of the world abroad.
During the course of the Charter, we will continue to make the case for a strong BBC at the centre of British life and will be vocal in making the case for the BBC as it approaches its centenary.
Yours sincerely,
Clara Amfo, David Attenborough, Clare Balding, Melvyn Bragg, Brian Cox, Daniel Craig, Richard Curtis, Judi Dench, Chris Evans, Stephen Fry, Nick Grimshaw, Miranda Hart, Lenny Henry, Gary Lineker, Michael McIntyre, Steven Moffat, Trevor Nelson, Annie Nightingale, Graham Norton, Jamie Oliver, Michael Palin, Adil Ray, JK Rowling, Mark Rylance, Simon Schama, David Walliams, Rachel Weisz, Claudia Winkleman, Reggie Yates.
Comments
Thursday, 16 July 2015

Nearly all of these so called "Stars" have a financial interest in the BBC.

Why should the views of "Stars" carry more weight than those of Licence Payers.

It turns out this letter was produced by the BBC by phoning known supporters.

trevorjharris's 367 posts
Friday, 17 July 2015

trevorjharris: Actually it seemed to come about by a BBC producer having a quick ring round - and it must have been quick, because I'm fairly sure they could have get a hell of a lot more names if they'd had a bit more time.

As usual, your putting a spin on it that isn't there, although I notice that yesterdays Daily Mail is following the same line. I can't imagine anyone on that list starving if the BBC vanished tomorrow (gary Linikar would probably earn more), and Jamie Oliver, Rachel Weisz, Daniel Craig havn't worked for the BBC in some time. On the other hand, a number of them got their breaks in part via the BBC and its productions. And it might not have occured to you, but have you thought that they support the BBC in its current form because it works, its a good thing, and they like it and what it does?

And the majority of the public agree with them. Of course if you want Rupert Murdoch to dominate TV, just has he does the rest of the media and politics, go ahead. I'm sure, like Lord Voldermort, he will be grateful to his folllowers...

MikeB's 2,579 posts
Monday, 20 July 2015

This unwarranted and unjustified attack on the BBC has come about simply because the we now have a Tory government for the first time in 18 years, and they're feeling over confident and full of macho bravado. Where has the public clamour for an inquiry into the BBC been, where are the street protests over the "outrageous" size of the licence fee? None of it exists, it is the Tories stoking up a debate and putting seeds of doubt into minds simply because they have a ludicrous paranoia about perceived left wing bias at the BBC. In fact the bias is the other way round in the 95% of the media that is owned by the right wing, and when the BBC simply tries to correct that bias by giving a neutral unbiased view point, it is accused of being left wing. Don't believe the hype, as a famous rapper once said, you don't know what you've got till it's gone, in the word of another famous singer.

Rustykettle's 7 posts

Rustykettle:

Hear! Hear! A spot on assessment of the situation, couldn't have put it better myself!

jb38's 7,179 posts
Wednesday, 22 July 2015
G
GeordieLad
9:12 AM
Towcester

If the BBC concentrated on its original Lord Reith remit and standards then I'd be fully supportive. However, its obsession with "soaps", game shows and the like is far from the information, educational and cultural service intended. Moreover, its bloated staffing, almost invariably overpaid compared to its viewers, should be cut down to the bare essentials for the Public Service Broadcaster it claims to be.

If the BBC wishes to continue as it is now, then by all means let it advertise and pay its own way rather than be funded by the licence fee. The emulatioon of commercial channels and obsession with ratings is now beyond a joke. Furthermore, apart from the dubious content, most of its programs miss their scheduled start times because of self advertising, a disgraceful state of affairs for an organisation which claims to set standards for broadcasters worldwide.

Other than the views expressed above, I have no axe to grind on the licence fee issue; I'm one of those who now has "free TV" due to age - but I doubt if I'd miss the BBC at all if it disappeared entirely.

GeordieLad's 43 posts
GeordieLad's:
map
G's Freeview map
terrain
G's terrain plot
waves
G's frequency data
G's Freeview Detailed Coverage
Saturday, 25 July 2015

GeordieLad said, "...but I doubt if I'd miss the BBC at all if it disappeared entirely. "

I would miss the BBC if it disappeared completely but I agree with much of your criticism. I think that there is too much entertainment in the mix and not enough education and information. I disagree with those who say it should be protected from cuts at all costs. Like it or not, the government has decided that stringent spending cuts are required across all areas of government. While the BBC is technically totally independent of government, its funding is a decision of government and the licence fee is effectively a tax on television viewing. I think it's quite reasonable for the BBC to accept that it too has to make cuts and I don't think that amount asked is out of proportion.

As for the licence fee, I think it's reasonable but that technological changes mean that it has use by date coming plainly into view. I really don't know with what it could be replaced. I definitely am against advertising and subscription and I'm beginning to think that it should simply be funded from general taxation, perhaps with a percentage tie to GDP to try and prevent a government from simply starving it of money or, even worse, promising it money in exchange for promoting the government.

Charles Stuart's 159 posts
Sunday, 2 August 2015

there is no moral justification for the bbc paying these so called stars millions and dragging the the poor disable to court to finance their live style

david's 66 posts
Monday, 3 August 2015

david: ??

Rustykettle's 7 posts
Monday, 10 August 2015

The BBC should be closed-down. It does not entertain any more. What happened to the family entertainment on a Saturday evening? What happened to the classic comedies. They rely on too many repeats. Xmas was something like 60% repeats. I find Eastenders, Voice and Strictly totally appalling. Their neo-liberal lefty agenda fills the news and political programs.

Nick's 58 posts

Nick: Facts really are an alien concept for you, aren't they?

OK, so you hate Eastenders, The Voice and Strictly - but these are all big ratings winners for the BBC, two of which are on a Saturday night and are certainly classed as family entertainment. Which proves you totally wrong. Just watch something else at that time if you dont like them.

Xmas 2014 was 63% repeats ACROSS ALL FOUR MAIN CHANNELS Christmas TV repeats raised in Parliament - BBC News . That included ITV, which basically showed the cheapest programming it could reasonably get away with, on the reasonable grounds that commercially, it doesn't make sense to spend a fortune.

The BBC actually explained what they show over Christmas, and why http://www.bbc.co.uk/blog…51f. They spend far more on Xmas programming than the rest of the channels.

And you can't complain that there are no classic comedies shown on the BBC (there are, starting with Dad's Army and Only Fools and Horses this week, plus Yes Minister, Allo Allo and Are You Being Served on BBC2 just this afternoon), and then complain about too many repeats!

BTW - Neo liberal's believe in free market capitalism and the deregulation of the state https://en.wikipedia.org/…ism, whilst 'lefties' (how charmingly old school that word is) most certainly don't. If you going to mindlessly insult people, at least try to get the terms you use vaguely correct.

'Facepalm's all round, I think.



MikeB's 2,579 posts
Select more comments
Your comment please