When you can't quite hear the TV, subtitles are critical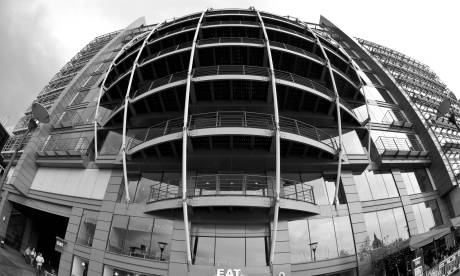 Brian Butterworth
published on
UK Free TV
For the many people with partial hearing loss or total deafness – as well as those who need to listen with the sound off – subtitles allow people to enjoy the TV.
A great deal of thought and effort has gone into providing these services: the laws to require broadcasters to provide them, the technical challenges to make them work and the human time and effort to provide them alongside upwards of 80% of the TV programmes broadcast in the UK.
The design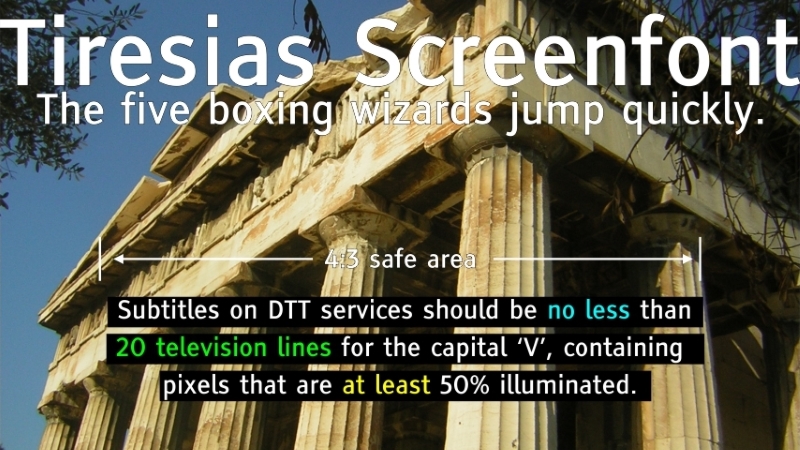 Say hello to Tiresias ScreenFont! This is a special font designed for subtitles on British TV. The proportions of the letters and numbers are designed to allow easy differentiation between similar characters (for example lower case L and number 1, zero and O) and with larger-sized lower-case letters. It also has typewriter-style "a" and long "descenders" (g j q p y) whilst being slightly narrow to get a useful number of words per line.

[1] http://www.tiresias.org/fonts/screenfont/report_screen.htm
The rules
Here are some of the rules[3] – you might be aware of them:
Capital letter (V) height is 20 pixels on a 480-line standard display and at least 50% bright. Usually they have a 100% black background.
They must sit within the 4:3 cutout so they aren't cut off on an old shaped TV.
They should never cover the face of the speaker.
They are usually white but can use yellow, cyan and green to denote different speakers.
Normally two lines, three are allowed if the picture can still be seen.
The speed of words is between 160 and 180 words per minute (three a second, keep up!)
Words must be synchronised with speech, unless they are being done live.
They use a # sign to denote music, CAPITAL LETTERS FOR SHOUTING and mumbling is written out as such. Sounds effects are also written out.
With live programmes the subtitles should not run more than three seconds behind live.
Ofcom requires…
The law requires that Ofcom demand any TV channel that has more than 0.05% of the viewing provide subtitles. This starts with a requirement to provide 10% in the first and second years rising to 35% (two more years) 60% (another two) 70% (three more) and eventually 80%.
The BBC policy is to provide subtitles on "all BBC TV programmes". Here are the list of channels that have to provide subtitles.
Why don't channels just provide subtitles?
People often ask why channels don't just provide subtitles without being required to. The answer is: money. Providing subtitles is costly and the proportion of costs for a channel with less than 0.05% of the total viewing is disproportionate.
Adding subtitles to BBC One, with over 21% of viewing costs the same as for a channel like True Entertainment that has about one hundredth. Whilst it is true that they might get some extra viewers, the cost of acquisition (creating, synchronizing and broadcasting the subtitles) would exceed any extra income they could make from showing these new viewers adverts.
It is true that channels often show programmes that have been provided with subtitles on other media (such as DVD or foreign TV closed captions) but if the content has been visually edited for timing or legal reasons, the whole show's subtitles will need careful (and therefore costly) reworking.
Which channels will have subtitles in 2016?
Channels - with their current share of viewing[2]:
BBC 1 21.157%, ITV 11.744%, BBC 2 5.116%, Channel 4 4.47%, Channel 5 3.152%, ITV 3 1.23%, ITV 2 1.113%, ITV HD 1.016%, E4 0.817%, Cbeebies 0.808%, BBC 3 0.739%, Film4 0.721%, Dave 0.702%, BBC News 0.636%, ITV 4 0.625%, More4 0.619%, Sky 1 0.573%, 5 USA 0.548%, Sky Sports 1 0.538%, BBC 4 0.529%, ITV +1 0.516%, Drama 0.49%, Channel 4+1 0.486%, Pick TV 0.484%, Sky News 0.452%, Sky Sports News HQ 0.371%, Yesterday 0.365%, E4 +1 0.35%, Sky Living 0.323%, Really 0.307%, Quest 0.305%, Sky ports 2 0.292%, 5* 0.284%, CBBC 0.283%, Comedy Central 0.277%, ITV 2 +1 0.275%, Disney Junior 0.254%, Challenge TV 0.238%, Fox 0.233%, G.O.L.D. 0.233%, ITVBe 0.226% Watch 0.221%, Nick Jr 0.214%, Universal 0.207%, Alibi 0.199%, 4Music 0.193%, 4seven 0.183%, CITV 0.169%, Sky Atlantic 0.168%, Sky Movies Disney 0.158%, Film4 +1 0.51%, TLC 0.149%, BT Sport 1 0.148%, Discovery 0.147%, Cartoon Network 0.145%, Sky Movies Premiere 0.134%, Quest+1 0.129%, Disney Channel 0.126%, ITV 3 +1 0.126%, Dave ja vu 0.12%, Sky Sports 4 0.114%, Sky Sports 3 0.114%, Nick Jr 2 0.113%, Boomerang 0.108%, Nickelodeon 0.104%, MTV 0.099%, Nicktoons 0.099%, Sky Sports 5 0.95%, Sky Movies Family 0.09%, More4 +1 0.09%, Viva 0.089%, Sky 2 0.086%, Sky Sports F1 0.08%, Sky Movies Action & Adventure 0.078%, Sky Movies Showcase 0.071%, Sky Movies Greats 0.07%, Sky Living +1 0.069%, Comedy Central +1 0.069%, Good Food 0.068%, Animal Planet 0.066%, G.O.L.D.+1 0.059%, Disney Channel +1 0.057%, Sky Movies Comedy 0.057%, Sky Movies Drama & Romance 0.057%, BT Sport 2 0.056%, ITV Encore 0.056%, Disney XD 0.055%.
Note that BBC Alba, ITVBe, ITV Encore, Sky Sports 5, BT Sport 2 and Fox will start their requirement to provide in 2016.
Which channels will have subtitles in 2017?
Looking further ahead, looking at the current year to date, these extra channels will be required to provide subtitles in 2017:
CBS Reality 0.306%, True Entertainment 0.228%, more>movies/movies mix 0.215%, Star Plus 0.187%, Movies4Men 0.176%, Pop 0.157%, CBS Action 0.57%, Tiny Pop 0.15%, Syfy 0.131%, Food Network 0.122%, TruTV 0.117%, Horror Channel 0.099%, Disney Junior Plus 0.094%, Eurosport 0.093%, Investigation Discovery 0.085%,History 0.081%, TCM 0.08%, Crime + Investigation 0.079%, Lifetime 0.073%, Colors TV 0.071%, E! 0.07%, Eurosport 2 0.069%, HUM Europe 0.066%, National Geographic 0.063%, ARY News 0.062%, BBC RB 601 0.061%, Movies 24 0.06%, Cartoonito 0.059%, Discovery Turbo 0.057%, Spike 0.056%, attheraces 0.053%, Rishtey .052%, Movies 24+ 0.051%, True Movies 1 0.051%,
More reading
[2] http://stakeholders.ofcom.org.uk/binaries/broadcast/guidance/Channels_required_to_provide_television_access_services_in_2016E.pdf
[3] http://stakeholders.ofcom.org.uk/binaries/broadcast/other-codes/tv-access-services-2015.pdf
Comments
Sunday, 23 August 2015

My hearing is very poor so I always have to use headphones with TV or radio. Most of the time I also have subtitles on to help. Where subtitles do help immensely is when they insist on adding "back-ground" mu-sick. Not only does this intrusion make the dialogue more difficult to hear but because I have to strain more to hear the speech, after a short time I get a head ache. Switching off the sound and relying on subtitles is one answer, the other is to record the programme and watch in small doses. Why o why do they have to put the noise on during the "head-lines". When I raised this point with a broadcaster they said
"it adds drama" What a laugh!

Bob Loader's 41 posts

Subtitles are often useless, wrong names, slow completely wrong and suddenly stop. Wrong wording news broadcast in the morning is still wrong later in the day, wht can't somebody get in there and change it, it's just a digital film recording.
ITV don't do them on their itv-player
BBC ones stop after few mins on BBC iplayer on my Samsung tv....BBC say its Samsung app Samsung say it's all BBC fault....me the view get no where.

We the hard of hearing pay our licence and by the products on ITV so why can't we have a top rate service?

Mal's 5 posts

Nice article Brian - very informative.
My wife and I both have normal hearing but enjoy subtitles on most films and American programmes.
They are great for picking up asides or background comments when the TV volume is low-ish.
Even better they show all the proper names and technical terms which would otherwise go over our heads.
But best of all they provide lyrics to songs that I have known for years but never found a reason to look up on the internet, especially by mumblers like Paul Weller and Elvis Costello. TOTP repeats are a revelation!
But as Mal says, they are not good enough for live TV.
I once emailed the subtitlers on Jules Holland's Hootenanny (new year's eve) show to compliment them on their subtitling speed. The nice lady replied that it was easy because it was recorded in October! There - I've spilled the beans!

John's 1 post
Monday, 24 August 2015

Having used subtitles for years, I now am frustrated when I watch something on youtube and there is no subtitles, that unless it is something that I have watched before and know the script almost (off pat), then I don't watch it. I wear hearing aids, thus need subtitles, otherwise the TV would be 'quite loud', but even if I do wear them in the house, sometimes accents, etc prohibit me from actually be able to understand what is being said, thus subtitles are needed when I am wanting to watch something (not background noise like (shopping telly).
No I am grateful that in this country that we have a good fairly robust subtitle system, just wish that ITV and Channel 4 were as 'up to speed' as BBC when watching tablet version of programs as, as yet subtitles are not on any on C4 and very few on ITV.

Adele's 3 posts
T
Tony Hill
9:35 AM
Dorchester

We use subtitles a lot - certainly for all drama and all American programmes. However, we have found that only BBC subtitles are reliable and the others, especially ITV, are useless. Why such a difference?

Tony Hill's 65 posts
Tony's:
map
T's Freeview map
terrain
T's terrain plot
waves
T's frequency data
T's Freeview Detailed Coverage
Tuesday, 25 August 2015

Tony Hill:
I believe that the different broadcasters use different methods to create the sub-titles. Some ar manually added and they seem to be better, but others use a software system of voice regonition that does make some basic errors - aometimes amusingly and sometimes annoyingly.

Adele:
I too have to wear hearing aids due to loss of high frequency hearing from working with TV sets for so many years plus an inner ear infection. I have set up a bluetooth system that takes the audio from my SKY box and links it to an in-ear earphone which I put in the ear that does not have a hearing aid. That lets me hear the TV much better and still hear family conversations, and there are no wires trailing across the room. One problem I discovered is that the headphone socket on the TV cuts out the speaker sound when anything is plugged into it! What we all need is an audio out socket that does not cut off the normal sound so we can hear as well as the family - hence I had to connect the bluetooth to the SKY box audio out phono sockets. Not ideal, but better than not hearing the commentary, dialogue, etc.

MikeP's 215 posts
M
MikeB
9:29 AM
Macclesfield

MikeP: I think you have an LG, which now the only brand that does not allow you to split the audio between the TV speakers and another source. Sony and Panasonic have had this feature for years (I think its called audio splitting on Sony's), and apparently Samsung finally added it last year.

I found out the hard way about this after a customer bought a Samsung some years ago. An excellent TV, but he'd neglected to mention that he used a pair of headphones, while he wife did not! The best workarounds we could suggest were :

a) If you have a soundbar which has a 3.5mm output (which is all of them), you can connect that and a headphone via a cheap 3.5mm splitter adapter. The soundbar can have its own volume and so can the headphones, as long as the TV volume is on.

b) If the TV allows more than one audio output (so 3.5mm jack and digital optical, TV speakers, etc), you could use the 3.5mm jack for the headphones, and then the optical for the soundbar. Or even better, have the optical running via a DAC and outputing to the headphones, with the speakers doing their normal job (or possibly via optical and dac to headphones and optical to soundbar). Unfortunately, I think LG's only allow one output at a time.

Needless to say, this is all a bit of a faff. Your solution is probably the best for your setup, but without RCA outputs on the back of the Sky box, you'd be stuck.

Hoepefully, LG will follow the other makes - its something thats increasingly useful for customers, and just makes life a lot easier. If someone is buying a new TV, and has hearing problems, then ask the person in the store to show you how things work - it will mean you finding a TV that meets your needs, rather than looking for a possible workaround.

MikeB's 2,579 posts
MikeB's:
map
M's Freeview map
terrain
M's terrain plot
waves
M's frequency data
M's Freeview Detailed Coverage
T
Tony Hill
11:24 AM
Dorchester

MikeP: The voice recognition subtitles are useless and I never use them. The ITV "normal" subtitles are OK when they appear but that usually isn't for more than about 3 or 4 minutes at a time - they just keep disappearing. They, ITV, should do something about it but I suspect they don't really care.

Tony Hill's 65 posts
Tony's:
map
T's Freeview map
terrain
T's terrain plot
waves
T's frequency data
T's Freeview Detailed Coverage
Wednesday, 26 August 2015

MikeB:

The LG is connected to the soundbar via the optical connector - which is disabled when the headphone socket is used! That made me think about how to get a bluetooth 'transmitter' connected so that both headphones and speakers were working. It's a pity that there are no audio output sockets other than the headphone and optical ones, even the SCART does not output audio and there are no phono/RCA audio outputs, plenty of inputs but no other outputs.

That's the only negative aspect of this TV we have found - so far. Picture quality is good (and as an ex-engineer I can be rather critical), operation is easy and the facilities for terrestrial, satellite and auxilliary inputs are good. The internet connection is easy to use and can be useful, particularly for catch-up if we missed a programme. As the TV is only 8 months old I will not be replacing it anytime soon, so what we now have will suffice for some time.

MikeP's 215 posts
M
MikeB
7:33 PM
Macclesfield

MikeP: The 575 series is a great little number, but it not designed to output from two sources, and neither were the Samsung's until the year after - not a big problem unless its something you need to do!

Actually, there are three audio outputs - the 3.5mm jack (analogue), digital optical and the ARC HDMI port. Since my 'new to me' LG flat screen has no audio outputs at all, thats sounds good to me!

If the soundbar was via the 3.5mm jack, then a simple split would be fine. LG's want you to chose one output, so if your using the optical, thats it. However, Maplin does sell an optical splitter for a whole £1.43, and that, a second optical lead and a DAC (there is one on Amazon for £6.95) should give you the option of running both with (kind of) seprate volumes. Its a bit Heath Robinson, but its should work!

MikeB's 2,579 posts
MikeB's:
map
M's Freeview map
terrain
M's terrain plot
waves
M's frequency data
M's Freeview Detailed Coverage
Select more comments
Your comment please