When you can't quite hear the TV, subtitles are critical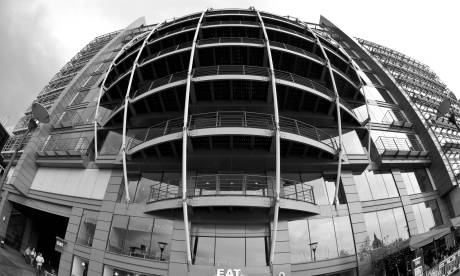 Brian Butterworth
published on
UK Free TV
For the many people with partial hearing loss or total deafness – as well as those who need to listen with the sound off – subtitles allow people to enjoy the TV.
A great deal of thought and effort has gone into providing these services: the laws to require broadcasters to provide them, the technical challenges to make them work and the human time and effort to provide them alongside upwards of 80% of the TV programmes broadcast in the UK.
The design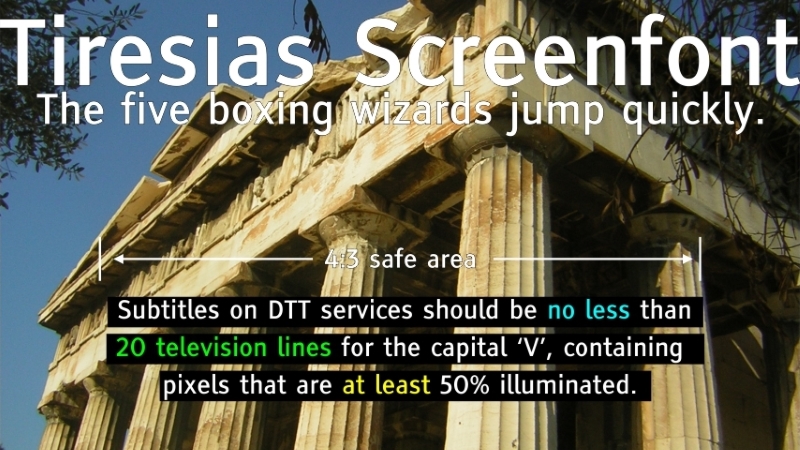 Say hello to Tiresias ScreenFont! This is a special font designed for subtitles on British TV. The proportions of the letters and numbers are designed to allow easy differentiation between similar characters (for example lower case L and number 1, zero and O) and with larger-sized lower-case letters. It also has typewriter-style "a" and long "descenders" (g j q p y) whilst being slightly narrow to get a useful number of words per line.

[1] http://www.tiresias.org/fonts/screenfont/report_screen.htm
The rules
Here are some of the rules[3] – you might be aware of them:
Capital letter (V) height is 20 pixels on a 480-line standard display and at least 50% bright. Usually they have a 100% black background.
They must sit within the 4:3 cutout so they aren't cut off on an old shaped TV.
They should never cover the face of the speaker.
They are usually white but can use yellow, cyan and green to denote different speakers.
Normally two lines, three are allowed if the picture can still be seen.
The speed of words is between 160 and 180 words per minute (three a second, keep up!)
Words must be synchronised with speech, unless they are being done live.
They use a # sign to denote music, CAPITAL LETTERS FOR SHOUTING and mumbling is written out as such. Sounds effects are also written out.
With live programmes the subtitles should not run more than three seconds behind live.
Ofcom requires…
The law requires that Ofcom demand any TV channel that has more than 0.05% of the viewing provide subtitles. This starts with a requirement to provide 10% in the first and second years rising to 35% (two more years) 60% (another two) 70% (three more) and eventually 80%.
The BBC policy is to provide subtitles on "all BBC TV programmes". Here are the list of channels that have to provide subtitles.
Why don't channels just provide subtitles?
People often ask why channels don't just provide subtitles without being required to. The answer is: money. Providing subtitles is costly and the proportion of costs for a channel with less than 0.05% of the total viewing is disproportionate.
Adding subtitles to BBC One, with over 21% of viewing costs the same as for a channel like True Entertainment that has about one hundredth. Whilst it is true that they might get some extra viewers, the cost of acquisition (creating, synchronizing and broadcasting the subtitles) would exceed any extra income they could make from showing these new viewers adverts.
It is true that channels often show programmes that have been provided with subtitles on other media (such as DVD or foreign TV closed captions) but if the content has been visually edited for timing or legal reasons, the whole show's subtitles will need careful (and therefore costly) reworking.
Which channels will have subtitles in 2016?
Channels - with their current share of viewing[2]:
BBC 1 21.157%, ITV 11.744%, BBC 2 5.116%, Channel 4 4.47%, Channel 5 3.152%, ITV 3 1.23%, ITV 2 1.113%, ITV HD 1.016%, E4 0.817%, Cbeebies 0.808%, BBC 3 0.739%, Film4 0.721%, Dave 0.702%, BBC News 0.636%, ITV 4 0.625%, More4 0.619%, Sky 1 0.573%, 5 USA 0.548%, Sky Sports 1 0.538%, BBC 4 0.529%, ITV +1 0.516%, Drama 0.49%, Channel 4+1 0.486%, Pick TV 0.484%, Sky News 0.452%, Sky Sports News HQ 0.371%, Yesterday 0.365%, E4 +1 0.35%, Sky Living 0.323%, Really 0.307%, Quest 0.305%, Sky ports 2 0.292%, 5* 0.284%, CBBC 0.283%, Comedy Central 0.277%, ITV 2 +1 0.275%, Disney Junior 0.254%, Challenge TV 0.238%, Fox 0.233%, G.O.L.D. 0.233%, ITVBe 0.226% Watch 0.221%, Nick Jr 0.214%, Universal 0.207%, Alibi 0.199%, 4Music 0.193%, 4seven 0.183%, CITV 0.169%, Sky Atlantic 0.168%, Sky Movies Disney 0.158%, Film4 +1 0.51%, TLC 0.149%, BT Sport 1 0.148%, Discovery 0.147%, Cartoon Network 0.145%, Sky Movies Premiere 0.134%, Quest+1 0.129%, Disney Channel 0.126%, ITV 3 +1 0.126%, Dave ja vu 0.12%, Sky Sports 4 0.114%, Sky Sports 3 0.114%, Nick Jr 2 0.113%, Boomerang 0.108%, Nickelodeon 0.104%, MTV 0.099%, Nicktoons 0.099%, Sky Sports 5 0.95%, Sky Movies Family 0.09%, More4 +1 0.09%, Viva 0.089%, Sky 2 0.086%, Sky Sports F1 0.08%, Sky Movies Action & Adventure 0.078%, Sky Movies Showcase 0.071%, Sky Movies Greats 0.07%, Sky Living +1 0.069%, Comedy Central +1 0.069%, Good Food 0.068%, Animal Planet 0.066%, G.O.L.D.+1 0.059%, Disney Channel +1 0.057%, Sky Movies Comedy 0.057%, Sky Movies Drama & Romance 0.057%, BT Sport 2 0.056%, ITV Encore 0.056%, Disney XD 0.055%.
Note that BBC Alba, ITVBe, ITV Encore, Sky Sports 5, BT Sport 2 and Fox will start their requirement to provide in 2016.
Which channels will have subtitles in 2017?
Looking further ahead, looking at the current year to date, these extra channels will be required to provide subtitles in 2017:
CBS Reality 0.306%, True Entertainment 0.228%, more>movies/movies mix 0.215%, Star Plus 0.187%, Movies4Men 0.176%, Pop 0.157%, CBS Action 0.57%, Tiny Pop 0.15%, Syfy 0.131%, Food Network 0.122%, TruTV 0.117%, Horror Channel 0.099%, Disney Junior Plus 0.094%, Eurosport 0.093%, Investigation Discovery 0.085%,History 0.081%, TCM 0.08%, Crime + Investigation 0.079%, Lifetime 0.073%, Colors TV 0.071%, E! 0.07%, Eurosport 2 0.069%, HUM Europe 0.066%, National Geographic 0.063%, ARY News 0.062%, BBC RB 601 0.061%, Movies 24 0.06%, Cartoonito 0.059%, Discovery Turbo 0.057%, Spike 0.056%, attheraces 0.053%, Rishtey .052%, Movies 24+ 0.051%, True Movies 1 0.051%,
More reading
[2] http://stakeholders.ofcom.org.uk/binaries/broadcast/guidance/Channels_required_to_provide_television_access_services_in_2016E.pdf
[3] http://stakeholders.ofcom.org.uk/binaries/broadcast/other-codes/tv-access-services-2015.pdf
Comments
Monday, 31 October 2016

I see that subtitles are now available on BBC iPlayer - on our Smart TV (LG). Excellent as before this iPlayer was not hugely useful to me.

Tony Hill's 65 posts
Monday, 26 December 2016

I notice that Sky News which does subtitles during the day, and evening, stop doing them later at night. Mostly midnight they disappear, bit tonight, Christmas Day tuned in at 11:30 pm and nothing. Why os this? Btw i have Free view box, not Sky.

Gillian Kilroy's 1 post
Thursday, 9 March 2017

Hope that 2017 list is true I'd love to be able to watch the Horror Channel and the CBS Channels. Being deaf its annoying not being able to watch these extra channels on freeview. KIX would be great too but can't see that channel ever getting enough viewers.

Brad's 1 post
Thursday, 31 August 2017

why do deaf people have to pay the full TV licence when they don't get the same benefit as hearing people. I pay a full licence but despite having a free view TV and Virgin Media digital box I cannot access subtitled catch up, TV, nor Iplayer despite having a smart TV. I can't afford to upgrade my TV package which may help me access the catch up tv in subtitles for some programmes so I've heard but I can't afford it. if subtitling is so expensive and the number of viewers that need this doesn't warrant the expense then surely it's wrong to charge a full TV licence. signed programmes are on at anti social hours no good to me because I work full time. I cannot watch a programme without subtitles so affectively both free view and digital offers limited enjoyable TV and limited choice thus the numerous channels without subtitles are a waste of space for the likes of me. When will the TV suppliers get their act together to provide equal access for all so all full laying TV licence at lease enjoy all free view programmes like everyone else.

Sharon Smith's 2 posts

Sharon Smith:

The TV Licence is to allow you to receive and view services on any TV that are available to the public without any discrimination. Not all programmes are made with subtitles, that is a matter for the programme maker and broadcaster, not a licencing matter. Providing subtitling has a significant cost, even though there are now electronic systems available to create subtitles from the spoken word - but they have some amusing/annoying mis-interpretations of what is actually said. Not all brodcasters use such systems at present. It is entirely a matter for them to determine how they spend money and on what services they provide to benefit the viewing public.



MikeP's 3,056 posts
M
MikeB
2:20 PM
Peterborough

Sharon Smith: I'm sure that the bulk of stuff on Iplayer has subtitles - just go to the settings. And if you've got a smart TV and the internet, you should have zero problems in connecting it up.

MikeB's 2,579 posts
MikeB's:
map
M's Freeview map
terrain
M's terrain plot
waves
M's frequency data
M's Freeview Detailed Coverage

MikeB: would you please send me the link to this as I can't find it on normal free view nor via the smart tv, I know people who have some subtitled tv on catch up Iplayer but they have to pay extra to their digital supplier to get a higher costing tv package which I can't afford!

Sharon smith's 2 posts
M
MikeB
8:11 PM
Peterborough

Sharon smith: If your on Freeview, its as simple as pressing the 'subtitle' button on your TV - the bulk of BBC programmes (even the news - although its automatic system is a bit hit and miss) will have them. The same goes for, I assume, the otjher PSB broadcasters - its a rule.

The other channels, maybe - its a frequent complaint but its do with cash, and the fact that they are not compelled to do it - the costs outweigh the extra viewers.

I just check on Iplayer via an Xbox, and looking randomly at the series 'Worlds Busiest Cities' that was on BBC2 last night, it clearly has a control called 'S' for subtitles to be switched on. And from using Iplayer at other times, it usually seems to have one, as far as I can remember. I havn't checked ITV, C4 or C5 - give it a go.

If you can't get Iplayer on your smart TV, tell us the make/model and your internet setup and we'll see if we can help.

If your friends are paying extra for this FREE service, something very strange is happening....

MikeB's 2,579 posts
MikeB's:
map
M's Freeview map
terrain
M's terrain plot
waves
M's frequency data
M's Freeview Detailed Coverage
Wednesday, 24 January 2018

Sharon here are some helpful links:
BBC iPlayer Help - Accessibility - Using subtitles

Accessibility

How do I get subtitles? - Channel 4 - 4viewers


How do I access subtitles?


woz's 11 posts
Monday, 29 January 2018

We use subtitles virtually all the time - absolutely compulsory with drama. BBC subtitles are, in the main, very good when the programme is pre-recorded but those added on in live broadcasts are, in my view, pretty useless as they can't, obviously, keep-up with the speech. More troublesome is ITV where we find they just flash on and off in a random way and are completely useless. Channel Four's are pretty good but Five is hit and miss.

So, if you say subtitles are mandatory for ITV (especially) and Five, how are they allowed to get away with such a poor performance.

A slight worry/thought is that there is, perhaps, a difference in the subtitle reliability between viewing on Freesat and Freeview. I just have a feeling that Freeview is better than Freesat. Although we receive both, our viewing is 99% on ultra-reliable Freesat.

Tony Hill's 65 posts
Select more comments
Your comment please