New and improved Freeview radiation patterns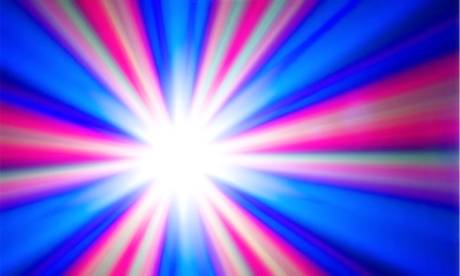 What are radiation patterns?
All ground-based broadcast transmitter – be it for a Freeview, DAB, AM/FM radio or mobile phones – can and do broadcast their output at different levels in different directions.
The diagrams here on UK Free TV show all the known patterns. In theory each transmitter can have a different pattern for each transmission frequency.
This diagram shows how the Primrose Hill Freeview transmitter's coverage map and the radiation pattern for it.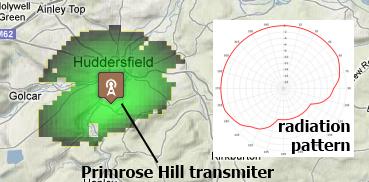 Why did you say "known patterns"?
Because, and I quote
disclosure of the antenna radiation patterns into the public domain could lead to these being available to foreign administrations, which would substantially weaken HM Government's negotiating position with respect to international frequency clearance;
a weaker negotiating position for HM Government may lead to additional cost for the broadcasters (where antenna systems have to be re-built as a result of international coordination) and lower coverage for viewers (where antenna systems have to be restricted in order to protect foreign transmissions); and
the BBC is required to provide coverage of its services on digital terrestrial television to a certain proportion of the population by the completion of switchover and a failure or suboptimal result from international co-ordination may harm the BBC's ability to meet this obligation.
The number of sites that we have data is limited to the data released by the BBC in 2009 – see Update on transmitter radiation patterns (BBC FOI request) – plus the new data from Ofcom.
What is the new data?
With help from Dave Lindsay, I contacted Ofcom to ask them to release the data related to the upcoming UK Digital Terrestrial Television: International Coordination Agreements
Do the new patterns match the output?
"While you are already aware of this, I would like to emphasise that the powers and antenna templates in these files represent the upper limit of the UK's internationally agreed rights for specific frequency assignments, and the actual antenna patterns and/or powers used by the broadcasters are often more restricted. Additionally, not all of the assignments which have been co-ordinated are currently in use." - Ofcom
New SVG format
UK Free TV was using "HTML5 canvas" to draw the radiation patterns. However the site now uses the SVG format for the graphics. This has the several advantages, in particular that it is now easy to embed more than one diagram in a page where necessary.
Some examples of the new data
Where the diagrams show (CCN) this is the new "Co-ordination combined nominal template derived from International co-ordination technical agreements" data. A pattern with a "F" prefix is for a frequency not currently used at that mast for a live TV service (F570 is 570MHz also known as UHF C33).
What next?
The site's coverage maps will be regenerated soon to include all this new data.
Comments
Tuesday, 12 July 2022

Ohilip: The Leeds local mux is broadcast on UHF channel 39 from Emley Moor at 5kW, in a directional pattern aimed towards Leeds and the surrounding areas. Halifax gets some overspill coverage but isn't really in the target coverage area.

StevensOnln1's 3,516 posts
Sunday, 22 January 2023
R
Roger
9:44 AM
Wolverhampton

Location WV5. Clear visual view to Brierly Hill. Over last few weeks reception has gradually dropped by TVs in house one by one. Now they can just about detect CH5 but not strong enough for a picture. Is this definitely a problem with my aerial system?

Roger's 3 posts

Roger:

Not necessarily BUT not all locations within the WV5 area will get good reception from Brierley Hill, we need the full postcode to check your predicted reception. If you do have a clear line-of-sight view and aren't too far away, then it may be good reception.
There have been no recent reports of transmitter faults or Planned Engineering.

Do you/have you ever received the Local multiplex (UHF C33 at Brierley Hill), you'll have a Local News channel at LCN7 in your EPG plus programmes on LCNs 50, 52, 61, 68 & 207.

Now if you are having problems with Channel5, you should also have problems with ITV, Channel4 and a number of their sister channels are they are all on the same multiplex D3&4/PSB2 on UHF C34 from Brierley Hill.

Check in your TV Tuning section that you are correctly tuned to UHF channels C32, C34, C35, C29, C31, C37 & C33. Your aerial should be pointing roughly SE to SSE depending on your exact postcode, with its rods (or squashed Xs) vertical.

Where is the aerial - roof or loft? Is the downlead secure?
You mention several TVs so do you have a distribution amp/splitter? If so what make and model and where is it located?

Also in your TV Tuning section there should be an indication of Signal Strength and Quality for each multiplex's UHF channel. It may be somewhere like Signal Test or in the Manual Tuning section, it's dependent on make/model.

Posting all the above information should help narrow down the problem.

Chris.SE's 3,467 posts
Monday, 23 January 2023
R
Roger
11:33 AM
Wolverhampton

Chris.SE: Thank you Chris. WV5 7EN.
All the wiring including aerial wiring was in the house when we moved in.
Everything was fine until a few weeks ago since when the aerial points have been failing - not all at the same time - except one which is getting a good signal on freeview including HD channels.
The auto and manual tunings on the others are showing bad to zero quality on all the UHF channels.
There is a splitter in a cupboard under the stairs (where it always has been), labelled: "Wolsey 8 way bidirectional TV amplifier." Its power supply is fine and it is undisturbed. 7 ouputs are plugged in. I suppose these things can fail?
The fact that there is one TV working seems to imply the antenna is OK - and again, it has been undisturbed. It is high on the SE wall of the house.

Roger's 3 posts

Roger:

Hi. thanks for that. You are obviously in quite a good location and predicted to get a good signal from Brierley Hill apart from the Local multiplex, however that doesn't mean you won't get it!
The SE is the correct location as in your postcode the aerial should be at compass bearing 136 degrees - virtually SE.
Yes amps can fail, but less likely in a cupboard under the stairs, lofts are generally the problem place because of extreme temperatures in very hot and very cold weather.

So firstly, on the set that is getting good signals, try a manual tune on UHF channel 33 for the Local multiplex. Autotunes will often miss weaker signals. It may also help establish if the aerial is ok.
Then, because your location is also predicted to get pretty good signals from the main transmitters at Sutton Coldfield and The Wrekin, check it is tuned to the UHF channels mentioned in my previous post.
Even though the transmitters are in different directions, aerials have "side-lobes" and depending on siting can pick up signals from different directions so if you happen to retune when your wanted signals are off-air or have interference due to weather conditions etc you can end up tuned to the wrong transmitters with weaker unreliable signals.

Assuming you are correctly tuned, the next check will help establish if the aerial and hopefully the amp/splitter serving the good TV are ok.
First, write down the signal strength and quality figures for each of the UHF channels tuned.

Then disconnect the aerial input to the amp/splitter and check there is no moisture and corrosion. As these are most likely F-connectors, they unscrew.
Reconnect and check the TV signal on the good TV is still ok. Then disconnect the output to the good TV outlet, inspect the connection & reconnect and check the signals on the TV are still ok.

If all is ok so far, then disconnect the output to the good TV again, and disconnect one of the other TV outputs - preferably one that has a good tuner with detailed Strength and Quality figures, inspect for corrosion and connect that to where the good TV was connected. Check this other TV for tuning, signal strength and quality.
If all is good, then the aerial and this output seem ok.

Connect the "Good TV" connection to the other output you have disconnected. Check its' signal strength and quality. If it's bad, then check all the other outputs and if results are the same we may conclude the amp/splitter is faulty, but do check all the connections are clean and good with no corrosion.

For this final check which should establish how good a signal you actually get from the aerial, you are going to need an F-connector Straight Coupler similar to one of the following -
Close
PROception Inline Coupler Satellite F Plug | Toolstation
There are other sources and suppliers depending on where you have easy access etc. eg. some large supermarket may have one.

Connect the aerial connector direct to the TV outlet for the "good TV" and with the amp/splitter powered off, write down the signal strengths and quality for each UHF channel and compare to the original ones you had. Post all those figures here which may help with further advice.


Chris.SE's 3,467 posts
Wednesday, 25 January 2023
R
Roger
8:18 PM
Wolverhampton

Chris.SE: Thank you Chris.
This evening I untangled a huge mess of wires that were left to us. The incoming aerial clearly went through other splitters to various devices before it even reached the final splitter. I hadn't been amongst it before!.
Oddly, the actual aerial cable had very amateurly connected ends. Anyway, I put the incoming directly into the splitter and the signal has massively improved. It's still not great on all of the TVs but I now suspect that might be the hopelessly inadequate connection of the plugs to the cable. I was really surprised to find that given the amount of work that must have gone into the previous owner's system.
Anyway, the signal is OK down the aerial, so thank you.
My dad was an electrical engineer. He always said "check the conection".
Thank you, I'll sign off from this query now.
Roger

Roger's 3 posts
Thursday, 26 January 2023

Roger:

Glad you are getting to the bottom of things. You might find the aerial going through a 4G or 5G filter before any amplification which is the correct thing to do if a filter is required but it doesn't need both, a 5G (700MHz to be more precise) should do the job (as it covers 4G frequencies too).

Post back if you need further help or have queries.

Chris.SE's 3,467 posts
Wednesday, 1 March 2023

What's happened to Pick on Sky 151 - disappeared on Monday 28 February.

Lionel Campuzano's 5 posts

What's happened to Sky 151 - Pick - disappeared on Monday

Lionel Campuzano's 5 posts

carter641.rizalpost.com:

Lionel Campuzano's 5 posts
Select more comments
Your comment please