New and improved Freeview radiation patterns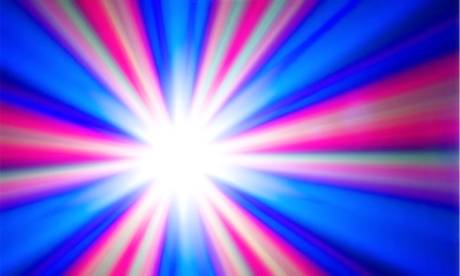 Brian Butterworth
published on
UK Free TV
What are radiation patterns?
All ground-based broadcast transmitter – be it for a Freeview, DAB, AM/FM radio or mobile phones – can and do broadcast their output at different levels in different directions.
The diagrams here on UK Free TV show all the known patterns. In theory each transmitter can have a different pattern for each transmission frequency.
This diagram shows how the Primrose Hill Freeview transmitter's coverage map and the radiation pattern for it.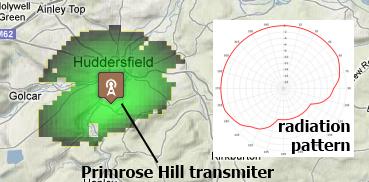 Why did you say "known patterns"?
Because, and I quote
disclosure of the antenna radiation patterns into the public domain could lead to these being available to foreign administrations, which would substantially weaken HM Government's negotiating position with respect to international frequency clearance;
a weaker negotiating position for HM Government may lead to additional cost for the broadcasters (where antenna systems have to be re-built as a result of international coordination) and lower coverage for viewers (where antenna systems have to be restricted in order to protect foreign transmissions); and
the BBC is required to provide coverage of its services on digital terrestrial television to a certain proportion of the population by the completion of switchover and a failure or suboptimal result from international co-ordination may harm the BBC's ability to meet this obligation.
The number of sites that we have data is limited to the data released by the BBC in 2009 – see Update on transmitter radiation patterns (BBC FOI request) – plus the new data from Ofcom.
What is the new data?
With help from Dave Lindsay, I contacted Ofcom to ask them to release the data related to the upcoming UK Digital Terrestrial Television: International Coordination Agreements
Do the new patterns match the output?
"While you are already aware of this, I would like to emphasise that the powers and antenna templates in these files represent the upper limit of the UK's internationally agreed rights for specific frequency assignments, and the actual antenna patterns and/or powers used by the broadcasters are often more restricted. Additionally, not all of the assignments which have been co-ordinated are currently in use." - Ofcom
New SVG format
UK Free TV was using "HTML5 canvas" to draw the radiation patterns. However the site now uses the SVG format for the graphics. This has the several advantages, in particular that it is now easy to embed more than one diagram in a page where necessary.
Some examples of the new data
Where the diagrams show (CCN) this is the new "Co-ordination combined nominal template derived from International co-ordination technical agreements" data. A pattern with a "F" prefix is for a frequency not currently used at that mast for a live TV service (F570 is 570MHz also known as UHF C33).
What next?
The site's coverage maps will be regenerated soon to include all this new data.
Comments
Tuesday, 17 April 2018

Glyn Taylor: If you are loosing channels when it rains, the most likely explanation is that the rain is getting in to your aerial/cabling. The PSB1 mux (carrying BBC SD channels) is broadcast at 20kW from Carmel, as is PSB2 (carrying ITV/S4C/Channel 4/Channel 5 etc). Dave and Yesterday are broadcast on COM5 and COM6 which are 10kW (i.e. half the power of PSB1/PSB2) so it looks very much like the problem is at your end. Start by checking for any loose or damaged cables and connections, but you may well end up needing to have your aerial and/or cable replaced.

StevensOnln1's 3,570 posts
Wednesday, 18 April 2018

Glyn Taylor: if your signal breaks up when it's raining, that points to a fundermental problem with your system, probably rain water getting in. You need to get it checked.

MikeB's 2,579 posts
Tuesday, 24 April 2018

I live DD109DX, I am not getting a signal on most days lasting for up to an hour at a time more than once per day, this is so annoying and I feel in this day and age this should not be happening, never having had this problem up until last year when this started.

VIOLET MCGURK's 1 post

VIOLET MCGURK: That sounds like you're suffering from electrical interference, probably from something in your home (or a near neighbour's), most likely something with an electric motor such as a washing machine or central heating pump.

StevensOnln1's 3,570 posts
Monday, 7 May 2018

According to this website Sudbury provides transmission for Whitstable. According to your site there are no problems. Why then have I had problems the last two evenings. My connection is fine and obviously my heating not on.

Dorothy Newbery's 1 post

Dorothy Newbery: There are no faults showing for the Sudbury transmitter. Have you checked whether any neighbours are suffering with the same problem? If it's only happening at certain times then electrical interference would be a likely cause, which can come from many things other than central heating.

StevensOnln1's 3,570 posts
Wednesday, 16 May 2018

I am having problems with the picture and sound breaking up on many of the Freeview sites. Normally ITV sites. I have contacted Currys and been informed that Emley Moor tranmitter is causing the problem. Having then contacted yourselves by landline I am informd that no work is taking place there. What can I do to rectify the problem? Who can I contact to ensure that this does not happen again?

Alan Pickles's 1 post

Alan Pickles: check your tv is actually tuned to the correct transmitter.

If it is, look at signal strength and quality. If it's too high (85% plus) then look for 'too much of a good thing on this site. If the signal strength is very low, then either you are just in an area of poor reception, or you aerial system is at fault. Check all the cables and connections.

MikeB's 2,579 posts
Tuesday, 29 May 2018

What is the polarity for the aerial at Bexhill Freeview TX

Derek Dray's 1 post

Derek Dray: Bexhill is horizontally polarised.

StevensOnln1's 3,570 posts
Select more comments
Your comment please