New and improved Freeview radiation patterns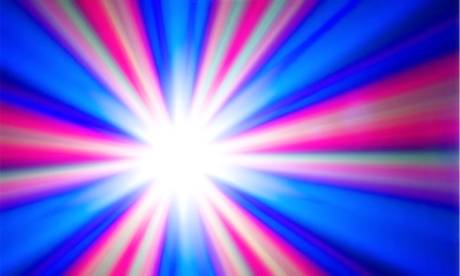 Brian Butterworth
published on
UK Free TV
What are radiation patterns?
All ground-based broadcast transmitter – be it for a Freeview, DAB, AM/FM radio or mobile phones – can and do broadcast their output at different levels in different directions.
The diagrams here on UK Free TV show all the known patterns. In theory each transmitter can have a different pattern for each transmission frequency.
This diagram shows how the Primrose Hill Freeview transmitter's coverage map and the radiation pattern for it.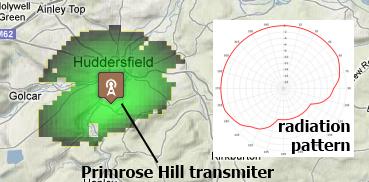 Why did you say "known patterns"?
Because, and I quote
disclosure of the antenna radiation patterns into the public domain could lead to these being available to foreign administrations, which would substantially weaken HM Government's negotiating position with respect to international frequency clearance;
a weaker negotiating position for HM Government may lead to additional cost for the broadcasters (where antenna systems have to be re-built as a result of international coordination) and lower coverage for viewers (where antenna systems have to be restricted in order to protect foreign transmissions); and
the BBC is required to provide coverage of its services on digital terrestrial television to a certain proportion of the population by the completion of switchover and a failure or suboptimal result from international co-ordination may harm the BBC's ability to meet this obligation.
The number of sites that we have data is limited to the data released by the BBC in 2009 – see Update on transmitter radiation patterns (BBC FOI request) – plus the new data from Ofcom.
What is the new data?
With help from Dave Lindsay, I contacted Ofcom to ask them to release the data related to the upcoming UK Digital Terrestrial Television: International Coordination Agreements
Do the new patterns match the output?
"While you are already aware of this, I would like to emphasise that the powers and antenna templates in these files represent the upper limit of the UK's internationally agreed rights for specific frequency assignments, and the actual antenna patterns and/or powers used by the broadcasters are often more restricted. Additionally, not all of the assignments which have been co-ordinated are currently in use." - Ofcom
New SVG format
UK Free TV was using "HTML5 canvas" to draw the radiation patterns. However the site now uses the SVG format for the graphics. This has the several advantages, in particular that it is now easy to embed more than one diagram in a page where necessary.
Some examples of the new data
Where the diagrams show (CCN) this is the new "Co-ordination combined nominal template derived from International co-ordination technical agreements" data. A pattern with a "F" prefix is for a frequency not currently used at that mast for a live TV service (F570 is 570MHz also known as UHF C33).
What next?
The site's coverage maps will be regenerated soon to include all this new data.
Comments
Friday, 30 November 2018

Hi
I have a question about Freeview coming from Pendle Hill transmitter which the Freeview helpline could not help with.
I live in Darwen BB30JG where the reception from Winter Hill is described as "poorer" (matches my experience and Darwen transmitter has only 20 channels), so based on some sound advice, several years ago I bought a high quality log periodic aerial and pointed it at the Pendle transmitter, then connected to my lounge tv via a high quality booster and cable.
I've just replaced my lounge tv with a new LG 43" 4k model. I'm assuming that the antenna electronics are more sensitive than the old one because it is picking up COM7 & COM8 channels (Pick+1, CBS Reality+1 etc) which I couldn't get before, although they break up a bit. Non-COM7 & 8 channels are all at 90+% signal strength (causing EPG issues with my LG EPG but that's another story) but the COM7 & 8 ones are around 60%.

Can anyone tell me why the reception for these channels is so much weaker and is that ever going to change?
Also, if I in a mad moment stuck a 30m high mast on my roof and pointed it at Winter Hill would the way the channels are broadcast direction wise help me me?

Thanks in advance
Dave

Clonk's 1 post

Clonk: COM7 & COM8 are broadcast at much lower power than the other multiplexes (although COM8 is to receive a slight power increase from Winter Hill early next year). The Digital UK postcode checker actually predicts good reception from Winter Hill at your postcode so it may be worth a try with turning your aerial around.

StevensOnln1's 3,553 posts
Thursday, 13 December 2018
S
steven harper
6:10 PM
Edinburgh

can someone please keep me informed when there is engineering work on the blachill transmitter . thankyou .

steven harper's 2 posts
steven's:
map
S's Freeview map
terrain
S's terrain plot
waves
S's frequency data
S's Freeview Detailed Coverage

Steven Harper:

Sorry, not possible as this website does not get advanced notice of any engineering work carried out by the owners/operators of the transmitters. They are owned/operated by Arqiva and only they know in advance when they plan to do such work.



MikeP's 3,056 posts
Thursday, 3 January 2019

Recently, my freeview signal from the Blackhll transmitter in Scotland has ceased?

Can anyone advise me how I can get my signa back?





Robert Robertson's 1 post

Robert Robertson: You need to find the fault that caused it to stop working. Start by checking for any loose or damaged cables or connections behind your TV, then work your way back as far as you can safely access towards the aerial. Do not attempt to retune as this will just delete all of your correctly tuned channels before searching for them again.

StevensOnln1's 3,553 posts
Sunday, 9 February 2020

chatsexcam.xyz: my very first experience with Analogue Video was when aged 15 letting myself into my older chums' house to get a lift for a days' fishing. His lounge was alluminated from his colour tv and upon the giant ( for 1979) screen was Debbie Does Dallas ....also my first experience of spectator or tv sexual activity. We finally made the fishing trip & I managed my rod as best I could for the rest of the afternoon.


S.J.Gale's 1 post
Tuesday, 21 April 2020

Can you receive Granada TV in Leeds West Yorkshire and Yorkshire TV in Manchester Lancashire?

Gerald Purves's 1 post
Wednesday, 22 April 2020

Gerald Purves:

Now what makes you ask a question like that?
The simple answer is Yes, but then it gets more complicated.

The Winter Hill (Granada) and Emley Moor (Yorkshire) are both quite big and fairly powerful transmitters.
If you are high enough and have a line of sight to either, then in theory you could pick them up.

Under Tropospheric Ducting weather conditions which can often occur with high pressure, see Effect of tropospheric ducting on Freeview | Help receiving TV and radio
This is when transmitter signals travel further and this "out of region" reception can occur, but more often that not it's from further afield rather than an adjacent region.

The more reliable way would be Freesat where all regions are available.

Other than that you can get some regional programmes (news etc.) on iPlayer but next to nothing on ITV Hub.

Chris.SE's 3,720 posts
Tuesday, 19 May 2020

Hi. Should we keep getting no signal for various channels at very random times..sometimes in rain and some in perfect weather?

megan tann's 1 post
Select more comments
Your comment please