Why do less than one in five people with an HD set watch in HD?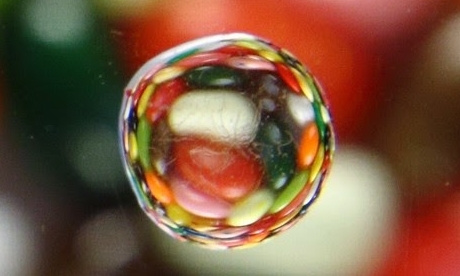 Brian Butterworth
published on
UK Free TV
I have given some thought and I've come up with four main reasons:
Not everyone has a HD receiver;
It's hard to find the channels in the programme guide;
Not all shows look that much better in HD
Eyesight is less good at the age where people watch lots of television
What do you think?
Reason 1: Not everyone has an HD receiver.
UK TV first started receiving Sky HD broadcasts in May 2006, Freesat HD in 2008 and finally Freeview HD in 2010. The digital switchover brought free HD to all homes in the UK by the end of October 2012.
However, for several years, HD television sets had the words "HD ready" on them. This means that the sets required an additional set-top box to get Freeview HD. Or, they could use a Sky+ HD subscription box or Freesat HD receiver.
That's why in 2017, 77% of homes have an HD "ready" TV set as their main screen [1], but only 82% of those sets can watch a live HD service. [3]
Reason 2: It is a pain to find HD content as they are far away in the EPG
For the people who have the equipment to be able to watch in HD, it can still be very difficult to find the channels broadcast in HD.
Basically, this means you can't surf the channel guide without making a very special effort to use the HD channels.
The logical place to find an HD channel would be as in place replacement, but only the HD satellite services do these simple swaps. So, the upshot is that even with the satellite swaps STILL only a third of BBC Two viewers watch in HD!
This diagram illustrates the logic of HD channel numbers by showing their numeric distance to move from normal, standard definition (SD) to HD.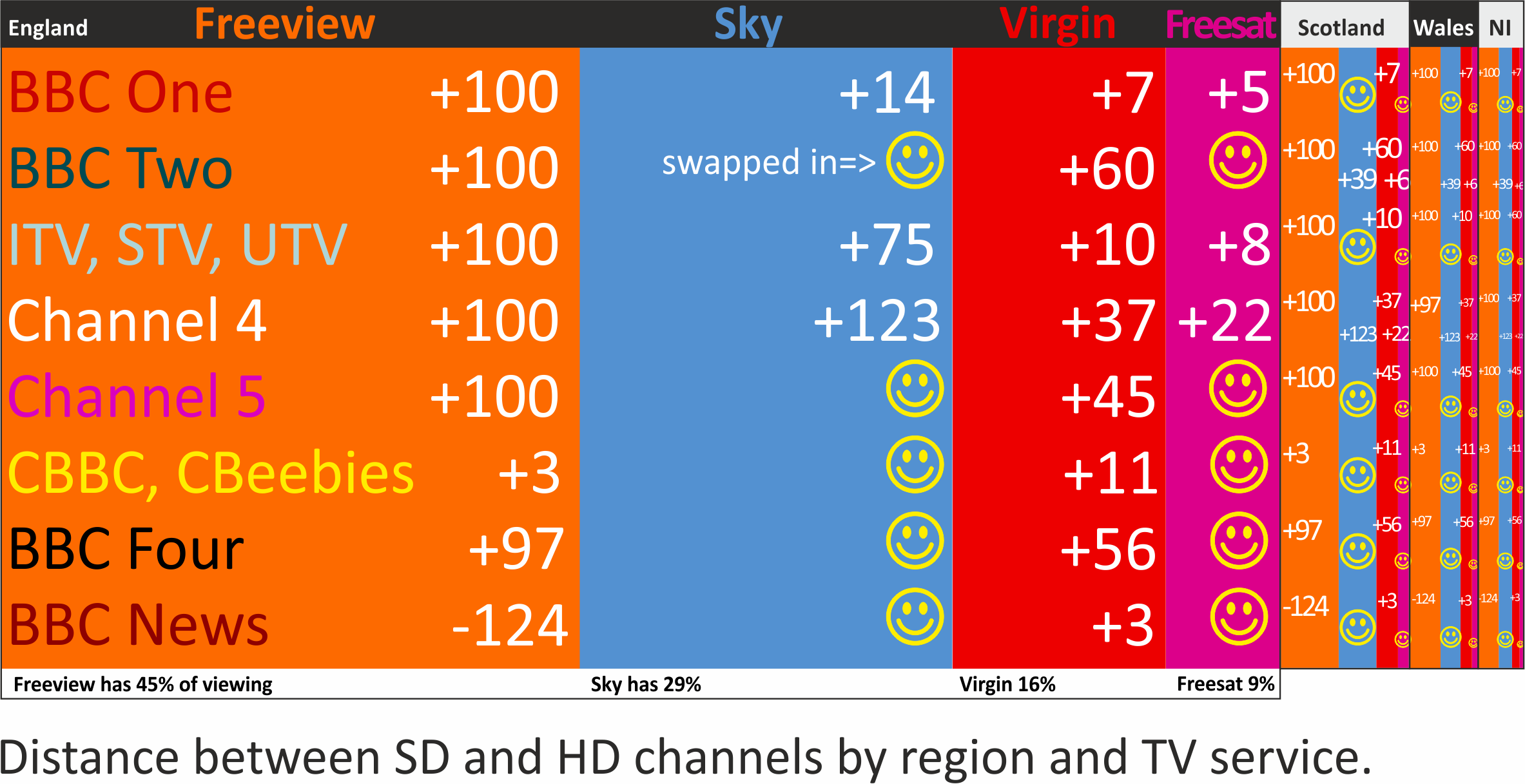 How do we know this is an issue for lots of viewers?
However, what is very interesting is that the share of viewers using the HD services for viewing the main free-to-air, public service channels (which get 51% of total viewing) is [5]:
Why are the figures so low? It's because on all Freeview sets, the HD channel numbers are not swapped with the single figures everyone knows, so you must know to add 100, 96, 97, 3 or even minus 124 to get the same PSB channel in HD.
It's a little better on Sky HD and Freesat HD where you get in-place HD swaps for Channel 5 and in England BBC Two HD, outside England BBC One HD and STV or UTV. And you don't need to hunt for the other HD BBC channels: CBBC, CBeebies and the news channel.
Will this problem ever be fixed?
Perhaps in hindsight it should have been the law for HD channels to be swapped into the EPG in the right place and for the broadcasters to provide regional news and adverts in HD for everyone?
There are good technical and money reasons for this: the regional news on BBC One costs a fortune to provide but there's no budget to broadcast them all in HD on satellite; Channel 4 and ITV are paid for by advertisers who paid for the regionalization of adverts.
This situation may improve when Freeview eventually becomes a "HD first" service, which might be in 2022 perhaps?
So, making the total for HD viewing for these "big five" grow from 12% 2014 to 17% in 2016. If you draw a line, it would make current final changeover date to all-HD … 2099.
Reason 2b: And your TV salesman isn't going to explain this to you…
Understandably, TV sellers want to show their merchandise at its very best. And the best way to do this is by showing specially made, extremely high-quality videos. Not by showing reruns of East Enders. That means you don't get to see how to set up HD channels when you get the TV home. And it would be a very dedicated salesman who had the time to show you.
Have a visit to your local TV store and you'll see this in practice. This week I checked out my local Curry's PC World. Curry's was using their old favourite of blockbuster 3D animated movies, which always look good on any screen.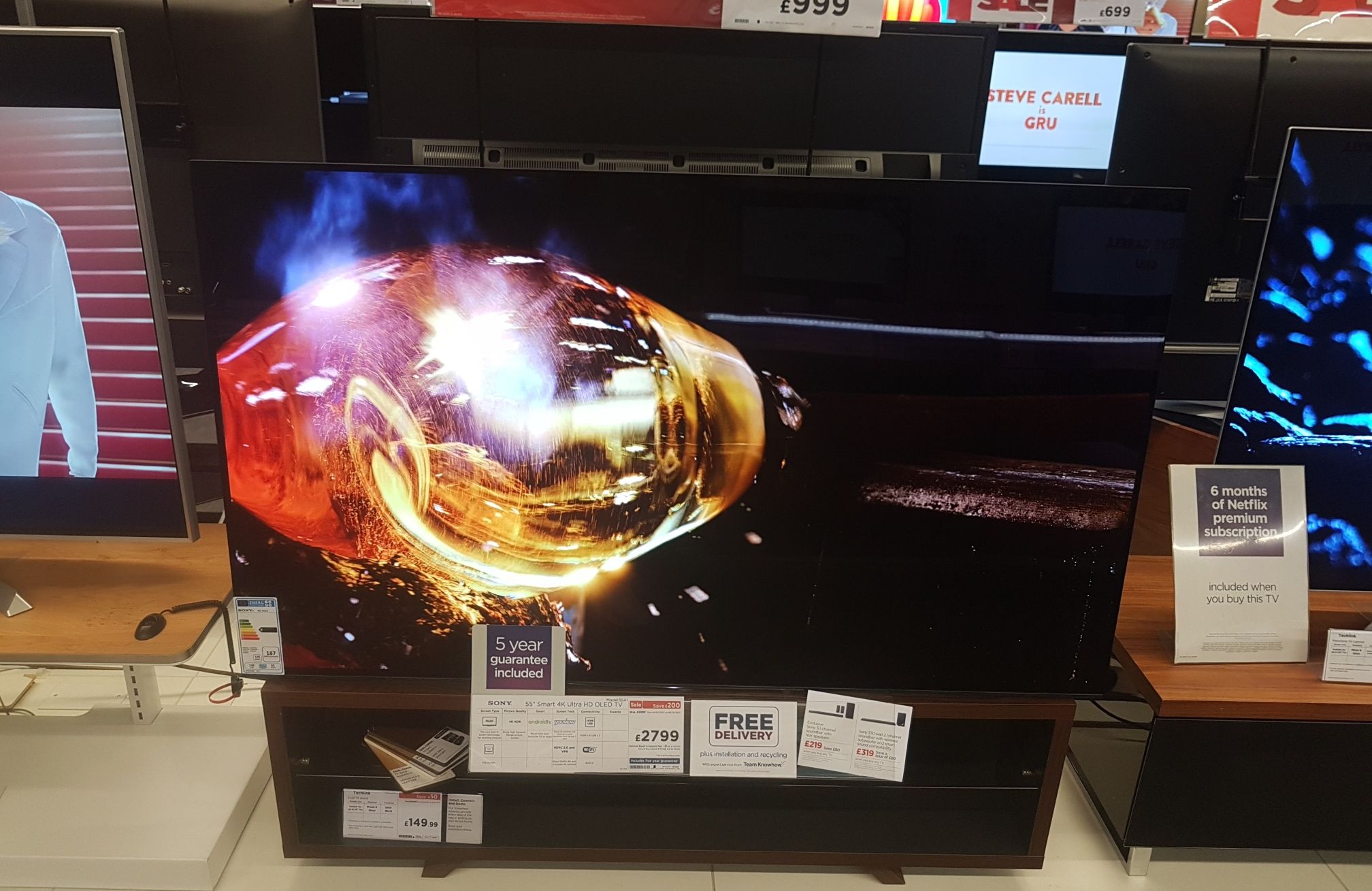 Reason 3: Not all shows look that much better in HD
If you have a relatively new TV, you probably won't be too bothered about finding those HD channels. Your favourite shows will look just great even on the normal channels.
There are TV programme genres that do really benefit from being watched in HD, especially nature documentaries and live stadium sport. But a lot of what people watch is news, soap operas and quiz shows. While these shows will look better in HD, the difference isn't that great on modern TV sets.
Reason 3b: Shows made before 2009 were never made in HD
And you're probably still watching a lot of reruns that were never made in HD anyway.
TV channels that show archive programmes (Drama, E4, Dave, ITV 3) or US imports (Pick, 5 USA) are incredibly popular among UK viewers. And these shows won't have been produced in HD if they were made before 2009.
Reason 4: Eyesight is less good at the age where people watch lots of television
Forgive me for pointing this out, but for many of us we just can't see the benefit of HD television. If, like me, you're getting near middle aged, you'll know all too well that eyesight declines with age. This is shown here on this chart.
And, its mostly people over 65 who watch a great deal of broadcast TV. Younger viewers prefer to use streaming services (Netflix, YouTube, etc.). And this trend is growing. [4]
Isn't it ironic that the people who are watching the most broadcast TV get the least benefit from HD?
[1] https://www.statista.com/statistics/387729/market-share-of-hdtv-and-hd-ready-tv-sets-in-the-uk/
[2] http://www.digitaluk.co.uk/__data/assets/pdf_file/0007/92761/Digital_UK_Update_2017_online.pdf
[3] https://www.ofcom.org.uk/__data/assets/pdf_file/0016/105442/uk-television-audio-visual.pdf page 79
[4] https://www.theguardian.com/tv-and-radio/shortcuts/2017/mar/29/a-dying-habit-why-the-average-bbc1-viewer-is-61
[5] https://www.ofcom.org.uk/__data/assets/pdf_file/0040/95899/CN16-08.pdf page 78
Comments
Saturday, 14 July 2018

Comment from ex-TV Engineer (1968 to 1975) and career in (old chemical) photography: When in photography, I found people generally did not recognise bad quality photographs. This applied equally to young and old. I would throw away a sub-standard print and people would ask why I was throwing away perfectly good photo. I had to point out the photo was (say) too magenta. But few people could see the problem - even when it was explained to them. The same with definition - few people could recognise the difference between a photo taken with a Contax and one taken with a hobby camera. People tend to look at what is in the picture - not the quality. I look at the quality first before everything else. I am retired now, but remain very fussy about image quality.

Psohlavec's 6 posts
Psohlavec's:
map
P's Freeview map
terrain
P's terrain plot
waves
P's frequency data
P's Freeview Detailed Coverage
Sunday, 15 July 2018

Psohlavec:

I know where you are coming from as a former TV engineer myself, retired like you.

I found that the vast majority of customers were interested in content rather than quality. So they were much less interested in how good/bad/indifferent the picture was but very interested in the programme content and how entertaining that was. Many didn't even notice when all 3 channels became available on 625 line TV in late 1969 (November 15th in my area at the time).

Add to that the lack of regional HD news services, etc then when they watch non-news content few people are going to switch to another logical channel just to get the same programme content but with sharper pictures.

Only when everything is broadcast in HD on all multiplexes will people start to use HD better.



MikeP's 3,056 posts
Saturday, 21 July 2018

I watch as much as I can in HD because the quality is so much better than many SD channels, and on BBC services and Channel 4 services, you get 5.1 Dolby Digital Surround Sound on certain programmes which I feed to a 2nd hand LG home cinema speaker system that is equipped Dolby Digital / DTS /and Dolby Pro Logic II surround sound built in.

The picture is infinitely far better than SD channels, and the sound is a big improvement on the awful flat lifeless built in flat screen TV speakers.

Anthony's 52 posts
Sunday, 22 July 2018

Have indulged in a new Samsung 49inch 4K set, I find SD image just awful. We watch very little live TV, despite both being in our 70s. We do watch BBC Breakfast on terrestrial TV and can switch easily between HD and our local news South East, for the often 3 minutes of local news and weather. I put up with what I refer as blurovision' as the program is so short, but want to watch everything in HD if possible. I do have Virgin TV mainly to get the V6 box to record programs and only choice for high speed broadband.
Otherwise we use iPlayer, Netflix, Amazon and Now TV. No satellite allowed on our block of flats so have to make do with terestial. Virgin too difficult to find HD channels as you still have to wade through all the one you haven't subscribed to to get to the free-to-air ones.

Bill Kocher's 47 posts
Wednesday, 8 August 2018

Hello Troopers, Wading through channels to get to HD? It may be a good idea to create your favourites channel list page on the EPG!
I live in the Border tv area in Scotland with the offer of an ITV Border HD channel and a sub regional channel called ITV Border Scotland! The Scottish sub channel is only available in SD. Even though the programme variation is in modest supply between the two Border tv versions, creating a favourites channel page allows ease of access to select the version of your choice!

Willie Bone's 58 posts
Friday, 17 August 2018

To quote

"There are TV programme genres that do really benefit from being watched in HD, especially nature documentaries and live stadium sport."

I watch premiership football, test cricket and F1 all in UHD and it is much better than HD.

Sky have a good EPG policy of putting HD channels high on the EPG for people who have HD TVs. The only idiots that don't is BBC 1 which is SD probably because of their policy of not providing HD for the regional transmissions.

HD also supports Dolby Surround Sound both on satellite and terrestrial.

Trevor Harris's 367 posts
Sunday, 25 November 2018

I don't often watch in HD because I can't be bothered to switch back and forth for local news and programming. Also at times when reception is poor for atmospheric reasons, the picture can pixelate. And finally, HD programmes saved on my PVR take up more storage. As others have said, the picture quality, except on sports events, is really not that much better

Steve Lyons's 2 posts
Saturday, 29 December 2018

Our samsung which is only 2 years old started off with HD Channels on quite a few stations, which we enjoyed watching as we found the picture much better, then all of a sudden the HD channels just refused to come up ie if you put in 101 for BBC1 the channel you was watching just come back up again, this happens with all the HD channels, despite re-tuning countless times, we seem to have just lost the channels, would be grateful for any suggestions or comments, No point buying an HD tv if you can only get HD for about a year!!!!

Bev Wylde's 1 post

Bev Wylde:

To give a full answer we need you to provide a full post code so we can examine the reception conditions at your particular location, a partail pst code will not help.

Have you had your aerial changed at all in the last year or so? At many of the transmitters the frequencies used have been changed to prepare for the introduction of 5G services, which requires all Freeview transmissions to be below the 700 MHz point. That usually means having to have a different aerial that before so it is now best to have a wideband aerial in use so it can get all the available signals. Without knowing which of the over 1100 transmitters you are using we cannot tell what frequencies are in use in your area, hence the need for the full post code.



MikeP's 3,056 posts
Thursday, 10 January 2019

There are 2 reasons why I tend to stay away from HD TV:

1. Local programmes (News, current affairs, etc.) are not available on HD - so you have to stick with SD

My PVR uses so much more disc space to record in HD that I never record in HD. And the habit tends to stick!

Rob Johnson's 3 posts
Select more comments
Your comment please