Freeview removes com8 channels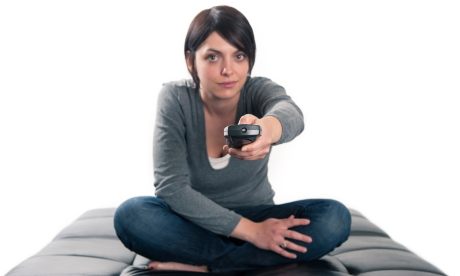 Brian Butterworth
published on
UK Free TV
These channels could be received in about 77% of UK homes. This means there are 15 channels left on com7. According to reports com7 will now continue "for the foreseeable future"[1]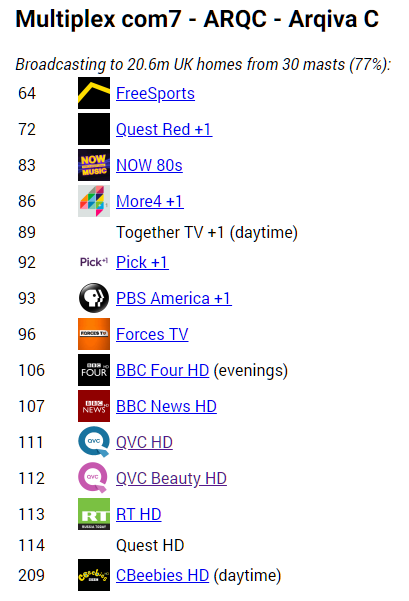 I have once-again aligned the data here on ukfree.tv with the official list of Freeview channels, at https://www.freeview.co.uk/corporate/platform-management/channel-listings
[1] https://www.cai.org.uk/index.php/contact/news/17-dtt-freeview-updates
Comments
Friday, 12 May 2023

Chris Perkins: Chris
Many thanks for your comprehensive reply. Today we have had no interrupts so you may well be correct in as much as this may well be weather related. That said, I'll check out the channels as you suggest and get back to you if necessary. Thanks again for your help

Chris Perkins's 2 posts
Chris's:
map
C's Freeview map
terrain
C's terrain plot
waves
C's frequency data
C's Freeview Detailed Coverage

Chris Perkins:

Hi. Your location with your last post actually gives a slightly improved prediction for Hannington's 6 multiplexes and including the Basingstoke Local multiplex on C32 (albeit that one is a poor prediction).

Now one thing I had intended to mention (but I had a browser hiccup and it then got forgotten), that's potential mobile phone mast interference. You are surrounded by a number of them! But more importantly, there is one not quite on the line-of-sight to Hannington but possibly within the beamwidth of your aerial and it's close by, at around 0.2km !!

You should have received a postcard from Restore TV UK although there's a number of known instances where people have not been sent them. If you haven't had one (you should have) it may be that the cell has not been upgraded (yet) to use 700MHz the band that was cleared of TV recently and sold to mobile phone operators. Whilst the data I'm looking at isn't up-to-date , it's an EE cell (which may now be shared with others) and they are most certainly likely to upgrade in due course as they bought a chunk of 700MHz.
See https://restoretv.uk Contact Us and ring them on 0808-1313-800 a free call.
Tell them you are suffering interference with picture break up being frequent (I wouldn't mention it's only recent or intermittent). Ask them to send you a free filter. That filter should go between your aerial and any amplifier/splitter distribution system.
if you happen to have a masthead amplifier, they can arrange a free engineer visit to fit an external weather proof one.

Chris.SE's 3,918 posts
Select more comments
Your comment please