BBC Two
Inspiring documentaries, drama, comedy and entertainment for mainstream audiences that aims to engage the heart while expanding the mind.
Main TV standard-definiton channels
How to Watch: BBC Two
Below is a list of all the television and radio channels that you can watch in the UK using one of the free services: DAB (for radio), Freeview, Sky No Card - Sky without a viewing card (Freesat from Sky (or fSfS)) and Freesat.. Where a channel can be watched for free, the channel number is listed below. In addition, if you can watch (or listen) immediately online, press the button in the "web" column.

As some channels are exclusive to one service alone, you may need to get receive more than one service to get all the channels you want. The coverage for Freeview differs too - those channels not provided by the public service "Freeview Light" transmitters the current coverage shown thus

(54%)

, taken from Connected Nations Report 2017: Data analysis' Key: wb_sunny daytime; watch_later nighttime; account_box funded from the TV License; flags show Freeview channel limits.
Main TV standard-definiton channels
Regional content
: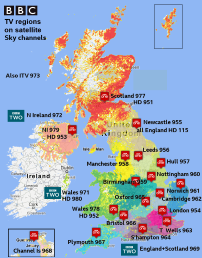 BBC nations TV network - English, Wales, Scotland and Northern Ireland - for some regional programmes. See
BBC nations and regions - overview map - interactive maps
. .
media.info
: For full details of broadcaster contacts, see the
media.info BBC Two page
.
Official site
: See the
BBC Two website
.
From Wikipedia
: It covers a wide range of subject matter, but tending towards more 'highbrow' programmes than the more mainstream and popular BBC One. Like the BBC's other domestic TV and radio channels, it is funded by the television licence, and is therefore commercial-free. It is a comparatively well funded public service network, regularly attaining a much higher audience share than most current public service networks worldwide. - en.wikipedia.org
read more about BBC Two on wikipedia
(summary by
Clipped
).
Freeview multiplex
: BBC Two is on
multiplex PSB1
in
.
About BBC Two
Free channel of the day: BBC Two

Brian Butterworth published on UK Free TV
How is the free channel paid for?
The £528.3m
BBC Two
budget is funded by the £3,596m Television Licence Fee, and represents 14.7% of all BBC spending - that's about 42p per week per person.
Is the channel live, pre-recorded, new content or repeats?
BBC Two has live presentation, but almost all programmes are pre-recorded, with the exeption of The Daily Politics and Newsnight. Almost all shows are commissioned by the BBC and most have having their first showing.
What's the channel's unique selling point?
A healthy diet of lifestyle programmes, documentaries, comedy, quiz programmes and
drama
.
The programme schedule highlights
6pm quiz, 6:30pm popular history, 10pm entertainment, 10:30pm Newsnight.
The bits to avoid
The afternoon schedule (The Weakest Link, Flog It!) is lacking the imagination of peak time programmes.
This channel carries a subtitles service for the deaf, hard of hearing and quiet environments.
Comments
Tuesday, 15 March 2011

Hi

I am keen to move to Freesat but am an avid rugby watcher and currently I am able to watch the Magners league on either S4C or BBC2 Wales. However, it appears that BBC 2 Wales is not available on freesat. Is this correct?

Pontyboy

Terry Evans's 1 post

Terry Evans - S4C and BBC2 Wales are both on Freesat. I've double checked this on my Technisat "Freesat"receiver Just now.

Les Nicol's 991 posts

Terry Evans
Freesat setup with a Welsh postcode:
102 = BBC2 Wales
104 = S4C

If Freesat is not setup with a Welsh postcode then:
971 = BBC2 Wales
120 = S4C

Mark A.'s 373 posts
Mark's:
map
M's Freeview map
terrain
M's terrain plot
waves
M's frequency data
M's Freeview Detailed Coverage
Friday, 1 April 2011

I cant find bbc 2 on vcr since changeovernot even with Auto tune . Can anyone help

Mac's 1 post

Mac: Yes, that's correct. Your VCR has only an analogue tuner. Time to buy yourself a Freeview+ box.

Briantist's 38,899 posts
Friday, 17 June 2011

i cant seem to get bbc 2 on my tv, it has freeview built in and i wasnt getting 1 or 2, i used auto start and managed to get bbc 1 and ive got every other channel but i cant seem to get bbc 2 for some reason, can anyone help or is it a problem in the cumbernauld area just now, any help much appreciated cheers.

gregor's 1 post
gregor's:
map
G's Freeview map
terrain
G's terrain plot
waves
G's frequency data
G's Freeview Detailed Coverage
Saturday, 18 June 2011

Gregor

BBC2 analogue closes down first, then BBC1, ITV (or STV in Scotland) and Channel 4 two weeks later.
It sounds like you where viewing BBC2 analogue and not BBC2 digital.
All the BBC channels are on the same multiplex, so if you can get BBC3, BBC News etc you can get BBC2 digital.

Mark A.'s 373 posts
Mark's:
map
M's Freeview map
terrain
M's terrain plot
waves
M's frequency data
M's Freeview Detailed Coverage

Gregor

P.S.
BBC2 analogue closed down on 8/06/2011 from the Glasgow transmitter, see digital switchover date | ukfree.tv - independent free digital TV advice date may be different if you are getting your TV from a different transmitter. (RH163LB)

Mark A.'s 373 posts
Sunday, 17 July 2011
G
George
10:06 AM
Newmarket

We receive our signals from Sudbury. We can receive the normal terrestrial channels, with good reception except for BBC2, which we can not receive at all. Please can some one help.

George's 1 post
George's:
map
G's Freeview map
terrain
G's terrain plot
waves
G's frequency data
G's Freeview Detailed Coverage

George: If you are watching the analogue channels, BBC2 was switched off on 6th July 2011 and replaced by a high power digital multiplex which carries all the BBC channels. The remaining analogue signals will be switched off at Sudbury on Wednesday, 20th July 2011 and replaced by mux D3+4 ( ITV1&2, C4, C5 etc) and mux BBCB which carries HD channels. To continue watching TV you will need a Freeview box or a TV with an in-built digital tuner. If the problem is loss of BBC2 on a digital receiver you will need to do a factory reset to clear the channel list of all old data then do a scan for channels which should find and store the channels on the current frequency.

KMJ,Derby's 1,811 posts
Select more comments
Your comment please