Freeview reception - all about aerials

Brian Butterworth published on UK Free TV
Updated 8th January 2014.


Your ability of receive all the Freeview transmissions depends on the suitability of aerial
the design style,
the "group", and
its physical location.
Standard type - Yagi aerial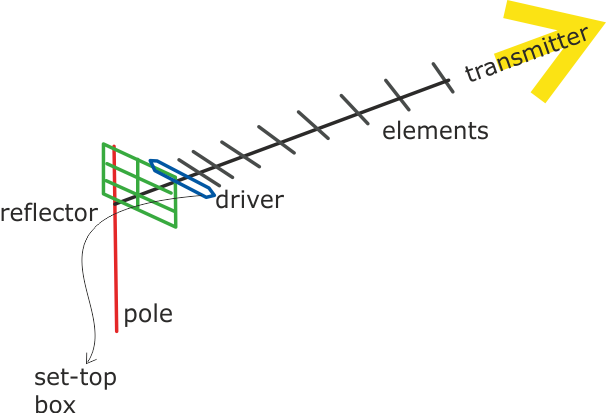 The
standard
type of TV aerial is known as the Yagi aerial. It is mounted on a pole, and consists of a rod with a reflector (shown green) at the back and many spiky elements (in grey) at the front. The connecting
cable
connects to the element nearest the reflector, known as the driver (shown in blue).
These Yagi aerials are directional and so pick up signals best from a
transmitter
that the rod points towards. The more elements the aerial has, the better it picks up a
signal
and becomes more directional.
A standard-type aerial is all that is required for
digital
TV
reception
in most places. These antennae have between 10 and 18 elements and a single reflector. These are recommended for new installations for good digital television reception, but will more often than not function perfectly in good reception areas.
Typically these aerials are designed to receive only some transmission frequencies - see "groups" below.
High Gain aerials

These aerials are designed for poor digital reception areas, and have two reflectors. For maximum signal strength, some digital high
gain
aerials have up to 100 elements. Since the
switchover
to digital-only transmissions back in October 2012, most UK households now have good
quality
digital TV signals.
A more expensive aerial is only required where the signal strength is low, but can often provide the whole Freeview reception where it might otherwise be impossible.
The CAI (that represents aerial installers) has four standards for digital TV aerials. The highest standard "1" is for homes on the fringes of coverage areas, intermediate standard "2" is suitable for use within the coverage area; minimum standard "3" is for good coverage conditions.
These aerials can be either
wideband
, or receive only selected frequencies - see "groups" below.
Grid

You may haved used a 'Grid aerial' for
analogue
reception, but as they are generally unsuitable for Freeview reception, they have now generally been replaced by the Yagi type. However in some places a Grid aerial installation may work for Freeview: otherwise replace with a standard Yagi aerial.
Indoor
Indoor aerials
are generally not suitable for Freeview reception. In areas of good signal strength it is often possible to receive some transmissions. Even where an aerial works, people often find that may get interruptions to their viewing (or recording).
Loft mounted
Loft
mounted arrivals are not generally recommended for Freeview reception, as the
roof
tiles and plumbing will degrade the signal. Some compensation for this loss of signal can be made by using
satellite
-grade cable to connect the set top box to the aerial.
Positioning
The best position for a TV aerial is mounted outdoors, as high from the ground as possible, pointing directly at the transmitter. The signal can be blocked by hills and tall buildings. It should be positioned away from any other aerials.
Horizontal or vertical?
The transmitter will either use vertical
mode
which requires the elements of your aerial to be up-down, or horizontal mode which requires them to be level with the ground.
Groups
Both analogue and digital television is transmitted the same group of transmission frequencies (known as
channel
21 through to 60). A coloured marking on the aerial shows the group.

To create the best possible analogue
picture
, TV transmissions from adjacent transmitters have been designated to several different groups of frequencies. By using an aerial that receives only the
channels
in the correct group, the analogue picture can be kept free from
interference
.
To receive Freeview transmissions from the same transmitter it has been sometimes necessary to use frequencies that are not part of the transmitter's normal group. When this has occurred, the aerial will need to be replaced with a "wideband" aerial (also known as group W) - one that covers every group.
As
Ofcom
is planning to move the TV frequencies again - perhaps as soon as 2018 - it may be wise to use a wideband aerial if you can to ensure you can keep viewing Freeview for many years to come.
Comments
Monday, 28 November 2016

I got so carried away with my story that I forgot to say that you should look for your TV's make model number etc then either google yourself for spec. and manual, or post here if not clear on such matters.

Wiki has various info about naming terms but depends how old yours is

steve P's 1,173 posts

SteveP

Arial and Ariel are both type faces, originally depending on the supplier of the lead setts used for manual typesetting. European suppliers (including UK) tend to use Ariel in my years of experience (back to the fifties!) and Arial was originally used in the USA, but that has now come into use in Europe as well. So both are correct. But neither, as we both say, are anything to do with devices used to receive RF transmissions.




MikeP's 3,056 posts
Tuesday, 21 February 2017

I recently subscribed to bt tv,I have a you view box and the aerial installer visited yesterday,he attached a very small aerial - perhaps 14" in length to the side of my house,about 12 foot from the ground.when he did a demonstration of the HD channels all was fine but today strangely the standard definition channels became pixellated. I contacted bt who advised me to do a factory reset on my you view box,this seems to have sorted it.My query is should I get the installer to install a bigger aerial to work with my you view box although it works fine when plugged directly into my tv?

Mike's 3 posts
Wednesday, 22 February 2017

Mike: You havn't given a postcode, so we have no idea what sort of signal you should get. And you havn't described what the problem actually is - other than the SD channels are pixellated. Thats a bit like saying to a doctor 'I have this pain'.

Could be that your signal is rubbish, could be that the aerial is too small, could be that the cabling isn't quite right. But it could also be that your signal is too good, and that the tuner is being overloaded on some muxes. So we need signal strength on all the muxes, and what transmitter your actually tuned to.

MikeB's 2,579 posts
Friday, 24 February 2017

I erected a new aerial externally on a 2 meter pole on the roof, a Labgear SLx 48 Wideband High Gain aerial from Screwfix, with all new coax etc, plugged directly into back of TV, complete new installation, as I didn't previously have an aerial. However everything worked perfectly except I wasn't getting the HD channels or Film 4+1, nothing at all from C47 BBCB Mux.

After alot of reading and learning, I realized this aerial was probably to big for my location, and it was causing signal overload and that's why I wasn't getting the HD Channels C47 BBCB. So I've gone back to Screwfix and got the smallest aerial they do instead, which is a Labgear Mini Compact Log Periodic aerial with built in 4G filterig.

But I've still got the same problem, no BBCB C47.

TV diagnostics show all the other muxes as follows:
Channel 41: Signal Strength 93% Signal Quality 100%
Channel 44: Signal Strength 94% Signal Quality 100%
Channel 47: No Signal
Channel 56: Signal Strength 90% Signal Quality 100%
Channel 58: Signal Strength 90% Signal Quality 100%
Channel 60: Signal Strength 90% Signal Quality 100%

I've re-tuned and cleared the channel list from the TV numerous times, rechecked the cable and as I've said even got another aerial.

My Location is IP3 0LA number 138 and pointing at the Sudbury transmitter.

Is it still likely that the signal strength is to strong even with the smallest aerial I could get, and that I may actually need an attenuator instead?





Alan's 3 posts
Alan's:
map
A's Freeview map
terrain
A's terrain plot
waves
A's frequency data
A's Freeview Detailed Coverage

Alan: It's certainly possible that your signal strength is still too high, but just to confirm does your TV have a DVB-T2 capable tuner? Lots of TV were marketed as HD ready but only have a DVB-T tuner and aren't capable of receiving the PSB3/BBCB multiplex, which is broadcast in DVB-T2 in order to provide more capacity for the HD channels than is possible with DVB-T.

StevensOnln1's 3,569 posts

StevensOnln1:

Hi StevensOnln1, I'm glad I asked now, I wouldn't have suspected my TV was at fault as I've been receiving Sky+ HD without any problems through HDMI, but I've cancelled Sky and now got Freesat+ HD box (Humax HDR-1100S) instead, again no problem with 1080p HD on a HDMI lead from that either.

Plus I've erected an aerial to get the few channels not available on Freesat "Dave, Sony Movies, Quest" etc which I watch aswell, my TV is an LG 32LH3000 and it appears as if it may only have a DVB-T tuner and not DVB-T2. Unfortunately the original manual covers about 10 different TV's and it's hard to work out from reading that what the specs are.

But at What HiFi it's stating tuner DVB-T only.
LG 32LH3000 32" LCD TV specs | What Hi-Fi?

Nothing about the tuner type in the specs at LG though.
LG LG 32LH3000 Television - 32 HD Ready 1080p LCD TV - LG Electronics UK

Looks like I should have asked before getting another new aerial and going up on the roof again, ah well live and learn. And I think I might be right in thinking the Log Periodic Aerial is a better choice and more future proof anyway that I've now got up there. Even if it does look ridiculously small and incapable up on the roof, it seems to be performing really well signal wise.




Alan's 3 posts
Alan's:
map
A's Freeview map
terrain
A's terrain plot
waves
A's frequency data
A's Freeview Detailed Coverage

Alan: With 90% signal strength from a small log periodic, a high gain aerial was definitely unnecessary, although with both the aerials you mention being wideband types there shouldn't be any difference between them when it comes to future-proofing. Given that you can receive all the channels currently on PSB3 via Freesat, I wouldn't rush to do anything about DVB-T2 reception as there still hasn't been any timescale announced for a switchover from DVB-T to DVB-T2 and you can always add a Freeview HD set top box if you haven't replaced your TV by then (I was using a Manhattan Plaza HD-T2 to get HD channels on my old bedroom TV until I recently replaced it with a new smart TV with inbuilt DVB-T2 tuner).

StevensOnln1's 3,569 posts

StevensOnln1: Thanks for your help, I'm relieved to know that it's the TV tuner rather than a problem with the aerial. And I guess when I do replace my TV I'll be very careful to make sure a new one has a DVB-T2 tuner. Not in any immediate rush to do that yet though as the Humax Box has all the smart capability that I need at the moment anyway.

Thanks again.


Alan's 3 posts
Alan's:
map
A's Freeview map
terrain
A's terrain plot
waves
A's frequency data
A's Freeview Detailed Coverage
Tuesday, 28 March 2017

Hi

I'm on Rowridge and am receiving conflicting information. The aerial installer is saying VP is by far the best giving the strongest signal I am 38 km from the transmitter it radiates both HP and VP. UK digital say you should use HP to get all the channels then why should whoever invest in a new transmitter radiating VP. Your columnists suggest the VP has been powered down from 200,000 kw to 50,000 kw All I know is my picture and reception of certain stations is poor HD is difficult at best. I expect to have problems in the summer with leaves on the trees but no leaves at the moment. Oh for VHF
Thanks for any help VP or HP

Martyn's 2 posts
Select more comments
Your comment please