Freesat reception - all about dishes

Brian Butterworth published on UK Free TV
Satellite reception has both advantages and disadvantages compare with terrestrial (aerial) reception.

By using much higher frequencies (gigahertz, compared to terrestrial televisions megahertz) more transmission channels called transponders (the satellite equivalent of multiplexes) can be provided. For example, there are only six Freeview multiplexes, but Sky or Freesat users can access two hundred satellite transponders.

Aside from exceptional weather conditions (very heavy rain for example) digital satellite provides stable pictures and audio. Where Freeview transmitters are no more than 732 metres above sea level, the geostationary satellites used for television are 35,800,000 metres above the equator so reception is possible even where buildings, trees and hills make terrestrial reception impossible.





The downside of the transmitters being 22,300 miles up in the air is that the signals are very, very weak - so standard TV aerial is of little use. When the signals are sent to the satellites, huge dish transmitters are used to uplink the signal to the satellite. These are tens of metres from side to side, and feature an emitter that generates the signal, which is first bounced of a mirror (called a reflector) and then off the surface of the parabolic dish.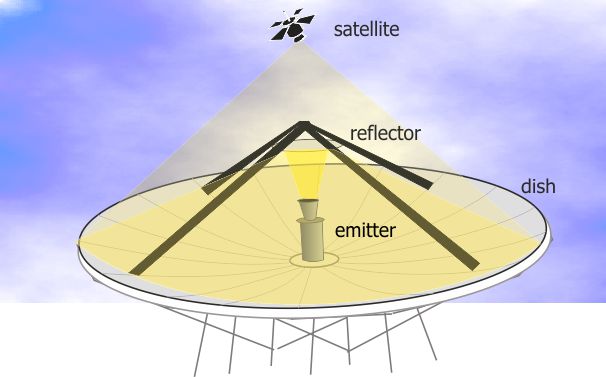 There are many satellites in the sky over the equator. Often these are in clusters over a particular position, for example there are four used for UK television are at 28.2 degrees east. There is another cluster over the 19.2 degrees east positions that are used for German television.

To receive these very weak signals from the satellite, it is necessary to use a dish for reception too. By using a reflective dish, this concentrates the signals onto a small device called a LNB. This is held in front of the dish by a metal arm.




The size of dish for reception is typically much smaller; often 60cm to 100cm in diameter, but the exact size depends upon the transmitting satellite transponder. To keep the transmission power levels down to levels that can be powered by the satellite's solar panels, each beam is focused on a particular area of the Earth's surface. If you are trying to receive the signal at the centre of this zone, a small dish is required. At the outer edges, you may need a 5 metre dish. Maps of these zones are provided by the satellite companies, and are called satellite footprints.

When the dish is installed it must be aligned carefully as the signal is very weak. The installer needs to know the inclination and the azimuth from the ground location to the satellite. If you install yourself you will find that there are markings on the dish that are used to point the dish in the correct position. It is important that the view of the satellite will not be blocked, so must take into account leaves growing on trees and potential building works.

For many people the LNB will have a single cable connected to it, however if you have Sky+ or a multi-room installation the LNB package will actually contain four receivers a quad-LNB. Unlike terrestrial television where you can split the aerial cable to feed more than one Freeview box or television set, with satelite reception you cannot. So, a Sky+ box with two receivers (so you can watch one thing and record another) has two cables connecting the box to the dish.

The cable that connects the dish to the receiver must be satellite grade cable. Whilst this looks superficially like the cable used to connect and aerial to a television, a higher grade cable is required for satellite reception.

Here is an image of a co-axial cable. This sort of cable is used to connect any type of receiving aerial to the reception equipment.




RG6, PF100 and PH100 are all types of coax cable that are suitable for the very weak signals that are received by a satellite dish. (The power is the same as you would receive from a one-bar electric heater on the moon).

The conductor in the centre passes the signals received from the dish to the set-top box. This is made from steel in RG6 cable, and from copper in the RF100 and PH100 types. This makes RG6 less suitable in the UK where rain can damage the cable.

The shielding is responsible for keeping unwanted external interference from damaging the signal. In the cheaper cable this will be a foil wrap, in better specified cables this is a braid (or mesh) of copper wires. The sheild in the RF100 covers 58% of the cable.

The non-conducting layer between the shield and the conductor is called the dielectric. This can be either a solid (RG6), foam (RF100) or air-spaced (PH100) dielectric. This makes the cables progressively more flexible (ie bendy without damage).
Comments
Friday, 24 June 2011

Ken Sims - It may be related to the trees Ken, but it could be that your dish has moved and requires to have the signal peaked. I'm constantly seeing SKY dishes with securing bolts missing or loose allowing movement - would be helpful if you new what size your dish was? ie: mini type 43cm or standard around 60cm. You can check the signal and picture quality levels with the receiver itself normally accessed through the menu structure. If it is very low you may need to call in a rigger to re-configure your dish.

Les Nicol's 991 posts

I have purchased a portable satellite TV system for my caravan with a 78cm dish. I can pick up Astra 2 and have nearly 600 TV channels but no BBC or ITV. I live in the SW.

Can anyone suggest how can I recieve BBC/ITV Free to Air channels as well as all these foreign TV channels? Thanks.

Richard's 1 post

Richard: Are you positive that its Astra 2 you are receiving at 28.2 degrees and not Astra at 19.2, as they are only a fraction of a movement away from each other.

Try manually punching in some of the frequencies for the channels you want as seen on the link provided.

Eurobird 1 & Astra 2A/2B/2D at 28.2°E - LyngSat

jb38's 7,179 posts
Tuesday, 28 June 2011

I am thinking of buying from Aldi a portable satellite kit - dish, tuner, cables - for use when caravanning in Europe. Will i be able to get freesat reception ?
Thank you
Iain

Iain barker's 1 post

Iain barker: You will be able to receive Freesat with this kit but not in the same way as does a dedicated Freesat box, as the EPG guide is only a now and next type and not the usual programme list, this making it a bit of a nightmare when searching for your usually watched favourite channels.

The other thing to remember is that the dish is only 45cm and therefore will be a bit more critical in setting up, as indeed they even are in Northern Scotland, so this will limit the reception possibilities if you stray a bit too far towards Eastern Europe, 60+cm dishes being the more usual.

Apart from these criticisms the kit is good value for money.

jb38's 7,179 posts
Saturday, 2 July 2011

hi,
I have recently purchased an Optex 9540 receiver and Optex 80 cm dish. I have aligned my dish for Astra 28.2E using a Sat Finder meter that squeals when aligned but all I get on the sat box is "No Signal". Elevation 32.5, Az. 143.3 and LNB skew -18.5, all checked. As the box is configured for the French FTA, I realigned to Astra 19.2 but get the same result, "No Signal". Could this be a box fault? The aerial fits onto the 9540 but there isn't an aerial connection from the 9540 to the TV so I presume the Scart lead carries the signal? I live in SW France.
Thank you, Baz

Baz Mason's 1 post

Baz Mason: The sat finder meter will give an audible indication when it detects something so long as its being supplied with power via the co-ax, (not even requiring a receiver) so at least you know its working, that said though it still might not be 28.2 you are on as these simple sat finder devices require real operational precision to determine the null point between individual satellites, this sometimes being barely noticeable!

I would go into the set up menu and select Astra 2D, then carry out a test scan on that as some UK channels should be seen there, although have a check and see if any signal strength is showing as there could be a problem with the box, especially should it be second hand, as these have been on the go for a number of years.

Pity you cant borrow another receiver, (any type) as substitution is always an easier way of determining the source of a trouble, especially if a dish alignment comes into the equation.

And just to confirm that the scart lead is the method of connection to the TV.

Try entering your location details into this link, and use that as a basis for your tests.

Satellite Finder / Dish Pointing Calculator with Google Maps | DishPointer.com


jb38's 7,179 posts
Thursday, 7 July 2011

Les Nicol. Thank you Les for your comprehensive reply. Even though I am an active pensioner long gone are the days when I would climb a ladder to top of my house. I did however get a young man to get up there and he assures me that all the bolts appear to be in place and secure. He tells me that the dish is pointing directly to the side of a tree that bends in the wind and obscures the gap. So I'm pretty sure my problem is the trees.

My neighbours who have encountered the same problem have since confirmed this.

This leading edge technology that beams high quality pictures into our living rooms from thousands of miles away, but stick a tree in the way and it all goes tits up in the last 25yds! I amazed!

Ken Sims's 3 posts
Friday, 8 July 2011
J
Jon Shannow
8:17 AM
Stevenage

Ken Sims: Hi ken
I have just moved into a property with a dish installed .
How can I find out where my signal is coming from sg2 8tz
Thank you
Jon

Jon Shannow's 7 posts
Jon's: ...
Friday, 15 July 2011

Ken - It's possible the dish isn't sited in the best position. A dish can be sited at ground level - Sky fitters in particular seem to have a preference to establish dishes at a point well out of the reach of subscribers !

I have a motorised dish on a ground stand and there are several large trees anywhere between 300 to 1200 yards from where the dish is set up and at the 300 yard point the main A75 trunk Euro Route from Ireland to Europe - the constant HGV traffic using it not to mention buildings.

My dish is configured correctly by myself and I have no difficulty in reception in the complete range of receivable satellites from from around 40+ plus degrees East to 40+degrees West. - accepting that my dish is 88cms in size,

In fairness to SKY fitters they are not given the extra time to achieve the best possible location where there are site issues

Finally a personal and more critical appraisal- some receivers aside - the hardware used is the cheapest of the cheap.

Les Nicol's 991 posts
Select more comments
Your comment please