Freesat reception - all about dishes

Brian Butterworth published on UK Free TV
Satellite reception has both advantages and disadvantages compare with terrestrial (aerial) reception.

By using much higher frequencies (gigahertz, compared to terrestrial televisions megahertz) more transmission channels called transponders (the satellite equivalent of multiplexes) can be provided. For example, there are only six Freeview multiplexes, but Sky or Freesat users can access two hundred satellite transponders.

Aside from exceptional weather conditions (very heavy rain for example) digital satellite provides stable pictures and audio. Where Freeview transmitters are no more than 732 metres above sea level, the geostationary satellites used for television are 35,800,000 metres above the equator so reception is possible even where buildings, trees and hills make terrestrial reception impossible.





The downside of the transmitters being 22,300 miles up in the air is that the signals are very, very weak - so standard TV aerial is of little use. When the signals are sent to the satellites, huge dish transmitters are used to uplink the signal to the satellite. These are tens of metres from side to side, and feature an emitter that generates the signal, which is first bounced of a mirror (called a reflector) and then off the surface of the parabolic dish.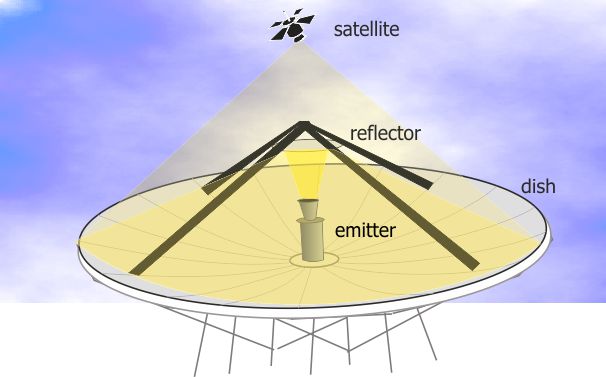 There are many satellites in the sky over the equator. Often these are in clusters over a particular position, for example there are four used for UK television are at 28.2 degrees east. There is another cluster over the 19.2 degrees east positions that are used for German television.

To receive these very weak signals from the satellite, it is necessary to use a dish for reception too. By using a reflective dish, this concentrates the signals onto a small device called a LNB. This is held in front of the dish by a metal arm.




The size of dish for reception is typically much smaller; often 60cm to 100cm in diameter, but the exact size depends upon the transmitting satellite transponder. To keep the transmission power levels down to levels that can be powered by the satellite's solar panels, each beam is focused on a particular area of the Earth's surface. If you are trying to receive the signal at the centre of this zone, a small dish is required. At the outer edges, you may need a 5 metre dish. Maps of these zones are provided by the satellite companies, and are called satellite footprints.

When the dish is installed it must be aligned carefully as the signal is very weak. The installer needs to know the inclination and the azimuth from the ground location to the satellite. If you install yourself you will find that there are markings on the dish that are used to point the dish in the correct position. It is important that the view of the satellite will not be blocked, so must take into account leaves growing on trees and potential building works.

For many people the LNB will have a single cable connected to it, however if you have Sky+ or a multi-room installation the LNB package will actually contain four receivers a quad-LNB. Unlike terrestrial television where you can split the aerial cable to feed more than one Freeview box or television set, with satelite reception you cannot. So, a Sky+ box with two receivers (so you can watch one thing and record another) has two cables connecting the box to the dish.

The cable that connects the dish to the receiver must be satellite grade cable. Whilst this looks superficially like the cable used to connect and aerial to a television, a higher grade cable is required for satellite reception.

Here is an image of a co-axial cable. This sort of cable is used to connect any type of receiving aerial to the reception equipment.




RG6, PF100 and PH100 are all types of coax cable that are suitable for the very weak signals that are received by a satellite dish. (The power is the same as you would receive from a one-bar electric heater on the moon).

The conductor in the centre passes the signals received from the dish to the set-top box. This is made from steel in RG6 cable, and from copper in the RF100 and PH100 types. This makes RG6 less suitable in the UK where rain can damage the cable.

The shielding is responsible for keeping unwanted external interference from damaging the signal. In the cheaper cable this will be a foil wrap, in better specified cables this is a braid (or mesh) of copper wires. The sheild in the RF100 covers 58% of the cable.

The non-conducting layer between the shield and the conductor is called the dielectric. This can be either a solid (RG6), foam (RF100) or air-spaced (PH100) dielectric. This makes the cables progressively more flexible (ie bendy without damage).
Comments
Friday, 15 July 2011

Jon Shannow - You may be able to compare direction with other dishes nearby- not the most accurate method of checking. Really the only way to get some accuracy is by connecting a receiver to the dish and seeing what reception your getting or by having a local rigger who would be able to assess this visually or by connecting a Pro-Meter to the input cabling to your property.

Les Nicol's 991 posts

is it ok to paint the reflector dish and if so is there a specific paint to use.thanks KEN

KEN's 2 posts

Ken - Yes you can paint your dish either with a spray or brush paint. There's no specific type but I would go for a powdercoating finish. Clear perspex dishes are avilable also if you require something more asthetic.

lesnicol's 991 posts
Saturday, 16 July 2011

re painting dish. thanks for your answer and so prompt too, thanks KEN

KEN's 2 posts
Wednesday, 20 July 2011

I'm thinking of putting up a freesat satellite dish. I live in a small semi detached bungalow with a tv aerial pole attached to the gable end wall.
Would it be suitable to put the dish on this pole below the aerial ? What size dish should I use and are some better quality than others, any information would be greatly appreciated.

Thanks in advance.

Ian Blair's 1 post
Friday, 22 July 2011

Ian Blair: The problem with putting a dish on a pole is that it will probably blow around in the wind and disrupt satellite reception.

There are plenty of options for dish locations, can you please see Householder guide to satellite dishes | ukfree.tv - independent free digital TV advice .

Briantist's 38,899 posts
Saturday, 23 July 2011

I recently bought a Tevion Elite freesat hd kit from aldi. It came with an ugly lookingcwhite 45 cm dish. Can I replace this dish with a smaller black mesh dish like the ones Sky use. If so what is the smallest size i should choose. I looked on the net and it talks about zones1 & 2 etc. ( I live in Stoke on Trent ST6. I would also like to run more than 1 receiver from the dish. Can anyone help please. Rob

Rob's 1 post

Rob: Why don't you just spay the dish with satin black car paint such as sold by Halfords etc, as 45CM dishes are the standard used in most parts of England, albeit Sky versions being elliptical.

If you intend to use other Freesat boxes or TV's then you should purchase a quad LNB kit, these costing under £10.00 from various dealers on e-bay etc, and they come with adaptors to fit most commonly used dish arms, rectangular or round.

jb38's 7,179 posts
Friday, 29 July 2011
A
Ann Lynn
12:29 AM
Basildon

jb38:
Hi, we have 3 televisions, a very old black and white tv, a Panasonic Viera TX L32S20BA, we have a Humax PVC running through to the TV, a Becko of about 7 years old which we watch through a Freeview box.

I noticed that the ITV channels disappeared off the Panasonic and we had to use the Humax to view them about 2-3 weeks ago. Last week everything changed. The black and white pick up any channels but the reception is very poor, it flickers and you can hear it, but that's about all. The Becko (situated in the upstairs bedroom) is the same. It could be viewed if you managed to bypass the request to update the tv through the Freeview set top box. We have tried updating the set top box, it duly looks for the channels, finds them but then returns to the screen reminding us that we need to update our channels, we can no longer bypass this to watch the tv. Unless of course, you switch the set top off, which we did but the reception is very poor, lines appear across the screen. The Panasonic has NO SIGNAL, the screen is black with an occasional flicker. I used the Humax to watch the TV last Thursday, before making the mistake of re-scanning it and now that does not pick up any channels either. The Humax reports a signal strength of about 100% and picture quality of about 40, but this varies greatly due to flickering. I've read the posts about the perils of re-scanning. That's after following the advice in Digital TV, we have connected, disconnected, rescanned and all to no avail. Apparently there's a box in the loft (a new areal was fitted in about 6 years ago, with separate leads to each room). My husband has tried adjusting the signal strength (reading these posts suggest it's too high). We're non nonplussed, any ideas would be welcome. We are in SS16 4QS. We are not part of the digital switchover yet, although I note that the Panasonic can not find analogue channels.

We suspect the areal but why would it play up now?
eal

Ann Lynn's 5 posts
Ann's:
map
A's Freeview map
terrain
A's terrain plot
waves
A's frequency data
A's Freeview Detailed Coverage

Ann Lynn: Well, you obviously have varying problems dependant on what's being used at the time, but the trade predictions for your location indicates Bluebell Hill as being your best bet, Rouncefall also being possible but only on the three main Mux channels, albeit reception of all three Mux's being down compared to Bluebell Hill.

I feel that your problems are basically caused by poor reception, so if the aerial amplifier has an adjuster on it I would leave it fully advanced for the time being, then concentrating purely on your Panasonic TV carry out a manual scan on Mux channel 59 (BBC1 from Bluebell Hill) and note what the indications are showing as (strength/quality) once done try the same test but on Mux channel 24, this being ITV1 etc from the same transmitter, this to give an idea of what you are actually receiving as predictors can have a wide margin of errors in what they indicate as being possible, these usually erring on the side of fanciful!

Although its unlikely, but if the Panasonic cant find the channels mentioned for the test couple up the Humax and try it on that, although both of these devices are about the same as far as sensitivity is concerned.



jb38's 7,179 posts
Select more comments
Your comment please