Freesat reception - all about dishes

Brian Butterworth published on UK Free TV
Satellite reception has both advantages and disadvantages compare with terrestrial (aerial) reception.

By using much higher frequencies (gigahertz, compared to terrestrial televisions megahertz) more transmission channels called transponders (the satellite equivalent of multiplexes) can be provided. For example, there are only six Freeview multiplexes, but Sky or Freesat users can access two hundred satellite transponders.

Aside from exceptional weather conditions (very heavy rain for example) digital satellite provides stable pictures and audio. Where Freeview transmitters are no more than 732 metres above sea level, the geostationary satellites used for television are 35,800,000 metres above the equator so reception is possible even where buildings, trees and hills make terrestrial reception impossible.





The downside of the transmitters being 22,300 miles up in the air is that the signals are very, very weak - so standard TV aerial is of little use. When the signals are sent to the satellites, huge dish transmitters are used to uplink the signal to the satellite. These are tens of metres from side to side, and feature an emitter that generates the signal, which is first bounced of a mirror (called a reflector) and then off the surface of the parabolic dish.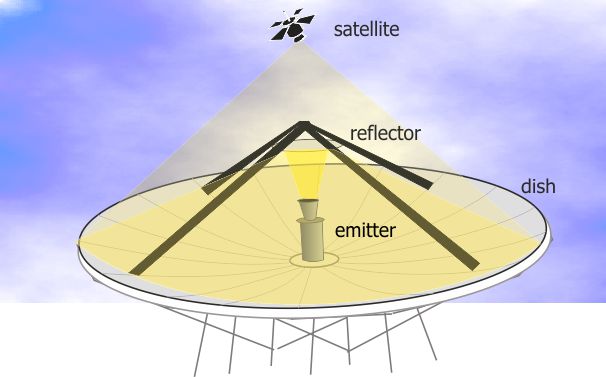 There are many satellites in the sky over the equator. Often these are in clusters over a particular position, for example there are four used for UK television are at 28.2 degrees east. There is another cluster over the 19.2 degrees east positions that are used for German television.

To receive these very weak signals from the satellite, it is necessary to use a dish for reception too. By using a reflective dish, this concentrates the signals onto a small device called a LNB. This is held in front of the dish by a metal arm.




The size of dish for reception is typically much smaller; often 60cm to 100cm in diameter, but the exact size depends upon the transmitting satellite transponder. To keep the transmission power levels down to levels that can be powered by the satellite's solar panels, each beam is focused on a particular area of the Earth's surface. If you are trying to receive the signal at the centre of this zone, a small dish is required. At the outer edges, you may need a 5 metre dish. Maps of these zones are provided by the satellite companies, and are called satellite footprints.

When the dish is installed it must be aligned carefully as the signal is very weak. The installer needs to know the inclination and the azimuth from the ground location to the satellite. If you install yourself you will find that there are markings on the dish that are used to point the dish in the correct position. It is important that the view of the satellite will not be blocked, so must take into account leaves growing on trees and potential building works.

For many people the LNB will have a single cable connected to it, however if you have Sky+ or a multi-room installation the LNB package will actually contain four receivers a quad-LNB. Unlike terrestrial television where you can split the aerial cable to feed more than one Freeview box or television set, with satelite reception you cannot. So, a Sky+ box with two receivers (so you can watch one thing and record another) has two cables connecting the box to the dish.

The cable that connects the dish to the receiver must be satellite grade cable. Whilst this looks superficially like the cable used to connect and aerial to a television, a higher grade cable is required for satellite reception.

Here is an image of a co-axial cable. This sort of cable is used to connect any type of receiving aerial to the reception equipment.




RG6, PF100 and PH100 are all types of coax cable that are suitable for the very weak signals that are received by a satellite dish. (The power is the same as you would receive from a one-bar electric heater on the moon).

The conductor in the centre passes the signals received from the dish to the set-top box. This is made from steel in RG6 cable, and from copper in the RF100 and PH100 types. This makes RG6 less suitable in the UK where rain can damage the cable.

The shielding is responsible for keeping unwanted external interference from damaging the signal. In the cheaper cable this will be a foil wrap, in better specified cables this is a braid (or mesh) of copper wires. The sheild in the RF100 covers 58% of the cable.

The non-conducting layer between the shield and the conductor is called the dielectric. This can be either a solid (RG6), foam (RF100) or air-spaced (PH100) dielectric. This makes the cables progressively more flexible (ie bendy without damage).
Comments
Sunday, 21 August 2011

Hi I wonder if you can help with the following;

I have a Samsung UA55D8000 TV that comes with an internal free Sat receiver.

I would like to use an already installed Sky dish for Free sat reception on the Samsung.

However there is only one input on the Samsung for a Satellite dish and my Sky dish has two cables.

I am assuming that one cable to the dish is power and one cable is signal.

How would I go about using the dish? Do I need a separate power supply?.

There is no information in the Samsung manuals regarding the internal free sat receiver

Regards

Don Greer

Don Greer's 2 posts

Don Greer: You don't really have anything to worry about except maybe that your still is still aligned properly, which it likely will be, as you just leave the extra lead uncoupled as it was possibly being used for a Sky+ set up where recording is involved.

All outputs on a dish LNB are independent of each other, so that they can be used for things such as viewing one channel whilst recording another etc.

jb38's 7,179 posts
Sunday, 28 August 2011

Thanks jb38.All fixed up and working fine.

Regards
Don Greer

Don Greer's 2 posts

hi i have a metronic kbox digital satelite receiver the problem i am experiencing is that on al jazeera, bbc,sky,cnn,euronews,dw tv, the picture on the screen rolls on other channels not at all.also no roll on local terrestrial channels.please would appreciate your advice.iam living in northern portugal.
this problem has only just started recently,as the system has been in place for 4 years. thank you

freddie's 1 post
Tuesday, 30 August 2011

hi, I would like to install freesat, will be purchasing humax hd recorder box with a further 3 hd boxes, will this require 2 dishes??? i understand that the recorder box will need 2 cables in, will there be enough cable space left for 3 other boxes?

Bert's 2 posts

p.s. forgot to also ask..... should one use shielded or unshielded ethernet cable for connection from broad band to freesat box, so that we can receive bbci player, some of the cable will run down the outside of the property. will it be weather proof or will we need to contain it?

Bert's 2 posts
Wednesday, 31 August 2011

Bert: Cat 5 cables (as used for Ethernet) are balanced, there is no need for shielding.

Briantist's 38,905 posts

Thought I'd add this here as no postings I can bring up on dish inside.
Going back, oh gosh couple years maybe more, was over the chip shop when I saw a satellite van, so I went over and asked them, can you get a signal with a dish inside, along those lines, no they said, funny I said, I do.

They won't tell you this cause obviously not good for business.
On the other hand can be bit and miss and not always easy to find the signal, have to know what you are doing and where to point it roughly and so on, and some channels due to going through window can come through due to a reduced signal.

However that is not all, yes the small sky like 40 cm dish is about 18 inches back from the window, goes through window, net curtain and normal curtains when closed. I get usual main channels no problem, obviously reduced signal.

Reason for mentioning is, say someone, oh gosh, is renting, landlord or for whatever reason not allow an outside dish, if you face the South and East way, might, only might be worthy investigating if you can get a dish to work inside, obviously the draw back, ugly looking thing in sight, but I'm used to it now, so, lol, and have bigger one outside as well anyway for satellite feeds, golf etc.


Billy's 50 posts
Thursday, 1 September 2011

I am thinking of buying the aldi satellite system to replace my sky HD box. Can i use my existing sky dish and would i be able to receive the free football channels?

Lee's 1 post
Friday, 2 September 2011

Lee, sadly not as such, because any free football feeds will be on other satellites, I use 78cm dish and often for the golf I like that is not enough, get rain and bang it's gone, depending on threshold etc.
What people do not know it a lot is free, but need a good box, like AZ box which you download the software and then you are away, as a lot is not encrypted, but is in 4:2:2 as opposed to 4:2:0, it's a colour thing apparently and in HD.

See here for feeds:
Archives des feeds annonces - Satelliweb

I do hope that helps, love helping and especially in this kinda field, times over the years I've tinkered communication wise, lol, :).

Billy's 50 posts
Select more comments
Your comment please