Freesat reception - all about dishes

Brian Butterworth published on UK Free TV
Satellite reception has both advantages and disadvantages compare with terrestrial (aerial) reception.

By using much higher frequencies (gigahertz, compared to terrestrial televisions megahertz) more transmission channels called transponders (the satellite equivalent of multiplexes) can be provided. For example, there are only six Freeview multiplexes, but Sky or Freesat users can access two hundred satellite transponders.

Aside from exceptional weather conditions (very heavy rain for example) digital satellite provides stable pictures and audio. Where Freeview transmitters are no more than 732 metres above sea level, the geostationary satellites used for television are 35,800,000 metres above the equator so reception is possible even where buildings, trees and hills make terrestrial reception impossible.





The downside of the transmitters being 22,300 miles up in the air is that the signals are very, very weak - so standard TV aerial is of little use. When the signals are sent to the satellites, huge dish transmitters are used to uplink the signal to the satellite. These are tens of metres from side to side, and feature an emitter that generates the signal, which is first bounced of a mirror (called a reflector) and then off the surface of the parabolic dish.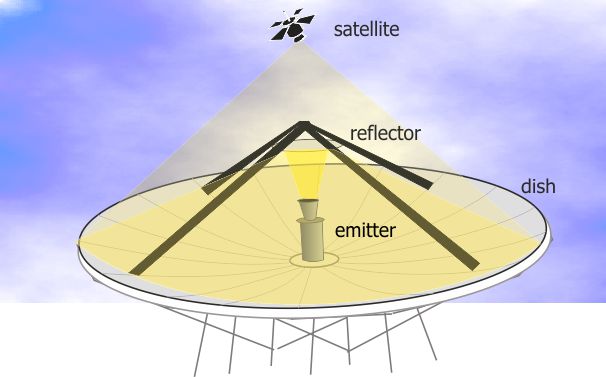 There are many satellites in the sky over the equator. Often these are in clusters over a particular position, for example there are four used for UK television are at 28.2 degrees east. There is another cluster over the 19.2 degrees east positions that are used for German television.

To receive these very weak signals from the satellite, it is necessary to use a dish for reception too. By using a reflective dish, this concentrates the signals onto a small device called a LNB. This is held in front of the dish by a metal arm.




The size of dish for reception is typically much smaller; often 60cm to 100cm in diameter, but the exact size depends upon the transmitting satellite transponder. To keep the transmission power levels down to levels that can be powered by the satellite's solar panels, each beam is focused on a particular area of the Earth's surface. If you are trying to receive the signal at the centre of this zone, a small dish is required. At the outer edges, you may need a 5 metre dish. Maps of these zones are provided by the satellite companies, and are called satellite footprints.

When the dish is installed it must be aligned carefully as the signal is very weak. The installer needs to know the inclination and the azimuth from the ground location to the satellite. If you install yourself you will find that there are markings on the dish that are used to point the dish in the correct position. It is important that the view of the satellite will not be blocked, so must take into account leaves growing on trees and potential building works.

For many people the LNB will have a single cable connected to it, however if you have Sky+ or a multi-room installation the LNB package will actually contain four receivers a quad-LNB. Unlike terrestrial television where you can split the aerial cable to feed more than one Freeview box or television set, with satelite reception you cannot. So, a Sky+ box with two receivers (so you can watch one thing and record another) has two cables connecting the box to the dish.

The cable that connects the dish to the receiver must be satellite grade cable. Whilst this looks superficially like the cable used to connect and aerial to a television, a higher grade cable is required for satellite reception.

Here is an image of a co-axial cable. This sort of cable is used to connect any type of receiving aerial to the reception equipment.




RG6, PF100 and PH100 are all types of coax cable that are suitable for the very weak signals that are received by a satellite dish. (The power is the same as you would receive from a one-bar electric heater on the moon).

The conductor in the centre passes the signals received from the dish to the set-top box. This is made from steel in RG6 cable, and from copper in the RF100 and PH100 types. This makes RG6 less suitable in the UK where rain can damage the cable.

The shielding is responsible for keeping unwanted external interference from damaging the signal. In the cheaper cable this will be a foil wrap, in better specified cables this is a braid (or mesh) of copper wires. The sheild in the RF100 covers 58% of the cable.

The non-conducting layer between the shield and the conductor is called the dielectric. This can be either a solid (RG6), foam (RF100) or air-spaced (PH100) dielectric. This makes the cables progressively more flexible (ie bendy without damage).
Comments
Wednesday, 20 June 2018

David Rowlands:

Further to that said by StevensOnln1, my experience suggests you would do better with a Zone 2 dish, a Zone 1 dish would be fine in good weather but may well suffer poor reception in heavy rain or snow, or even thick mist/fog.

Living in West Wiltshire, I use a Zone 2 (60cm) dish and never have any reception problems. A neighbour uses a Zone 1 and has problems when it rains heavily, snows (even lightly) or it is foggy/misty. He is shortly to have a Zone 2 fitted.

As StevensOnln says A zone 1 is fine along the south coast but only towards the eastern end. Because the satellites are some way towards the south east (over east Africa) the signals in the south east are good but get worse (weaker) the further west or north you go. A Zone 1 dish is fine if you are south east of a line between Colchester and Weymouth, north or weat of that a Zone 2 is better.



MikeP's 3,056 posts
Saturday, 5 January 2019

I am living in the City of London, and unfortunately I cannot install any dishes in my property.

Is there a way that I could watch Italian TV channels with a digital box?

Many thanks
V

Val's 1 post

Val:

It is highly unlikely that any Italian programmes are broadcast from any terrestrial transmitter in the UK and the Italian ones are far too far away to receive in the UK, plus there are several mountains in the way. It is also unlikely that any satellite transmission aimed at Italian viewers would be receiveable in the UK.

The one possibility for you to research is whether any of the channels you are interested in provide a streaming service on-line.



MikeP's 3,056 posts
Wednesday, 12 June 2019

My Sky TV contract ends on 11 July 2019 and I cannot afford to renew it. I have a Sky Q box which they say I will need to return to them. If I buy a Freesat HD receiver/recorder/player will I need to find someone to adjust angle of my Sky dish for my Freesat box service to work plus will the cables from my Sky dish work with Freesat boxes? I have just had to retire early due to a terminal lung disease at age 61 so just want to enjoy some cheaper TV options but worried about possible stress and sorting out options and unknown costs etc. Thank you for helping.

Phil Ritson's 1 post

Phil Ritson:

Your dish will not need to be realigned as it already aims at the correct satellites. However, you will need to have the LNB (the block at the far end of the arm sticking out from the dish) changed as a Sky Q LNB does not work in the same way as a 'traditional' satellite receiver LNB. A new LNB is not expensive but getting a competant installer to fit one will entail a charge. Talk to local satellite/aerial installers about having the LNB changed - it's a simple job and should only take a few minutes.

The existing cables will be fine as long as they are in good condition.

I wish you the very best of health and good luck.



MikeP's 3,056 posts
Tuesday, 9 August 2022

Please can you tell me if there is a freesat box that records more than one programme while I watch a totally different one. I already have sky Q but it getting too expensive. I would like to get rid of monthly bills.

Clare Watts's 1 post

Clare Watts: I believe all the Freesat PVR models are capable of recording one channel whilst watching another (or recording two programmes at once). Certainly my Humax Freesat box does, although you'll probably find that the newer Freesat 4K boxes are the only ones now widely available.

StevensOnln1's 3,569 posts
Thursday, 3 November 2022
G
Geoffrey Williams
11:11 PM

Normally we have no problem watching and recording TV programmes via Freesat through our Humax box, but, unusually, over the past several days our TV screen has displayed, intermittently, the message "weak or no signal" and we lose the picture, only for it to return and then disappear again. For long periods there is no problem and then suddenly the picture pixillates, stutters and we see the "weak or no signal" message. If we change channels, some channels appear, unaffected, while others display the faulty signal message. Since the problem is intermittent, it seems to me that the equipment is not at fault; if it were, then presumably we would not receive any programmes at all. The reception problem first appeared when the recent prolonged period of bad weather began (high winds, heavy rain), but we have had similar conditions in previous years and we have not experienced the problem to the same degree. Are we alone or is this problem one that is currently being experienced by many others?

Geoffrey Williams's 1 post

Geoffrey Williams:

I suspect that your Dish or LNB has probably been moved off the ideal alignment by high winds, or maybe the connections to the LNB or the coax cables have deteriorated by water ingress.
This will reduce the signal and then other weather disturbances will cause intermittent loss of signal.
Just because it hasn't happened before, doesn't mean it hasn't had an effect this time.
It'll be best if you check out these possibilities.
I've not seen reports elsewhere suggesting large scale problems.

Chris.SE's 3,939 posts
Select more comments
Your comment please