BBC Freeview services to drop 33% in quality in 09

Brian Butterworth published on UK Free TV
Ofcom's proposals to bring three (and eventually four) HD services to Freeview will come at a price. The plan will require the BBC to vacate multiplex B when the Granada region switches over in 2009, and to move all but one these services to multiplex 1:


BBC one
BBCi 301
BBCi 302
BBC News Interactive
BBC Radios 1, 1Xtra, 2, 3, 4, 5 Live, 5 Live Sports Extra, 6 Music, 7, Asian Network
Two of BBC Radio Wales, Cymru, Scotland, Radio nan Gaidheal, Ulster and Foyle (not England)
To do this, the BBC will change the transmission
mode
of Multiplex 1 from 16QAM to
64QAM
. This increases the capacity by 33% from 18Mb/s to 24Mb/s.
Before:
Currently these services occupy two 16QAM mode multiplexes, with a total of 36Mb/s. This will require the BBC to supply the same amount of services (bar one) with a reduction in bit rate reduction of 33% - 12Mb/s. (In effect, a BBC
gain
of 10b/s for HD will happen, but the BBC should have had 48Mb/s after
switchover
, the plan now is for 34Mb/s, a 29% drop, with another 2Mb/s going in 2012).
After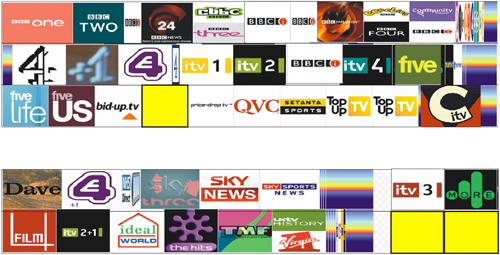 This can only be done if the bit rate is reduced for these television services. Ofcoms regards the BBC use of more bandwidth for better
quality
pictures as a waste. This will mean that
video
and audio quality will be reduced on services paid for from the licence fee. Overall, each service will need to drop in bit rate, and quality by as much as a third, and there will be no switching back to
analogue
for a good picture!
This will be done to allow three HD service (at around 10Mb/s, probably only the 720p format) for people who fork out for yet another decoder box. However these boxes will probably not be on the market before switchover happens in the Granada region, so many people there will have to invest in the older DVB-T technology and then purchase a DVB-T2/MPEG4 decoder box (or PVR, or PVR/DVD burner) in the following year.
It is also very unclear at this time who will now pay for the rollout of digital multiplex B to the whole nation. The BBC has already entered into a long-term contract with Arqiva to provide this rollout. It would seem unfair for the BBC to spend rather a large amount of licence fee payer's money on a multiplex it would not own and would get only 33% of (and only 25% in 2012).
Also not cleared up by the review is how much additional
power
will have to be added to the
output
of the new Multiplex B in the 256QAM mode. I was clearly demonstrated by the BBC that the effective power level of the 64QAM transmissions have to be boosted by about 2.3dB to be received on the same equipment compared to 16QAM.
It's not just Auntie
In addition, at least one ITV and one C4 service will be ejected from Multiplex 2. As this multiplex uses 64QAM mode already, no extra bandwidth will be available at switchover. One TV
channel
will make way for an ejected BBC channel (say BBC Parliament) and another for five.
ITV will have to choose from ITV2, 3 or 4,
Channel 4
will have to move
More4
or E4 (or drop Channel4+1). This will be done by Ofcom snatching some of the extra mode change bandwidth from multiplex C or D. Many viewers will not notice this change, but the 10% of the population who are going to be using a 'Freeview lite'
transmitter
will not have these two ITV and C4
channels
.
One problem here is that not all of the ITV and Channel 4 channels occupy slots of the same size. This is because the non-main channels are carried in lower resolution modes to preserve bandwidth. Removing one of these services alone to make way for a full resolution public service, widescreen channel will also reduce the picture quality of the main ITV1 and Channel 4
station
.
It is also possible that another channel will be removed in Scotland, Wales and Northern
Ireland
to make way for a national/regional channel, such as S4C in Wales,
TeleG
in Scotland.
Ofcom is quite keen for D3&4 Ltd (the multiplex 2 operator join owned by ITV and Channel 4) to cram a ninth TV channel onto multiplex 2. It is unclear if the reserved space for
Teletext
Ltd on this multiplex can remain.
Multiplex A
Five will move from multiplex A to multiplex 2, freeing a slot on the ITV owned multiplex. Five US and Fiver (ne Five Life),
CITV
, the three shopping channels and Top Up TV will remain. Multiplex A is already in 64QAM mode and does not get a mode change boost at switchover.
Multiplexes C and D
These multiplexes will also change mode at switchover, gaining 6Mb/s each. However, half of this will be required for the services displaced by incoming ITV and Channel 4 channels.
This will leave room for only TWO more commercial television channels after switchover, rather than the expected four. It is also possible that Sky will take away
Sky News
,
Sky Sports News
and Sky Three to replace them with the 'Picnic' service (Sky One, a Sky Movies screen and
Sky Sports 1
by
subscription
), so many viewers will loose another three channels! Ofcom is sitting on its hands about this at the moment.
Quite why Ofcom did not suggest moving BBC Parliament, a channel that has not once registered a 0.1% viewing share to multiplex C or D directly can only be explained in one way.
Ofcom overstretch?
It is also apparent that Ofcom has gone beyond the powers that it was given by Parliament. It will need changes both regulatory (using a device called a Statutory Instrument) and primary (an Act of Parliament) to implement the plan.
It is unlikely that legislation to remove BBC Parliament from the public service multiplexes would be approved by those Honourable, Right Honourable or Lordly gentlefolk.
Has Ofcom gone too far?
It has been suggested that this lowering of quality is unsubtle attempt to ensure sales of HD DVB-T2 boxes and sales of HDTVs!
Are you ready for lower quality Freeview television broadcasts from 2009?
Did you think switchover might bring more channels or BETTER pictures?
You can read the Ofcom decision here:
Digital Television: Enabling New Services - Facilitating efficiency on DTT
High Definition Services on Digital - Terrestrial Television - Trust interim statement on BBC non-service application
This is largely a confirmation of the
The "secret" Ofcom plan for Freeview HDTV: DVB-T2
, with some modifications.
Comments
Wednesday, 27 April 2011

My view of going freeview, great for extra channels, but we have gone about it the wrong way. I am particulary thinking of the OAP's who in some cases have to pay to have someone retune there freeview in stage 1 of the switchover because they have no one to help them. Having paid out x amount out of ther pension, they have to pay again for stage 2!! Why does the government not do as what happened during the Channel 5 start up, make the broadcaster(s) pay to resolve the possible problems. As a person who is in the front line of the switchover. I also find that the info we receive is very poor, especially as one web site mentions what may be new mux 7 and 8. but even our trade body is not aware off!!

R Gagen's 4 posts
R's:
map
R's Freeview map
terrain
R's terrain plot
waves
R's frequency data
R's Freeview Detailed Coverage
Thursday, 28 April 2011

R Gagen: No one has to pay anyone to retune a set-top box, it is almost as easy as changing channels.

MUX7 and MUX8 are going to be used for Local TV, see Interleaved Frequencies maps | ukfree.tv - independent free digital TV advice .

Briantist's 38,899 posts

R Gagen: Why not charge once for both switchover days? You can find simpler guides for some boxes at TV Re-tune . Over-75s can contact the Switchover Help Scheme at
The Switchover Help Scheme can help you make the switch to digital TV. | Switchover Help Scheme

At your local transmitters, there will be two late channel changes at Sudbury. Tacolneston adopts final channels at switchover step 2. However, the HD multiplex is assigned C62 which is now due to be released for mobile phone services. This channel will have to change - hopefully they will get the plans sorted out before November and it can start up on the newly-allocated channel.

Most of the information is on the web, but you can subscribe to receive updates to Digital UK's ALmanac if you're a Registered Digital Installer, Associate RDI, or a member of the CAI. Go to Transmitter Network - Digital UK Almanac for information.

If you don't have the necessary credentials, you can just check that website periodically. However, some documents don't seem to be appearing there that should be (e.g. the 3-month-out documents for STV Central aren't there).

'NEW 7' and 'NEW 8' are possible frequency allocations for future services which may or may not ever start up. It's very unlikely that they will start before the main switchover programme completes, and probably not until after the 800MHz (C61 & C62) clearance is completed. Displaying them on this website is premature.

Also note that these were the *widest* possible channel allocations, covering the largest area from that transmitter - local TV services might get different allocations just to cover the target market.

Mike Dimmick's 2,486 posts
Wednesday, 4 May 2011

Briantists reply to
R Gagen:
No one has to pay anyone to retune a set-top box, it is almost as easy as changing channels.
Not when an old age pensioner has a reasonably picture via his old analogue setup and then finds that his aerial signal is not good enough for his cheap little Freeview box and the picure breaks up crashes.No amount of retuning will fix this problem.!
He then calls in a dealer and finds he needs a new aerial?




Brian Wright's 77 posts

Brian Wright: The Help Scheme is there for that situation. No-one with an "reasonably picture via his old analogue setup" requires more than a Freeview box.

Briantist's 38,899 posts
Your comment please