The new Freeview prediction system - includes Freeview HD

Brian Butterworth published on UK Free TV
The new Freeview prediction system - beta - is here. Finally!

If you visit Freeview reception - UK Free prediction you now get a much more detailed page to help you with any reception issues.

As before you can see this page with a postcode, the system will shortly also allow the input of national grid references, or latitude/longitude references.

Firstly, you can get a prediction for any number of dates by selecting the appropriate tab at the top.


Five different views
There are five different views
By direction: this will show the various directions your aerial might point and the services you can receive from the transmitters in that direction.
Received signal strength: this shows the information ordered by signal strength, to help you find the strongest signals.
By frequency: this lists broadcast frequencies from C21 to C68, showing the services on each. This view can be used to find potential interference or to help with digital region overlap areas.
Service names: this lists the services that you can receive, each ordered by the strongest signal.
Transmitter names: and finally an alphabetical list of the transmitters with the services listed by broadcast frequency.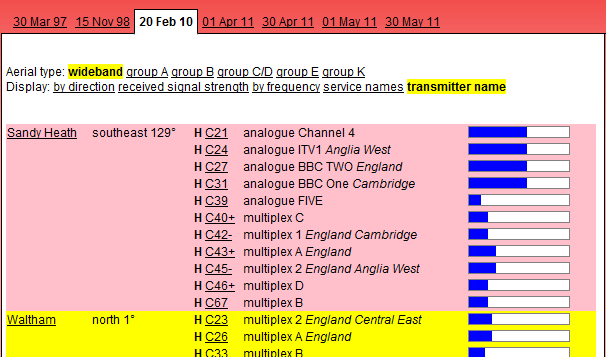 Aerial group choice
When you first visit the page you will see the services received by a "
wideband
" aerial, now you can also select the other aerial groups to see how that will effect reception.
Issues
For the moment it is not possible to resolve postcodes in Northern
Ireland
(BT) or the Isle of Man.
Apologies
for that.
Try it now
Try the new UK Free TV Freeview reception - prediction system now
.
Comments
Thursday, 9 June 2011
D
D. Robinson
6:33 PM
Grimsby

Hi - just found UK Free TV. WHAT A GODSEND!

THANK YOU for being there... resolved no end of issues for me, and good solid info about channel strengths, etc. Been a "learning curve" for a Pensioner - the new language really - but well received (no pun intended...).

Used your Beta version of the Postcode Finder for signal strength as I am having drop outs/pixelation.

Prints out text - but no coloured "thermometer" of rating (left). Dunno if its my printer (abs brand new - so doubt it). How about a %age instead? No great problem for me - I guess it's a "relative" rather than "exact" measure - so I put my old engineer's rule on the screen and calculator on the desk...

Good "visual" advice aboutInduction Interference (mains filter device - and a source!)as well as an estimate of increase in signal strength for Belmont at switchover. 12 Times stronger for Belmont!? Better remove/attenuate those boosters...

If BELMONT Transmitter is a gauge of all switchovers, then maybe not enough is openly stated about the signal increasing. I was "fooled" into thinking of moving aerials higher, buying boosters (that I did buy...)and - basically - blaming the STB's - the several I tried - as being "cheap and nasty". NOW I know better... Keep up the good work. I've signed up for the very regular newsletter and I'll WAIT to see how it all pans out after the 17th (August).

Thanks - David (DN34 4.. Area)

D. Robinson's 2 posts
D.'s:
map
D's Freeview map
terrain
D's terrain plot
waves
D's frequency data
D's Freeview Detailed Coverage
D
D. Robinson
7:06 PM
Grimsby

Can I just add this warning? (I forgot in the last post - just put it down to age...)

There seems to be "scams" going on (no names mentioned here) in my area (DN34), which has a high population of 'mature' people - and just before switchover. I know at least two neighbours who were persuaded to buy new aerials (at the door) because they "...weren't digital..." - albeit they were working very well on analogue (esp Ch5 -which is usually weak. The original aerials were relatively new also - 4/5 years.)

I was "door-stepped" also, and heard "the speil". That - beyond anything - made me shut the door.

Dunno all the facts and measurements of signal strength but £170 for a wall-mounted mast aerial on a low-height 1950's house (and fixed by ladder) sounds akin to a lot of money to me...

Being forewarned is forearmed. D.

D. Robinson's 2 posts
D.'s:
map
D's Freeview map
terrain
D's terrain plot
waves
D's frequency data
D's Freeview Detailed Coverage
Wednesday, 15 June 2011

I am having major problems in receiving certain Freeview channels from the Winter Hill transmitter. The digital channels which are transmitted on UHf channel 55 (including Film 4. Magic-Radio and Smooth Radio) are frequently unobtainable, sometimes for weeks on end. I even from time-to-time have a similar problem with the B.B.C. channels which are transmitted digitally on UHF channel 62. All the other channels are generally fine.

Does anyone have any idea what might be the cause of problem, please?

Many thanks,

Howard Moore

Howard Moore's 4 posts
Howard's:
map
H's Freeview map
terrain
H's terrain plot
waves
H's frequency data
H's Freeview Detailed Coverage
Friday, 17 June 2011

Have had major problems with picture and sound breaking up here in Devon, despite being only 1.8 miles from the transmitter. Signal strength is constantly between 78 -82 % max and is obviously not good enough to supply programmes. What to do ? All ready have an aerial booster. How to fix please ?

jess's 1 post
jess's:
map
J's Freeview map
terrain
J's terrain plot
waves
J's frequency data
J's Freeview Detailed Coverage
S
Sheila
5:18 PM
Anstruther

Many Chanells are missing at KY10 2QN Scotland including ITV3. Why?

Sheila's 1 post
Sheila's:
map
S's Freeview map
terrain
S's terrain plot
waves
S's frequency data
S's Freeview Detailed Coverage
G
Graham Ellery
5:52 PM
Anstruther

Sheila.

I have posted on a number of threads on this website.

www.ukfree.tv/showuserposts.php?n=231446559

Basically Anstruther has lost out due to the digital switch over. Technical requirements by the transmitter operators mean that even if you had good digital before the switch you may have lost many channels now. I had good reception now most of 3 multiplexes have gone. There may be a glimmer of hope in that we might have been receiving signal from Black Hill transmitter previously and that is mid way through its switch (22nd june is stage 2).If you study the yellow/green sectors on maps you can see we receive better from Black Hill due to it beaming up the middle of the Forth Estuary. As far as Craigkelly is concerned the DigitalUK people are suggesting wideband aerial on roofs but if I understand correctly no guarantees.

Graham Ellery's 9 posts
Graham's:
map
G's Freeview map
terrain
G's terrain plot
waves
G's frequency data
G's Freeview Detailed Coverage

Howard Moore: Mux ArqB from Winter Hill is transmitted on C55 and is currently subject to a power restriction to protect MuxD from Sutton Coldfield which is co-channel. The good news is that on 21st September 2011 the power of this mux at Winter Hill will be raised to the same level as the other muxes. Your present problems with Mux ArqB could be caused by the Sutton Coldfield signal blocking reception from Winter Hill. It could also be single frequency interference from another source or deterioration in the condition of the aerial/faulty cable or connectors which causes the weakest signal to drop out first. Regarding C62, single frequency interference or aerial problems could also apply, but in addition (ironically) if you have any amplification on the aerial too much signal can also cause freezing or "No signal" messages.

KMJ,Derby's 1,811 posts
Monday, 27 June 2011
J
John Child
10:08 AM
Solihull

For approximately the past two weeks, I have been unable to receive BBC HD programmes via Freesat, although I can receive ITV HD. Reception of all other programmes is fine. This suggests that there may be a problem with the BBC transmission rather than with my set or aerial. Can anyone enlighten me about this problem? I live in Earlswood, postal area B15.

John Child's 1 post
John's:
map
J's Freeview map
terrain
J's terrain plot
waves
J's frequency data
J's Freeview Detailed Coverage
Tuesday, 28 June 2011

What do the green and yellow colours on the map mean? It looks as if CA8 7lB is just out of reach of any transmitter if yellow means OK and green something else.

Dee's 3 posts
Dee's:
map
D's Freeview map
terrain
D's terrain plot
waves
D's frequency data
D's Freeview Detailed Coverage
Wednesday, 29 June 2011

Dee: Basically the yellow areas are those within coverage where that particular transmitter is expected to provide the strongest signal, the green areas are those where an alternative transmitter might give a stronger signal.For accurate (predicted) information regarding reception at a particular location enter the postcode into the Digital UK postcode checker and tick the trade box or click on the link for "Digital UK tradeview" when available. Your postcode is served by the Haltwhistle relay, a Freeview Lite transmitter giving the PSB muxes only.

KMJ,Derby's 1,811 posts
Select more comments
Your comment please