The new Freeview prediction system - includes Freeview HD

Brian Butterworth published on UK Free TV
The new Freeview prediction system - beta - is here. Finally!

If you visit Freeview reception - UK Free prediction you now get a much more detailed page to help you with any reception issues.

As before you can see this page with a postcode, the system will shortly also allow the input of national grid references, or latitude/longitude references.

Firstly, you can get a prediction for any number of dates by selecting the appropriate tab at the top.


Five different views
There are five different views
By direction: this will show the various directions your aerial might point and the services you can receive from the transmitters in that direction.
Received signal strength: this shows the information ordered by signal strength, to help you find the strongest signals.
By frequency: this lists broadcast frequencies from C21 to C68, showing the services on each. This view can be used to find potential interference or to help with digital region overlap areas.
Service names: this lists the services that you can receive, each ordered by the strongest signal.
Transmitter names: and finally an alphabetical list of the transmitters with the services listed by broadcast frequency.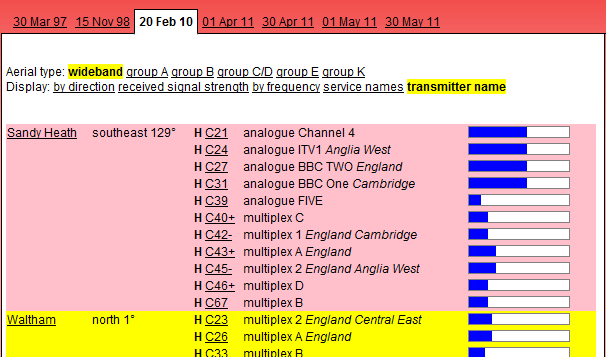 Aerial group choice
When you first visit the page you will see the services received by a "
wideband
" aerial, now you can also select the other aerial groups to see how that will effect reception.
Issues
For the moment it is not possible to resolve postcodes in Northern
Ireland
(BT) or the Isle of Man.
Apologies
for that.
Try it now
Try the new UK Free TV Freeview reception - prediction system now
.
Comments
Saturday, 22 January 2011
M
Mike Kitchin
8:04 PM
Cirencester

The beta reception predictor is very useful because like many people I am in between 3 or more fairly distant transmitters . Having the analogue transmitters listed is a bit of a pain since they come out tops for power and break up the listings. Is there a way to filter out (switch off) displaying the analogue signals so that I can just see digital signal strengths? As time goes by more people will only care about the digital Freeview signals. Since that is what your site is really good at, I am a bit surprised that I cannot just view the strengths of just the digital network only. Please tell if I have it all wrong! Thanks Mike

Mike Kitchin's 2 posts
Mike's:
map
M's Freeview map
terrain
M's terrain plot
waves
M's frequency data
M's Freeview Detailed Coverage
Sunday, 23 January 2011
T
tina
4:36 PM
Great Yarmouth

am on communal ariel in norfolk freeview was working brill.now lost loads of channels and no-one seem to know why. any ideas please, or is this the start of things to come, wonder y i pay tv licence lol

tina's 1 post
tina's:
map
T's Freeview map
terrain
T's terrain plot
waves
T's frequency data
T's Freeview Detailed Coverage
Monday, 24 January 2011

tina: You presumably pay for TV Licence because you have a TV set, and that is the law.

If you have lost channels, why not contact the management company of the "communal aerial", as it will be their responsibility to make it work for you.

Briantist's 38,907 posts
Wednesday, 26 January 2011

Mike Kitchin: Thanks for that. I'm going to have another stab at making the new new new prediction work, so I'll see if I can make those changes that you have suggested.

Briantist's 38,907 posts
Thursday, 27 January 2011

Kilvey Hill : Brian, when you tinker, could you check why Kilvey Hill doesnt show on my predictor, whereas Preseli, Carmel, Wenvoe, Huntshaw, Ilfracombe and Caradon do - all of which I get signals from. Brilliant it is already, so not much room for further perfection! Thanks.

michael's 869 posts
J
john tovey
2:35 PM
Bristol

i have lost channels on freeview they all are on channel 67 all other cannels very good signal strenth channel 67 zero this has happened since jan 11th

john tovey's 2 posts
john's:
map
J's Freeview map
terrain
J's terrain plot
waves
J's frequency data
J's Freeview Detailed Coverage
Friday, 28 January 2011

john tovey: Please see the Single frequency interference | ukfree.tv - independent free digital TV advice page.

Briantist's 38,907 posts

michael: Yes, there is still a new version in the pipeline.

Briantist's 38,907 posts
Monday, 31 January 2011
S
Shan
10:38 PM
Milton Keynes

We've had a new roof aerial installed and television. Why are we having bad reception and have done since installation in December if Sandy Heath is supposedly running normally?

Shan's 1 post
Shan's:
map
S's Freeview map
terrain
S's terrain plot
waves
S's frequency data
S's Freeview Detailed Coverage

Shan: Sounds like you should call back whoever installed your aerial and ask them to do it again, properly?

Briantist's 38,907 posts
Select more comments
Your comment please