The new Freeview prediction system - includes Freeview HD

Brian Butterworth published on UK Free TV
The new Freeview prediction system - beta - is here. Finally!

If you visit Freeview reception - UK Free prediction you now get a much more detailed page to help you with any reception issues.

As before you can see this page with a postcode, the system will shortly also allow the input of national grid references, or latitude/longitude references.

Firstly, you can get a prediction for any number of dates by selecting the appropriate tab at the top.


Five different views
There are five different views
By direction: this will show the various directions your aerial might point and the services you can receive from the transmitters in that direction.
Received signal strength: this shows the information ordered by signal strength, to help you find the strongest signals.
By frequency: this lists broadcast frequencies from C21 to C68, showing the services on each. This view can be used to find potential interference or to help with digital region overlap areas.
Service names: this lists the services that you can receive, each ordered by the strongest signal.
Transmitter names: and finally an alphabetical list of the transmitters with the services listed by broadcast frequency.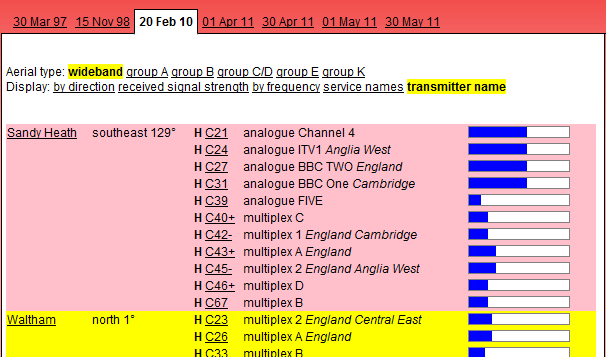 Aerial group choice
When you first visit the page you will see the services received by a "
wideband
" aerial, now you can also select the other aerial groups to see how that will effect reception.
Issues
For the moment it is not possible to resolve postcodes in Northern
Ireland
(BT) or the Isle of Man.
Apologies
for that.
Try it now
Try the new UK Free TV Freeview reception - prediction system now
.
Comments
Sunday, 3 April 2011
M
Mark Heselden
10:40 AM
East Grinstead

Shaun: It could be that your signal is too strong now. Either an amplifier needs taking out or an attenuator putting in.

Mark Heselden's 21 posts
Tuesday, 5 April 2011
D
David Maers
11:48 AM
Oakham

A very helpful site, but the strength bands(blue on RHS of transmitters in "direction" selection) do not print out. Any ideas to fix please ?

David Maers's 3 posts
Thursday, 7 April 2011

No BBC1 since switchover and I already had digital TV . Bromsgrove area

iR's 1 post

iR: Did you retune your box or TV's digital tuner? The BBC services have moved from C34 to C26, so you won't get BBC One, BBC Two, BBC Three, CBBC, or BBC News until you retune. Also, Mux C has moved from C26 to C34 to allow this.

You ideally need to do a full reset - delete all channels and rescan - to ensure that there's no stale information pointing to the old location. Try 'Factory Reset', 'First Time Installation', 'Default Setting', or similar. See TV Re-tune for instructions for your box.

If you've definitely retuned, check that the box is not on the list of 2K-only or Split NIT equipment: http://www.digitaluk.co.uk/2kequipment http://www.digitaluk.co.uk/splitnit

If you previously fitted a high-gain aerial, you may have too much signal. Predictions are for really good results with a small aerial. It looks like a lot of people in that area have loft aerials (no external aerial).

I know that at The Wrekin, BBC One analogue moved to BBC Two's old frequency, but I'm not sure what happened at Bromsgrove because the new frequency for BBC A wasn't previously an analogue channel. (It was Mux C.) (RG47SH)

Mike Dimmick's 2,486 posts
Saturday, 9 April 2011
J
j.almond
11:22 PM
Withernsea

the reception of freeserve here at withernsea has deteriated the last year sometimes like tonight we can not get any channels saying no signal same for the bbc channels why should we pay a licence when we can not get the television.there is a radio station near with in 100 ft 103.5 fm seaside radio could this be the cause.realy miffed.

j.almond's 1 post
Monday, 11 April 2011
Tuesday, 19 April 2011
M
Michael Cole
9:50 AM
Shefford

My postcode is SG17 5ND and my house is on a hilltop some ten miles from Sandy Heath mast which is visible to the naked eye. My aerial, although within a roof loft is otherwise unobstructed. Yet BBC4 and some few channels are unobtainable the screen showing an "untuned" message. All other channels are received clearly. How should I go about correcting the problem?

Michael Cole's 1 post
D
Dave Butcher
1:58 PM
Cirencester

Hi, between midnight last night at midday today (19/04/11) ive lost my signal, any reason why ?

Dave Butcher's 1 post

Colin McLeod: Please see Freeview intermittent interference | ukfree.tv - independent free digital TV advice .

Briantist's 38,844 posts

Michael Cole: Did you do this My Freeview box has no EPG, is blank on FIVE, ITV3, ITV4, ITV2+1, has no sound or the channel line up is wrong | ukfree.tv - independent free digital TV advice ?

I suspect you didn't as BBC FOUR is now on the main BBC multiplex (BBCA).

If you did, then see Single frequency interference | ukfree.tv - independent free digital TV advice .

In particular, if you have a booster or amplifier, remove it from your system.

Briantist's 38,844 posts
Select more comments
Your comment please