To join, leave or change ukfree.tv updates by email, enter your email address here:
ITV1+1 11 January 2011 (at last)

Brian Butterworth published on UK Free TV
It was first expect that ITV1+1 would come to Freeview during the 30 September 2009 Freeview retune, but this did not happen due to last minute rights issues.

When ITV plc, which runs the official channel 3 services in England and Wales, was created from the merger of two companies, Carlton and Granada, the Competition Commission imposed conditions, which are called the Contract Contracts Rights Renewal (CRR) remedy.

Almost all the other channels that have "+1" time shift channels are single national broadcasts. It is straightforward to create ITV2+1, for example. The output of the channel is fed into a "black box" that re-outputs the content an hour later, and used for a national broadcast.

As the streams for UTV+1, and STV+1 are now on satellite, we can be confident that the ITV+1 service will run throughout the UK.


Channel 4 plus one
It was a little more complicated for
Channel 4
. This commercial channel has no local or regional editorial content, but does have
six regions for advertising
:
London
, Southern England+Wales, Midlands, North England, Scotland, Northern Ireland.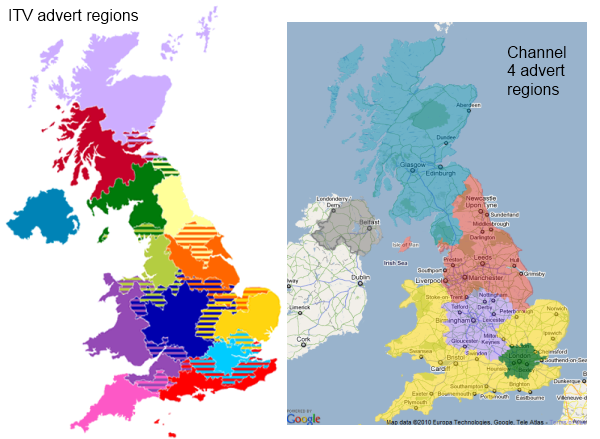 To create Channel 4+1, the corporation needed to use six "black box" devices, to ensure the correct advertisements are seen.
Channel 3 plus one
Back at channel 3, the ITV1 channel has many advert regions. STV, which runs the channel in Scotland, divides into four:
UTV operates only a single service in Northern Ireland (covering
Belfast
,
Londonderry
,
Ballycastle
,
Castlederg
). ITV plc has the following
advertising regions
:
This requires, for each
region
, a separate "black box". These "black box" devices must feed the hour-delay
signal
back into
Multiplex
2 (also known as multiplex PSB2) as only this multiplex has the correct regions.

ITV1+1 on screen graphic.
Latest ITV multiplex allocations
The slot on PSB2 currently used for the ITV2+1 will be used for ITV1+1. ITV2+1 will move to the slot on multiplex A (aka COM4 or SDN) currently used for the "ITV Preview". As this slot timeshares with the
CITV
children's channel, ITV2+1 will only operate during peak hours.

Public service transmitters
As the public service transmitters carry only the PSB1, PSB2 and PSB3 (HD) multiplexes, this means that ITV1+1 will be carried to all UK homes, and ITV2+1 will only be available to those with the full Freeview service.
Free to air satellite
Freesat
users will see ITV1+1 (or STV+1 or UTV+1) on channel number 112. For ITV1+1
fSfS
and Sky use channel number 131, ITV2+1 moves to 179.
On satellite
transponder
53 (10.891 H) has UTV+1, ITV1 Central West+1, ITV1 London+1; transponder 54 (10.906 V) has STV West+1, ITV Granada+1, ITV 1 Merdian South+1.
Channel 5 plus one?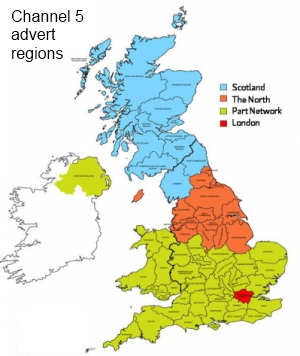 So, what of FIVE+1? The channel has
four advert regions
: Scotland, Northern England, London and "
Network
". However, there is no space on multiplex 2 (PSB2) for such a channel, and no other multiplex has the correct divisions.
Contact information
Any further questions, please contact ITV on 0844 881 4150.
On Virgin Media ITV1+1 is 114.
Comments
Saturday, 29 January 2011
M
Mike Dimmick
4:56 PM
Reading

Josh: the problem is down to the law surrounding digital terrestrial broadcasting. Mux 2 (also known as PSB2, D3+4 after switchover) is required to be licensed to a consortium of Channel 3 companies and Channel 4 Television Corporation, and it may only be used by them to host channels run by Channel 3 companies (ITV plc, STV, Ulster TV, Channel TV) or Channel 4. They are required to host Five (main channel only) and, in Wales, S4C.

ITV plc runs multiplex A/COM4/SDN (bought from S4C in 2005). Arqiva run multiplexes C and D. For competition reasons - since ITV is a broadcaster and Arqiva owns the masts - they are not supposed to discriminate against channel operators, operating free auctions when a slot becomes available. They're certainly not supposed to force out existing channels. The regulator plays no part in deciding what channels are available on the commercial multiplexes.

Freeview Limited is just a marketing company, co-owned by the BBC, ITV plc, Channel 4 Corporation, BSkyB and Arqiva.

ITV plc *could* move ITV4 to D3+4 in place of ITV1+1. Channel 4 could move Film4 or 4Music in place of C4+1. This would free space on Mux D (COM6/ArqB) for more channels, but they would then be auctioned to the highest bidder.

Looking at the BARB statistics, ITV1+1 had already managed a 0.4% share for the launch week, ending 16 January. In comparison, on satellite and cable, the CBS channels you mention only achieved 0.1% each, so you'd think they'd struggle to pay as much for the slot as ITV do - ITV4 got 1.0%. C4+1 achieved 0.9%, Film4 got 1.0% and 4Music 0.3%, so C4+1 is worth nearly as much as Film4 and a lot more than 4Music, and costs fractions of the amount to run.

Mike Dimmick's 2,486 posts
Platinum
Mike's:
Freeview map
terrain plot
frequency data
R&TI Service
digitaluk trade
DAB coverage
Monday, 31 January 2011

Nedbod: I wasn't being sarcastic. I was suggesting you actually read what I wrote.

Briantist's 38,784 posts
Owner
Wednesday, 2 February 2011

I did but a simple explanation would be nice for us non technical chaps please.

Nedbod's 619 posts
Gold
Thursday, 3 February 2011

Nedbod: Basically, ITV have not provided a "black box" to do the hour shift for the ITV Wales region and are feeding the ITV West in the +1 slot for Wales.

Briantist's 38,784 posts
Owner
Thursday, 10 February 2011

Is STV+1 on sky?

Fiona's 1 post

Fiona: The channel is being broadcast on satellite.

Briantist's 38,784 posts
Owner
Wednesday, 16 February 2011

I take therefore that they do not either have the capacity or the money to relay the correct region on the +1 service (or both), with a separate black box for ITV1 West & ITV1 Westcountry.

Nedbod's 619 posts
Gold

Nedbod: Yes, it would appear so, which is a bit of a disappointment really, after all the delay.

Briantist's 38,784 posts
Owner
Monday, 29 August 2011

why does itv1+1 not broadcast certain programmes it says can not broadcast for legal reasons why??

paul barrett's 1 post
Tuesday, 30 August 2011

paul barrett: If ITV has not acquired the rights to show a particular programme on the the channel, it will not be able to show it.

Briantist's 38,784 posts
Owner
Select more comments
Your comment please