Upgrading from Sky+HD to Freesat+HD

Brian Butterworth published on UK Free TV
You might get a glossy magazine every month, but what do Sky really think of your custom?

"Give me a f**king name on a direct debit and it's mine for life,"
- Sam Chisholm, former boss of BSkyB.

Perhaps you responded to an offer like the one blow that promised a gratis Sky+HD box (for new customers taking their first Sky+HD package) with free standard set-up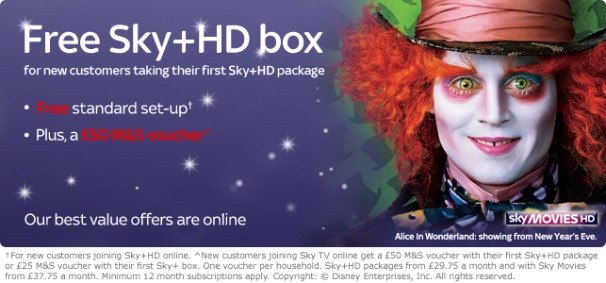 But you were so excited with the thought of a £50 M&S voucher that you didn't think to follow each of the little daggers and little stars to quite read all the terms and conditions:




So, your twelve months of commitment are over and, for reasons of budget (or politics) you have decided you want to keep all the features of Sky+ - live pause, high definition, extended electronic programme guide, series record, and recording two programmes at once whilst you watch another - but don't want to fork out every month on top of your TV Licence - and you still get hundreds of free TV channels

Here's what you can do.

First you need to buy a Freesat+HD box. There are many on the market, and can be bought from Argos, Currys DIGITAL, John Lewis, Comet and online at Amazon, as well as other stores.

When you use a Freesat+HD box NO SUBSCRIPTION HAS TO BE PAID. NONE. NOT A PENNY TO ANYONE.


Installing
This will take no more than ten minutes. First you will need to disconnect the Sky+HD box
mains
from the wall socket.
Then you will need to disconnect the cables from the back of the Sky+HD box.
Pull out the mains
power
connection (1), carefully unscrew the
satellite
dish
links (2) and (3), and then take out the HDMI lead (4) to your HDTV. If you have an "
surround sound
"
amplifier
, you may also have a
digital
audio connection (5).
Remove the Sky+HD box and put the Freesat+HD box back in the same position.
Then reconnect the cables: the mains power
cable
(1) - but not to the wall just yet, screw the two satellite dish links (2) and (3) and connect the HDMI cable (4) to your HDTV. If you had one, reconnect the digital audio connection (5).
If you have an Ethernet router, you can connect it to the Freesat+HD box at this point (5).
With everything in place, turn on the mains power and power up the Freesat+HD box.
The TV screen first displays the box's logo
The first set-up screen allows you to select the TV type, widescreen
mode
and resolution:
Next the box checks for the satellite
signal
:
Then there is a check for updated software:
Then you enter your postcode and the box checks it:
The next step is a
scan
for
channels
. This takes about 30 seconds:
And that's it. You can now view
channels
, like 108 for
BBC HD
:
Or press the GUIDE button for the EPG:
And that's it.
Comments
Saturday, 9 March 2013

Talking SKY HD boxes, are there no "fixes" to make them record without a subscription?

Steve P's 1,173 posts
Wednesday, 13 March 2013

Hi could you advise me.I have just replaced Sky + with a Humax free sat + HDR machine all works well,but my question is I had various tv,s around the house that could receive the signal via RF1 cable RF2cable and Arial IN cable How do I connect to the Humax box to send the signal around the other sets and what gadgets do I need to buy.
Thanks for any help Geoff

Geoff Carter's 2 posts

Geoff Carter: The only way of achieving this facility using Freesat devices is by purchasing a separate RF modulator such as seen in the link provided below, this being connected into the scart socket on the rear of your box.

As the modulator does not provide an RF loop through facility then you will have to use a "Y" piece combiner with the common of same going to the other TV's, then you connect the RF output from the modulator into one input and the lead from the aerial into the other.

This said on the assumption that you are not using a magic eye on any of the remotely located TV's.


Programmable Universal Modulator : Video Switches : Maplin Electronics


jb38's 7,179 posts

Geoff Carter: Just a small correction with regards to the RF modulator, please ignore comments made concerning the necessity of having to use a "Y" piece combiner as I forgot that this model offers this facility, and so you use it in exactly the same way as done with the Sky box.

jb38's 7,179 posts

Geoff Carter: Thanks JB38 Yes want to use majic eyes in every room as did with Sky + Do you no if a Vision V40 modulator will work??

Geoff Carter's 2 posts
Thursday, 14 March 2013

Geoff Carter: Although the Vision V40 is obviously a well designed modulator, however on studying the specifications of the device it would appear that it is simply an RF modulator with no means of enabling viewers of remotely positioned TV's to control the Freesat box.

But though the link provided below is for a device called a Triax Tri-link which does provide this facility in a roughly similar fashion to that of the Sky box, albeit that channel changing is achieved via an IR link positioned near to the Freesat box in the same way as used by video sender units, it would also appear that the other advantage with this device is that you can use your existing Sky magic eyes rather than having to purchase any additional to the kit.

Of course the only problem that I can see with any of these devices is that the bedrooms have to be supplied with an additional remote control over that used by the TV, the additional remote control using the same IR code as that of the Freesat box in the same way as is necessary with Sky, the only problem there being that Sky remotes can be obtained relatively cheaply whereas not for the Freesat box.

By the way, I have no personal knowledge of this device and as such cannot give any guarantees with regards to its reliability, as all of these devices are prone to being interfered with from a variety of sources.


Triax Tri Link Kit


jb38's 7,179 posts
Monday, 18 March 2013

Hi
I have just had youview put on my tv, can I have freesat
on the same tv,

les's 2 posts
Tuesday, 19 March 2013

les - so long as you have a spare input to use from your freesat box - most will have both HDMI and SCART outputs - you can have as many different inputs as you like. I have both Freeview and Freesat.

Steve P's 1,173 posts
Steve's:
map
S's Freeview map
terrain
S's terrain plot
waves
S's frequency data
S's Freeview Detailed Coverage
Wednesday, 20 March 2013

Cheers Steve
I'm looking at a humax box for the freesat, I will check the outputs.
Thanks again
Les

les's 2 posts
Wednesday, 31 July 2013

I live in a flat and share a dish so I can only have one connection, is there a freesat box where I can still use record 2 progs / rewind / live pause etc or do I need another bit of kit.

richard blunt's 1 post
Select more comments
Your comment please