Upgrading from Sky+HD to Freesat+HD

Brian Butterworth published on UK Free TV
You might get a glossy magazine every month, but what do Sky really think of your custom?

"Give me a f**king name on a direct debit and it's mine for life,"
- Sam Chisholm, former boss of BSkyB.

Perhaps you responded to an offer like the one blow that promised a gratis Sky+HD box (for new customers taking their first Sky+HD package) with free standard set-up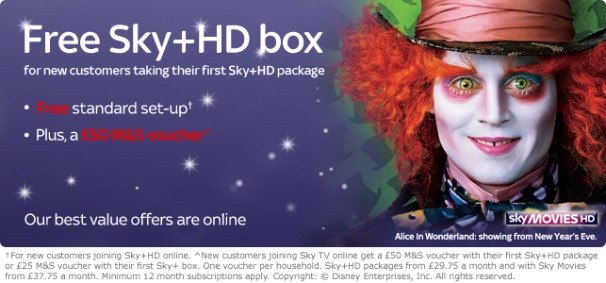 But you were so excited with the thought of a £50 M&S voucher that you didn't think to follow each of the little daggers and little stars to quite read all the terms and conditions:




So, your twelve months of commitment are over and, for reasons of budget (or politics) you have decided you want to keep all the features of Sky+ - live pause, high definition, extended electronic programme guide, series record, and recording two programmes at once whilst you watch another - but don't want to fork out every month on top of your TV Licence - and you still get hundreds of free TV channels

Here's what you can do.

First you need to buy a Freesat+HD box. There are many on the market, and can be bought from Argos, Currys DIGITAL, John Lewis, Comet and online at Amazon, as well as other stores.

When you use a Freesat+HD box NO SUBSCRIPTION HAS TO BE PAID. NONE. NOT A PENNY TO ANYONE.


Installing
This will take no more than ten minutes. First you will need to disconnect the Sky+HD box
mains
from the wall socket.
Then you will need to disconnect the cables from the back of the Sky+HD box.
Pull out the mains
power
connection (1), carefully unscrew the
satellite
dish
links (2) and (3), and then take out the HDMI lead (4) to your HDTV. If you have an "
surround sound
"
amplifier
, you may also have a
digital
audio connection (5).
Remove the Sky+HD box and put the Freesat+HD box back in the same position.
Then reconnect the cables: the mains power
cable
(1) - but not to the wall just yet, screw the two satellite dish links (2) and (3) and connect the HDMI cable (4) to your HDTV. If you had one, reconnect the digital audio connection (5).
If you have an Ethernet router, you can connect it to the Freesat+HD box at this point (5).
With everything in place, turn on the mains power and power up the Freesat+HD box.
The TV screen first displays the box's logo
The first set-up screen allows you to select the TV type, widescreen
mode
and resolution:
Next the box checks for the satellite
signal
:
Then there is a check for updated software:
Then you enter your postcode and the box checks it:
The next step is a
scan
for
channels
. This takes about 30 seconds:
And that's it. You can now view
channels
, like 108 for
BBC HD
:
Or press the GUIDE button for the EPG:
And that's it.
Comments
Monday, 18 August 2014

Susan: If you are thinking along the lines of being able to record one programme whilst watching another, or recording two programmes at the same time, then I would recommend the Humax HDR-1000S/1TB as seen in the link, as although Humax boxes are a little more expensive that some of the more household name types, they are high quality devices with a reputation for reliability far in excess of most other devices. I myself have two Humax boxes, one Freesat HD type which has given fault free performance over the last four years, the other being a Freeview model, and which similar to the Freesat version has been fault free over the last three years, both boxes having been powered 24/7 during the entire time. HumaxDirect

jb38's 7,179 posts

Susan: Humax is the brand we normally recommend at work, and they have excellent customer feedback, as JB38 (and Brianist) can confirm. You've got two leads, so you've got a twin LNB dish. Thats perfect for recording and watching (the people before probably had Sky+), and so the Humax 1000S (500gb) would do very well http://www.johnlewis.com/…2135 I can confirm that you can use the standard Humax wifi dongle to make it wifi. A customer had read somewhere that you could the other week, and it took half an hour to check that it did (not all do, and it would be nice if Humax could just say yes..). If you want 1TB with wifi built in (both models have Freetime, so you'll get all four channels on demand anyway), then there is the 1010S http://www.johnlewis.com/…1431 JB38 is right, you can buy cheaper brands, but Humax tend to just work (and the HDMI is included in the box, so its easier to get started) and have s decent remote control. Having said that, I have heard some decent things about Manhattan Freesat stuff, but on the whole, Humax is the best choice.

MikeB's 2,579 posts
Tuesday, 19 August 2014

Hi, really sorry if I've missed this anywhere but would it be possible to ditch sky and replace it with either freeview or freesat but still have it powering other tv's around the home. Mainly we watch what's been recorded on the sky box in the living room upstairs and can control it by magic eyes?

Thanks

Matt

Matt's 4 posts
Wednesday, 20 August 2014

Matt: As you already have a Sky dish installed then a Freesat PVR (recorder) is your best option, as the dish and two leads from are 100% compatible with Freesat equipment. Be aware though, that if you cancel Sky the recording and playback side of the Sky box will become inoperative, as sky will cancel your access to it via an over air download into your viewing card. As far as feeding signals into another room is concerned, you would have to purchase an RF modulator to do this, the input to the modulator being via a scart lead coupling it into the PVR's rear scart socket. If you wish to retain the capability of controlling the Freesat box from another room, then the Triax device seen on the link is about the only way that you can do it, because you cannot from most modulators such as the one sold (if still) by Maplin.
Programmable Universal Modulator | Maplin TRIAX TRI-LINK Kit Control Sky, Freesat, Freeview: Amazon.co.uk: Electronics

jb38's 7,179 posts

jb38: hi, thanks so much for the links. So let me get this right (before I do it and am hung out to dry by the wife).

Cancel sky and replace the box with a freesat pvr.

Simply plug in as per diagram on triax link and this will enable all tv's around the house to watch whatever is on the freesat box and be controlled by magic eyes?

Will this also carry a signal from the normal aerial to other TV's? Currently when can watch sky in any room and also just watch freeview if someone else has sky on.

Thanks very much

Matt

Matt's 4 posts
Thursday, 21 August 2014

Matt: Yes, as this unit enables a viewer with a Freesat box or PVR to enjoy virtually the same facilities as that offered by a Sky box, something that is not possible with either due to the fact of them not having RF modulators, one exception being an older Humax 9200 Freeview PVR which does have an RF modulator. The other plus point being, that the programmes on a Freesat box can be can be controlled from another location in the same way as achieved with Sky, i.e: via the same coax that carries the analogue RF signal from the Triax modulator, the only difference being at the Freesat box end, insomuch that the box is controlled by a command signal transmitted from an IR sender unit positioned close to the Freesat box and not from circuitry within the box itself as with Sky, the sender being connected into the Triax modulator. However, although I have mentioned Freesat as being the best option as a replacement for Sky, this was basically due to you already having a dish fitted with twin outputs, plus of course the fact that satellite reception is generally more reliable than Freeview, but though, "if" you reside in an area where your Freeview reception "is" reliable throughout the year (as in many areas it isn't!) then a twin tuner Freeview PVR used in conjunction with a simple RF modulator could well be a less costly option, as the analogue RF modulator would enable a recording to be viewed in a second location whilst someone located in another room might be viewing a programme on Freeview, similar to that achieved with Sky. Obviously with the Freeview system the remote changing of channels facility would not be required by the fact of each location choosing their own Freeview programme. Anyway, if you can view PDF files? I attach two links explaining the Triax system, one of the links being the user manual. Further advice as required. http://www.triax.co.uk/upload/ tri-link_aug_2010.pdf">http://www.triax.co.uk/up….pdf http://www.triax.co.uk/upload/

jb38's 7,179 posts

jb38: brilliant, thanks very much for such an in depth reply. It helps a lot. It may be worth going down the route of freeview then which would enable us to watch recorded program's elsewhere from the main recorder but also have the added option of freeview on other TV's.

I take it the simple rf modulator would be the triax tri link again, or is it a different one for freeview, last question I promise, ha ha,

Thanks.

Matt's 4 posts
Friday, 22 August 2014

Matt: Not quite! as the simple RF modulator I was referring to is the Maplin device, this device "only" being capable of enabling the TV's located in different rooms to view, but "not" control, the programme (or recording) that happens to be selected on the Freesat PVR in "exactly" the same way as presently achieved via the Sky boxes RF output.

If though you are intending to use a Freeview PVR, then the aforementioned modulator is not really required for anything other than enabling TV's installed in the other rooms to view a recording made on the PVR, as other than that each room can make their own choice of which Freeview programme to view independently of each other.

However, if you wish to retain being able to control the PVR from any of the other rooms, then irrespective of whether its Freesat or Freeview the Triax modules feedback control system "has" to be involved, this device simulating the operating system used for this purpose on Sky boxes.

I would like to point out though that one or two snags, or more inconveniences, can crop up with using the Triax control system "as a replacement" for Sky's system, one of being that the Triax modulator module uses screw type "F" connectors rather than the traditional Coax connectors, this requiring you to purchase 2 x "F" type male to Coax female adaptors, the male "F" connectors being screwed into the modulators aerial input and the other into its RF output, this enabling the coax connector plug from the Sky boxes aerial input to be connected into same on the Triax, similar applying with the RF2 socket's.

The only other difficulty which may (or may not) possibly crop up is dependant on the method used to distribute the signal from Sky's RF2 output to the other rooms, as Triax recommends (or shows) their 4 output / input digital link amplifier module being used for this purpose, but as its assumed that the presently used magic eye system has been operating OK, then (in theory anyway) you should not experience any problems, the control system being technically similar on both devices.

Sorry for the explanation being a tad long winded, but certain technical aspects of the system are difficult to shorten, albeit that up to a point they have been.

jb38's 7,179 posts

jb38: perfect reply. Thanks very much. It's good to have all the info to hand to enable us to make the correct decision. Why oh why can they just not make a pvr with an rf2 output!!!!

Thanks again.

Matt's 4 posts

Matt: 'Why oh why can they just not make a pvr with an rf2 output!!!! '

Because that would make life easy! I also suspect its because RF's tend to be a 'Sky Eye' thing, and most other manufacturers simply dont bother with it. Of coures if they did they could use it as a selling point, making it easier for people to switch from Sky.

MikeB's 2,579 posts
Select more comments
Your comment please