2011 switchover week two: The Wrekin and Ridge Hill transmitter groups

Brian Butterworth published on UK Free TV
Hardly a Wednesday from 30th March until 23rd November 2011 will not involve a step in the UK digital switchover, and this week sees the first stage of switchover for 632,000 homes in the West of Central England.

From 6am Wednesday, you will need to retune your Freeview box or television set if you use The Wrekin, Ridge Hill, Bromsgrove and Lark Stoke full service Freeview transmitters.

If you use a The Wrekin or Ridge Hill relay transmitters, from this date you will also be able to receive all the BBC Freeview services (except HD), and you will no longer be able to view BBC TWO on analogue.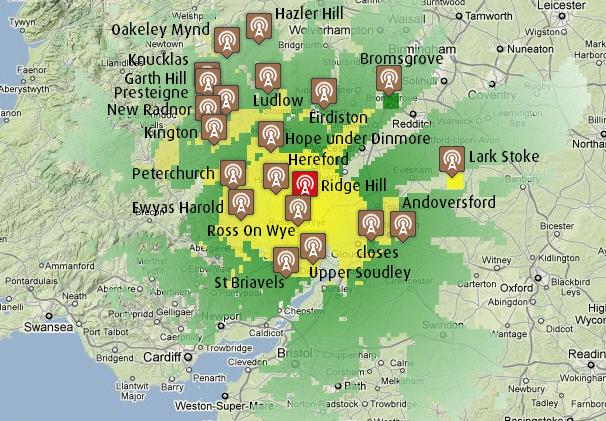 You MAY find that old equipment will no longer work - see TVs and boxes that do not support the 8k-mode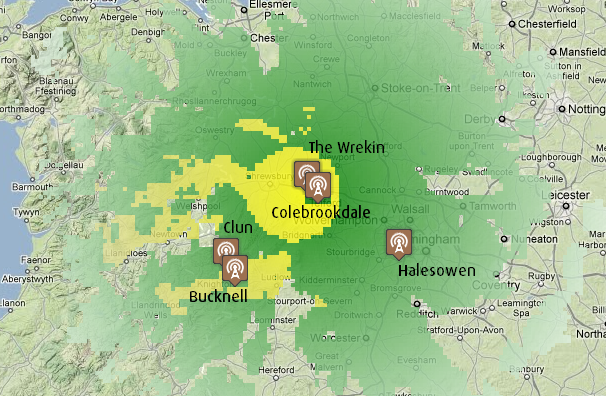 On Wednesday 20th April 2011 will see the second stage of switchover, which provide the final Freeview configuration, including Freeview HD for all transmitters in this region, except at The Wrekin where the commercial multiplexes will only be at their final output levels of 10kW in September 2011 - during this transition period the commercial multiplexes will use the following frequencies: SDN ch49 and ch31 (both 2kW), Arqiva A ch53 (1kW), Arqiva B ch57 (1kW).
Comments
Tuesday, 5 April 2011
M
Mike Dimmick
11:30 AM
Reading

Bromsgrove and Lark Stoke (for Stratford-upon-Avon) are also switching on the same dates, as they form a Single Frequency Network with The Wrekin.

Mike Dimmick's 2,486 posts
Mike's:
map
M's Freeview map
terrain
M's terrain plot
waves
M's frequency data
M's Freeview Detailed Coverage

There are also late-breaking channel changes at some relays - just like Dallington Park and Kimpton, BBC A will start on a channel that is due to be released (C61 or C62), and will then move to a different channel at DSO 2. At some relays it will move from a lower channel number (49 or 50) to accommodate another move.

Andoversford BBC A starts on C62, moves to C50 at DSO 2 (20 April).

Knucklas BBC A starts on C49, moves to C39 at DSO 2.

Ross on Wye BBC A has been allocated C50, but it's not clear whether this is from DSO 1 or DSO 2. (Note 4 is missing.)

There are also some discrepancies between this Table of Stations and the earlier DSO Details which aren't called out in specific notes:

Hazler Hill BBC B is shown at C39, not C49
Ludlow BBC B is at C39, not C49
St Briavels BBC B is at C40, not C50

(Presteigne and Upper Soudley stay on C49 and C50 respectively.)

Clun BBC B is at C50, not C62-
(Bucknell BBC B will stay on C49)

There should also be changes for Mux 2/D3&4 but they're not in the stations table. Eardiston and Halesowen were previously allocated C61.

The table is at http://licensing.ofcom.org.uk/binaries/tv/sup_dso/version2.pdf , and it forms part of the multiplex licences. In theory it should be more accurate than the DSO Details documents. The notes are frequently cut off on the right-hand end - I requested a copy in Excel format that I've forwarded to Brian already. (RG47SH)

Mike Dimmick's 2,486 posts

Sorry, this is supposed to be a unpublished draft for publication tomorrow.

Briantist's 38,899 posts

Mike Dimmick: Thanks for these.

Andoversford. Done.

Knucklas. Done.

Ross on Wye. Done. Assumed same plan as above.

Briantist's 38,899 posts

Hazler Hill: Done

Ludlow: Done

St Briavels: Done.


Briantist's 38,899 posts

Eardiston and Halesowen: Notes added re C61.

Briantist's 38,899 posts

Does Ridge Hill go up to full power on digital tomorrow (6 Apr) or on 20 Apr? Knowing this would help me judge improvement (if any!) Many thanks

Racundra's 4 posts

Racundra: It's done in two steps so they don't get a sudden flood of calls all on the same day.

High-power BBC services start up tomorrow. Retune after 6am, if you're using Ridge Hill itself - some relays will be later (see Digital UK - Relay transmitter switching times .

All other services increase on the 20th. (RG47SH)

Mike Dimmick's 2,486 posts

Mike Dimmick: Many thanks!

Racundra's 4 posts

Lark Stoke and Bromsgrove,3 com's muxes will not transmit on full powers and final allocated channels until the 28th Sept 2011,as well as The Wrekin,
Following Sutton Coldfield switch over on 21st Sept.

Will be interesting to gauge how robust the digital signal will become with 3 transmitters acting as a signal frequency network SFN

Aerialman's 140 posts
Select more comments
Your comment please