2011 switchover week two: The Wrekin and Ridge Hill transmitter groups

Brian Butterworth published on UK Free TV
Hardly a Wednesday from 30th March until 23rd November 2011 will not involve a step in the UK digital switchover, and this week sees the first stage of switchover for 632,000 homes in the West of Central England.

From 6am Wednesday, you will need to retune your Freeview box or television set if you use The Wrekin, Ridge Hill, Bromsgrove and Lark Stoke full service Freeview transmitters.

If you use a The Wrekin or Ridge Hill relay transmitters, from this date you will also be able to receive all the BBC Freeview services (except HD), and you will no longer be able to view BBC TWO on analogue.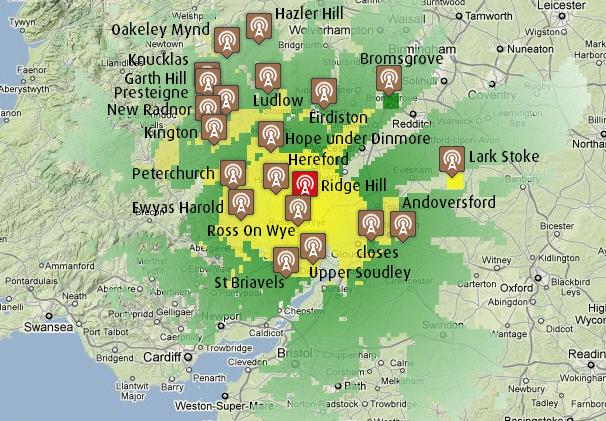 You MAY find that old equipment will no longer work - see TVs and boxes that do not support the 8k-mode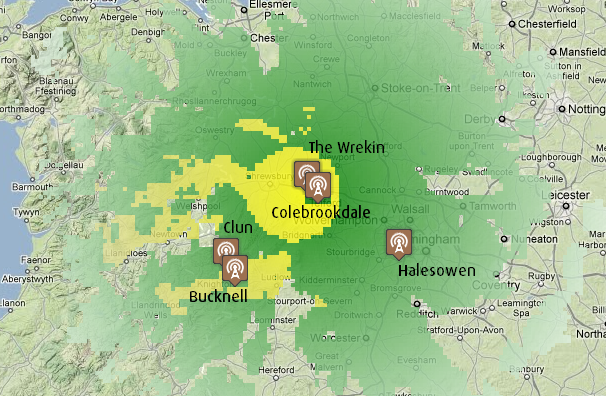 On Wednesday 20th April 2011 will see the second stage of switchover, which provide the final Freeview configuration, including Freeview HD for all transmitters in this region, except at The Wrekin where the commercial multiplexes will only be at their final output levels of 10kW in September 2011 - during this transition period the commercial multiplexes will use the following frequencies: SDN ch49 and ch31 (both 2kW), Arqiva A ch53 (1kW), Arqiva B ch57 (1kW).
Comments
Saturday, 23 April 2011

Stuart O.: The normal arrangement is that a relay transmitter will carry the "normal" service for the area, but sometimes you used to get different BBC and ITV regions. These have all been synchronised at switchover.

The "Spare RF" show the best three RF channels, it does calculate the lot, but it shows the three that are furthest from any occupied slots.

You can't receive C34 from Lichfield, so there isn't a problem there.

Briantist's 38,903 posts
Friday, 29 April 2011

Can't get channel 12 or 15,Yesterday and Film4,will I be able to receive these in September? (Wrekin transmitter).

John Brawn's 1 post
Monday, 2 May 2011

Thank you Brian for your answer of 12/4/2011 which was very helpful.

Now my aunt in Stonehouse, Stroud, Glos, is fully converted there is just one remaining minor irritation. She prefers the West regional news progs which she used to be able to get (but with a reduced signal strength). Now she has just digital she gets Central regional progs. I have found the ITV West regional progs in the 800's but no sign of BBC West (Points West) regional progs on any of the listed channels. I thought she was on Ridge Hill West - but the Swithcover site shows this should have WEST regional prgs. Any ideas why she can get ITV west but NOT BBC west progs. I am assuming there is no easy answer to get the BBC west progs? I know properties 2 miles away (Ebley) do get the required channel - but they use Slad tranmitter which I believe is not receivable from Stonehouse.

Malcolm's 2 posts

Malcolm - on the assumption that the ITV West and BBC West come from the same place it might be that one is just a bit stronger. Might be there now if you "add additional channels"

If you look at the pages for the possible transmitters it will shoe what channels stuff is on.

If you plug her postcode in top right of this page then click the links - esp. "Digital Trade" you will see what might be possible.

Also try
UK digital TV reception predictor (LL145HD)

Steve's 1,173 posts
Tuesday, 3 May 2011

John Brawn: That's what is says above.

Briantist's 38,903 posts
Wednesday, 4 May 2011

Malcolm: There is a special ITV West service on the Ridge Hill transmitter - but this is ITV1 only, not the BBC service.

Briantist's 38,903 posts
Thursday, 1 September 2011

I have just bought a new freeview box to work with an old tv and it works ok.most chanels good reception.
I have also bought a new LG flatscreen tv with built in freeview HD etc. which only receives 20 tv and 11 radio chanels despite retuning several times,

I have an external ariel which is connected to both sets pointing to Larkstoke.

Any suggestions ???

bob plant's 18 posts
Friday, 2 September 2011

Have you tried switching them round?

And one by one?

Do either sets show a signal strength?

Signals can be too strong. Need your postcode to check for that.

As the new one does work it is probably simply more or less sensitive than the old.

Steve P's 1,173 posts

Postcode WR117HQ' both sets connected to same aerial.
Old set is in bedroom with new freeview box, works ok good signal strength most channels received ok, channel guide very slow at updating information.
New set LG is in lounge, reception on the 20 found channels good, does not change much even with a booster.Signal strength on BBC channels show 89% without and 100% with, others channels show nothing The new set has a built in 5V antenna power button which switches off when I try to use. The new set does not pick up the same number of channels as the old set when retuned.

bob plant's 18 posts

Bob P - Presume your Ae is pointing E to Lark Hill, and arranged vertically?

UK digital TV reception predictor

Do you know where the aerial feed splits and if you have a poered or unpowered splitter?

Do you understand that the "5v antenna power" is squirting power UP the coax to a presumed antenna amp/booster? Which, if exists, must previously have been powered somehow.

WHAT switches off when you try to use?

Try using the new box downstairs feeding the new TV and see what you get.

Steve P's 1,173 posts
Select more comments
Your comment please