2011 switchover week two: The Wrekin and Ridge Hill transmitter groups

Brian Butterworth published on UK Free TV
Hardly a Wednesday from 30th March until 23rd November 2011 will not involve a step in the UK digital switchover, and this week sees the first stage of switchover for 632,000 homes in the West of Central England.

From 6am Wednesday, you will need to retune your Freeview box or television set if you use The Wrekin, Ridge Hill, Bromsgrove and Lark Stoke full service Freeview transmitters.

If you use a The Wrekin or Ridge Hill relay transmitters, from this date you will also be able to receive all the BBC Freeview services (except HD), and you will no longer be able to view BBC TWO on analogue.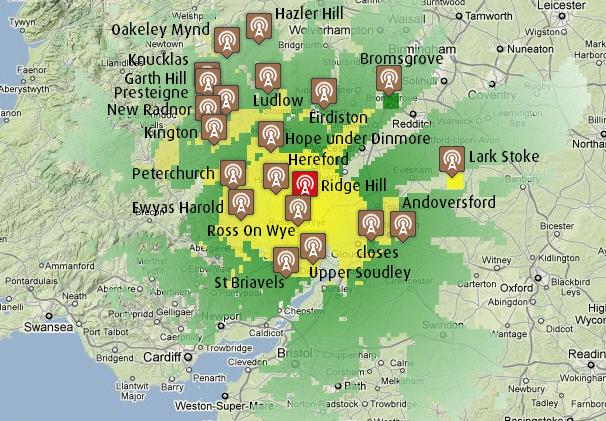 You MAY find that old equipment will no longer work - see TVs and boxes that do not support the 8k-mode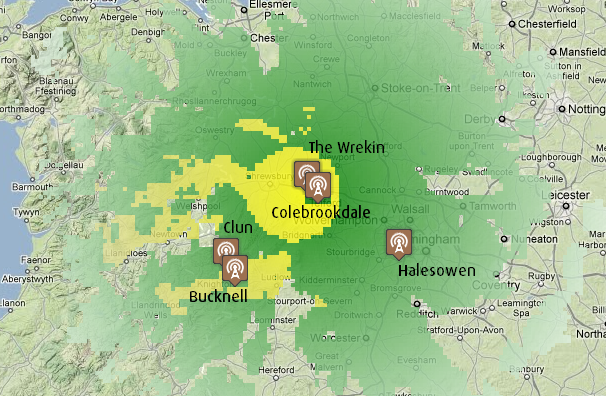 On Wednesday 20th April 2011 will see the second stage of switchover, which provide the final Freeview configuration, including Freeview HD for all transmitters in this region, except at The Wrekin where the commercial multiplexes will only be at their final output levels of 10kW in September 2011 - during this transition period the commercial multiplexes will use the following frequencies: SDN ch49 and ch31 (both 2kW), Arqiva A ch53 (1kW), Arqiva B ch57 (1kW).
Comments
Saturday, 3 September 2011

Aerial pointing to Larkstoke vertically arranged
Aerial splitter unpowered
"5V aerial power" not understood, switches from on to off on set up menu "Antenna power overload"
The only powered booster is fitted between the new TV and the wall socket (The problem set) no booster on old set which is ok,

bob plant's 18 posts

Remove the booster; what do you get? NB that TOO STRONG a signal is also a problem for digital. You can get "attenuators" to reduce power if beeded.

Your first option is to switch your kit round to see if it is the kit or the aerials that is making the difference.

The 5v aerial power option is that your TV either does or does not send 5v DC UP the aerial coax to drive a booster. Sounds like you don't need it if your booster is plugged into the mains. Does it make any difference if you have it on or off? Probably not, but best "off" if not using it.

Steve P's 1,173 posts
Tuesday, 6 September 2011

Without the mains booster the the signal strength reduces and I can use the 5V aerial power option, but the signal is better with the mains booster than with the the 5v aerial power option, but any combination it does not receive more than 20 tv and 11 radio channels.

Is it possible that the full change over of Sutton Coldfield will improve the situation as there appears to be a 50/50 split to where the other aerials in my road are pointing.

bob plant's 18 posts

bob p - I don't know the details, but think it could improve - or make worse - your situation.

I begin to suspect that your "mains booster" may in fact be a power supply for a powered aerial splitter, which may be overamplifying your signal.

Without the mains booster, what difference does the 5v OFF/ON choice make?

If you can get at the splitter, try taking it out of the system, using either an unpowered splitter or just connecting one by one (better for testing)

Have you yet tried switching the kit round to the other aerials?

Steve P's 1,173 posts

Hi Steve, fairly sure that the aerial splitter is not powered, the mains boster only boosts the signal from the wall socket to the new tv.this is the best option for good reception.signal strength 100%
Without the booster the signal strength is reduced to about 60% and increases to about 80% if i switch the 5v on.
Have not had time to switch kit yet, will try after Sutton Coldfield swichover if no joy. I am begining to think that the aerial which has 4 outlet sockets attatched in different parts of the house and a fair few meters of coax without any amplification may be the problem. Appreciate all you advice hope I can resolve it. (not many programmes worth watching anyway Ha Ha ).

bob plant's 18 posts

bob p - If turning the 5v ON improves the signal it MUST be powering an amplifier somewhere - almost certainlty the splitter. Just having 5v DC will not improve the signal.

What you call the booster may not itself be a booster but just a power supply for the splitter. Or it could be both. Does it have any description, brand, model, etc.?

NB That you just need to try the upstairs Freeview box with the downstairs TV to start with; not move TVs.

Do you have access to the splitter? 4 way splitters usually would be powered.
Do you have access to the

Steve P's 1,173 posts
Wednesday, 7 September 2011

The booster? is a Labgear cable vision ltd. UHF single set amplifier. Type CM7253. It is powered and connects from the wall socket to the new tv.I used this previously with an old freeview box and an old tv, which gave me a reasonable reception on both analogue and digital, however the digital signal was not perfect, some pixilation at times with digital.
Have located the splitter (if you can call it one)which is in the loft. All four coax cables are twisted together and bound with electrical tape. this was done over 20 years ago when i had an extension built.

bob plant's 18 posts

... http://unesdoc.unesco.org….pdf

As used in Burma in 1987!

Clearly IS an amp in its own right. Does it give any indication if it also powers up the coax?

In loft are there 4 "out" coax plugs and one IN? Any writing on the box that connects them?

Can you try connecting the in to one of the outs to see what that produces below? IIRC you are only using two of the four?

Age of the cables might be a fault- but not certain.



Steve P's 1,173 posts

Bob if your loft has a 13amp power socket you could fit a 4 way amp in the loft and do away with the twists, if this is possable fit a 6 way just in case. If you carnt get power in the loft you will need a multi output masthead and power unit you can do this yourself it isnt hard but if you have problems you will need to call out an local aerial rigger and he will do this for you. Hope this helps

Mazbar's 384 posts
Mazbar's:
map
M's Freeview map
terrain
M's terrain plot
waves
M's frequency data
M's Freeview Detailed Coverage

Maxbar - you are assuming by "Twisted together" he means 4 coax cores and 4 outers twisted together? Could be - I assumed just the cables but still each with its own plug.

He does not need power in the loft - we know his TV sends 5v up the coax.


Steve P's 1,173 posts
Select more comments
Your comment please