Brighton transmitters will be in BBC South East from 7th March 2012

Brian Butterworth published on UK Free TV
Back on 3 September 2001, the BBC split the old Newsroom South East region.

The Oxford part had became an opt-out of South Today from Southampton in October 2000, and in late 2001 the rest of this large region was then split into two: a service for "M25" London (BBC London News) and another one for Kent and East Sussex.

This new service, which is based at studios in Tunbridge Wells, is called South East Today.




The city of Brighton and Hove, which is located in East Sussex, is just 33 miles from Tunbridge Wells, did not switch to this new service on analogue or Freeview, but Sky, Virgin Media cable and Freesat viewers have enjoyed South East Today for many years.

Central London is closer - and better connected - to Brighton than Southampton, Hampshire. Brighton and Hove's 250,000 population makes it the largest city in the South East Today region, larger than Canterbury's and Maidstone's 150,000.

Brighton and Hove is served by one main transmitter on Whitehawk Hill, and eight relays at Bevendean, Brighton (Central), Coldean, Hangleton, Ovingdean, Portslade, Patcham, and Saltdean; historically some viewers in the west of the city had their aerials pointing at the Rowridge transmitter on the Isle of Wight.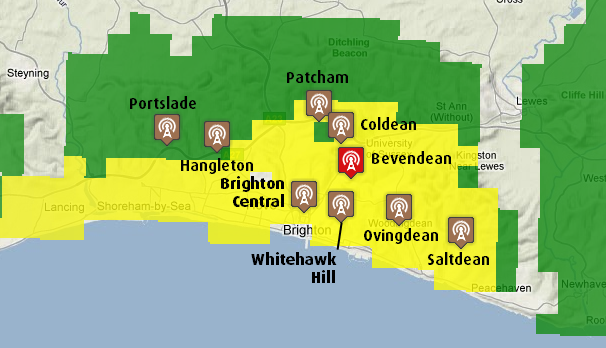 At switchover, all the transmitters in Brighton and Hove will switch to the South East Today region on Freeview.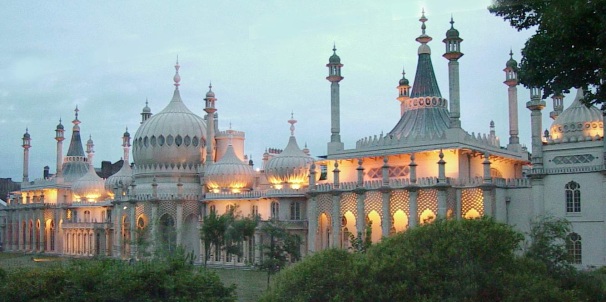 Comments
Sunday, 7 August 2011

John Clemence: OK. Thanks.

Briantist's 38,899 posts
Tuesday, 9 August 2011

Brian,

Still reading your regular updates and enjoying them immensely.

Roy (Eastbourne).

Roy Cole's 6 posts
Wednesday, 10 August 2011

Roy Cole : Thanks very much.

Briantist's 38,899 posts
Saturday, 13 August 2011

Hi, Brian -
It might be worth your while pointing out that the historical reason why most people in Brighton & Hove get the Southampton-based local opt-outs is because virtually all the analogue transmitters you mention in the city derive their programme feed either by directly rebroadcasting Rowridge, as Whitehawk Hill and Patcham do, or by rebroadcasting Whitehawk Hill. The temporary digital service seems to have fallen into line with the analogue service, at least until switchover. And on the subject of cable, when I was on Virgin Cable a few years ago we certainly got the Southampton programme, but I can't comment on what's on there now.

Richard Davis's 1 post
Sunday, 21 August 2011

If I recall, Sky and Freesat customers in Brighton and Hove already receive BBC1 South East on 101 with South Today in the 900s?

Martin Phillp's 1 post
Monday, 22 August 2011

At least with freesat you can change the region you want for 101...not sure about 103 but I guess so

This is going to upset a lot of Sally Taylor fans, I personally can't stand her but I quite like Reham Khan if she is still about, never watch South Today myself. Use to love Meridian Tonight SE before the cut backs though

I can see a lot of Brighton viewers high ASL wanting antennas pointing to the IOW then !!

Dave's 126 posts
Tuesday, 23 August 2011

Dave: I doubt it as Southampton Today will no longer cover Brighton as part of it's remit when the transmitters change. Also, people will miss out on the new Local TV service, should it start.

Briantist's 38,899 posts
Thursday, 26 January 2012

I live in Brighton and currently receive South Today on analogue and Freeview, which I'm perfectly happy with, mainly because Brighton & Hove is better connected to the west by continuous areas of civilisation and separated from the east by vast plains of countryside. I also have Freesat, which defaults to the South-East region on BBC1. However I have changed my preferred region in the Freesat settings menu to BBC1 South, again for the reasons above, but also because the picture I receive for the South region is much sharper; the South-East picture always seems blurred! Strangely, ITV on all platforms comes from the South and again I'm perfectly happy with this set-up, although I don't care much for what's happening over in Oxford or Ramasgate, but that's ITV cost cutting for you!

One problem I can see after switchover, if BBC South stop covering Brighton, is that there are many houses in the Brighton area that have arials pointing towards Rowridge. So, their occupents will be in for a shock come March! I can't see many people - especially the elderly or private tenants - clambering up onto their rooftops and adjusting their arials in order to receive the correct region. This re-alignments of the news service has not been publicised locally at all, so nobody with arials point towards Rowridge will know they need to make adjustments until after the event - a bit of a shoddy job by whoever is managing the re-alignment! I'm sure they will still get a nice juicy bonus at the end of it though!!

Matt B's 2 posts

Matt B: I expect that South Today and South East Today will adjust their news coverage areas so anyone who does re-align to Rowridge will find that they get less news relevant to their area, if any.

Dave Lindsay's 5,724 posts

Dave Lindsay: I didn't say that people will be repositioning their arials towards Rowridge. That would, of course, be rather silly considering BBC South will no longer cover them after switchover. I was saying that there are many houses in Brighton and Hove, especially going towards Worthing, where people already have their arials pointing towards Rowridge, and this has always been the case. With the BBC re-aligning their news service, there is a need for people In Brighton & Hove currently receiving signals from Rowridge to reposition their arials towards to Whitehawk, otherwise they will receive no local news coverage after switchover. As I said, this has not been publicied locally at all, so numerous households will suddenly find themselves with no local news and having to fork out for contractors to reposition their arials towards Whitehawk. I can't see any landlords forking out for this, so private tenants are going to have to get used to watching Portsmouth get excellent coverage, whilst they get none! . The whole thing has been ill thought out, not publicised, and now thousands of people will have to fork out money for arial repositioning, all because someone in an office somewhere arbitrarily decided to mess around with the current set-up!!

Matt B's 2 posts
Select more comments
Your comment please