Brighton transmitters will be in BBC South East from 7th March 2012

Brian Butterworth published on UK Free TV
Back on 3 September 2001, the BBC split the old Newsroom South East region.

The Oxford part had became an opt-out of South Today from Southampton in October 2000, and in late 2001 the rest of this large region was then split into two: a service for "M25" London (BBC London News) and another one for Kent and East Sussex.

This new service, which is based at studios in Tunbridge Wells, is called South East Today.




The city of Brighton and Hove, which is located in East Sussex, is just 33 miles from Tunbridge Wells, did not switch to this new service on analogue or Freeview, but Sky, Virgin Media cable and Freesat viewers have enjoyed South East Today for many years.

Central London is closer - and better connected - to Brighton than Southampton, Hampshire. Brighton and Hove's 250,000 population makes it the largest city in the South East Today region, larger than Canterbury's and Maidstone's 150,000.

Brighton and Hove is served by one main transmitter on Whitehawk Hill, and eight relays at Bevendean, Brighton (Central), Coldean, Hangleton, Ovingdean, Portslade, Patcham, and Saltdean; historically some viewers in the west of the city had their aerials pointing at the Rowridge transmitter on the Isle of Wight.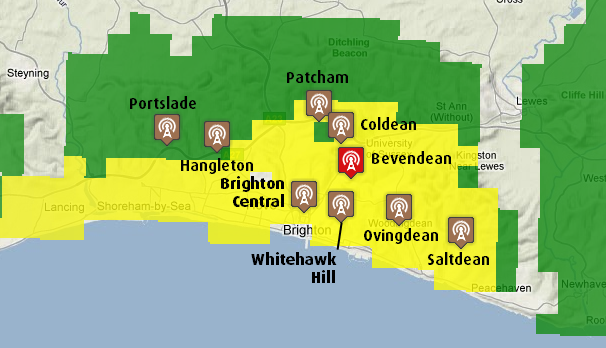 At switchover, all the transmitters in Brighton and Hove will switch to the South East Today region on Freeview.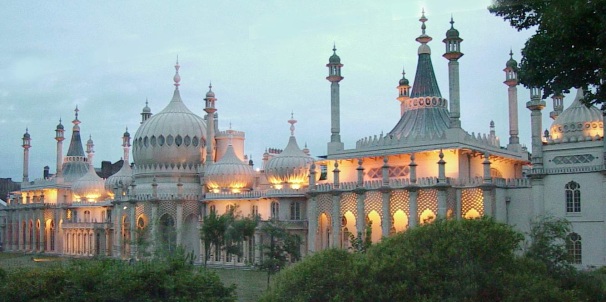 Comments
Thursday, 26 January 2012

Matt B: Perhaps this an issue that could be raised by local MPs and newspapers.

Dave Lindsay's 5,724 posts

Dave Lindsay: Sorry to interject here, but I suspect that would be a large waste of the MPs' time.

The "BBC South East" region was set up for East Sussex and Kent, and last time I looked the whole of Brighton and Hove are still in East Sussex.

Most people here in Hove use Whitehawk Hill as most aerials in our city have been moved to that transmitter over the last decade, as digital reception from Rowridge was more-or-less impossible.

A large amount of money was invested in the Kent and East Sussex BBC service, and it is the MPs who asked for it in the first place.

Also, as I have said before, Brighton and Hove get much, much better coverage from the new service than from BBC Southampton and Portsmouth.

Briantist's 38,844 posts
Friday, 27 January 2012

Granted, most arials in Brighton & Hove have already been repositioned towards Whitehawk, but there are still a few that haven't. Interestingly, there are a large number of arials pointing towards Whitehawk further out, between Worthing and Littlehampton. I wonder if they will be covered by South-East today, being in West Sussex!? There is a large overlap area between Hove and Littlehampton and the majority of arials are pointing towards Whitehawk, probably they receive a better reception than they do from Rowridge. I guess they will need to fork out for repositioning towards Rowridge now!

Matt B's 1 post
Saturday, 28 January 2012

Matt B: The BBC services are designed to provide services for the areas that are covered by the transmitters.

Briantist's 38,844 posts
Sunday, 5 February 2012

Yes Meridian broadcasts from Locks Heath to to Whole of S/SE England. BBC South Today, only started to cover Brighton, when BBC changed SE part, 1990's. On my Holidays we would have Sue Lawley, Bob Wellings with Nationwide and not, as in those days, Bruce Parker. 1969-1983. I had holidays in Sussex and Kent, 60's, 70's, 80's. South Today was not broadcast there, it was London ie Nationwide. I think Whitehawk got signals from Heathfield Mast. SE BBC didn't really have a local news until years after other BBC Regions, South 1961. The SE News will be a suprise to many viewers in Brighton, who will remember BBC Regional News is I remember it years ago.

David Poulton's 1 post

David Poulton: In "the old days" there was a programme (from March 1989) called Newsroom South East which was the "regional news" for London, East Sussex, Kent and Oxfordshire, which took over from "London Plus".

These programmes were presented by the London presenters, ie the Nationwide presenters, from London.

In October 2000, the Oxford transmitter region was taken from NRSE and made a sub-region of BBC South Today (from Southampton).

In September 2001, Kent and East Sussex was taken from NRSE to make a whole NEW region called "BBC South East".

In October 2001, NRSE then relaunched as BBC London News (with the strange LDN logo).

Whitehawk Hill was never part of the NRSE region and always took BBC Southampton.

The BBC South East Today region was created following a BBC report which promised MPs in East Sussex and Kent a multi-million pound investment.

However, only satellite users in Brighton get South East Today because some of the "Brighton" transmitters took their signals direct from Rowridge. The re-engineering to allow these transmitters to all take their signals from Whitehawk Hill has been done as part of the Digital Switchover process.

It is work noting that Newsroom South East actually has an office in Brighton since 2001.

Briantist's 38,844 posts

David Poulton: Strange LDN logo BBC LDN sticker (2002) | Flickr - Photo Sharing! .

Briantist's 38,844 posts
Tuesday, 6 March 2012

I will not be watching bbc south east as I am not in the slightest interested in London or Kent I am more akin with bbc south so I will probably go to itv news on my tv in bedroom until I link my sky box to that tv




minimary's 1 post
Wednesday, 7 March 2012

Im in Bournemouth and i like having Brighton at the one end of bbc south area and i also have loads of friends there and i feel closer to the south east than the west country so from all of us in Poole and Bournemouth its been great being with you and a sad good bye to all of you in Brighton ( Hove ) a great city xx

neil's 1 post

sally taylor said last night that we can possibly still watch south today from the brighton area, even though our main transmitter will be broadcasting kent news (very useful for us !!) - she said there was another channel which could be used ???? anyone make a note of it !!

Kristina's 4 posts
Select more comments
Your comment please