New Astra 1N satellite to offer more UK-focused capacity - and soon

Brian Butterworth published on UK Free TV
SES Astra, the Luxembourg-based company that owns and operates the Astra satellite fleet used in the UK by Sky and the free-to-air broadcasters behind Freesat, has successfully launched the 5300kg ASTRA 1N satellite from Kourou, French Guiana on 6th August 2011.

This satellite will be moved into the 28.2 degrees east orbital position above the equator, where it will join the Astra 2 satellites. This position will allow its transmissions to be received by anyone who uses Sky or Freesat.

This additional capacity will increase the number of satellite transponders by 104.

Of particular note to free-to-air TV satellite viewers, the satellite has a "UK spot beam", which mirrors that of the Astra 2D satellite.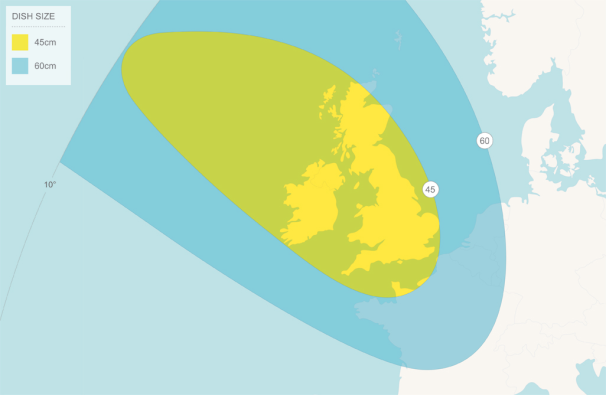 Whilst it can be argued (see Karen Murphy scores against the Premier League and Sky) that EU Television Without Frontiers directive allows public service broadcasters to carry their services on pan-European satellite, international rights holders prefer free-to-air channels to use the tight beams to restrict the coverage to a target country.

As all the Astra 2D transponders have been full for some years, the extra capacity on Astra 1N will allow for expansion.

Speculating, this might include:


Space for BBC TWO HD, which will require four HD stream to provide the English, Welsh, Scottish and NI variations.
Space for Channel 5 to move to have all of their advertising regions free-to-air, and perhaps 5* and 5USA.
Space for all ITV1 HD news regions to be on Freesat.
Comments
Wednesday, 21 March 2012

Can I purchase a digital satellite receiver for use in the U. K., to obtain International Eurosport English transmissions, which are being switched off via the Astra analogue unit on April 30? Thanks!

Dav Tucker's 1 post
Thursday, 29 March 2012

1N works fine in Prague on a 80cm dish :))

Stepehn's 1 post
Monday, 9 April 2012
F
Frazer Palmer
6:23 PM
Worthing

Do I need to purchase an extra freeview HD box?
My tv has an internal freeview receiver and the analogue terrestrial receiver -now no transmissions.

Frazer Palmer's 4 posts
Frazer's:
map
F's Freeview map
terrain
F's terrain plot
waves
F's frequency data
F's Freeview Detailed Coverage

Frazer Palmer: Yes, please see Are you really watching free TV in high definition? | ukfree.tv - independent free digital TV advice .

Briantist's 38,908 posts
Wednesday, 11 April 2012

I get english TV just south of Alicante on a 1mt dish. How long is going to last anyone know?

Dennis's 1 post
Saturday, 14 April 2012

Dennis: You may need a larger dish. Astra 1N will stay in service until the new Astra 2 satellites come into service in 2013 or later.

Briantist's 38,908 posts
Thursday, 3 May 2012

I have a new Icecrypt HD satellite receiver but I cannot find any UK transmissions. I have tried entering the 10773 22000 transponder but no signal is found in Manual or Auto. One page on the Internet says the SID should be 27500. I get programs from Norway down to Spain and most countries in between but none from the UK.

28.2E Astra 1N

Alan Shearing's 1 post
Friday, 4 May 2012

Alan Shearing: If you're getting Norwegian and Spanish channels your dish is very likely pointing to the satellite cluster at 19.2°E. You will need to have it moved to 28.2°E.

There may still be Sky-supplied dishes pointing to 19.2°E, as the old analogue Sky service was broadcast from this cluster. That service closed in 2001. The new orbital position was used as there wasn't enough capacity at 19.2°E to run both the analogue and digital services. There are many people who are also interested in receiving foreign channels, either through heritage, migration or general interest.

The 19.2°E position is often called "Astra 1" because most of the names of the Astra satellites there start with "1", and 28.2°E is often known as "Astra 2" for the same reason. However, just to confuse you, Astra 2C was designed to go to 28.2°E but has now ended up at 19.2°E, while 1N, designed for 19.2°E, is temporarily filling in at 28.2°E.

The Freesat EPG information is carried on 11426 MHz, Horizontal polarization (this transponder is actually on Eutelsat 28A, formerly known as Eurobird 1, not any of the Astra satellites). The symbol rate is 27500 and the FEC rate is 2/3. I'm not sure if the EPG data is carried as a data stream on a specific Service ID, or just as Event Information Table data (which is part of the overall datastream, not a specific service).

If this is not a Freesat-branded device, see Astra 1N / Astra 2A / Astra 2B / Astra 2D / Eutelsat 28A (28.2°E) - All transmissions - frequencies - KingOfSat for the tuning information. 10773 MHz at 28.2°E carries the London, West, Cambridge and Channel Islands versions of BBC One, the England variant of BBC Two, and CBBC/BBC Three (these two services share a slot, effectively, as neither is on-air at the same time as the other).

Mike Dimmick's 2,486 posts
Saturday, 5 May 2012

I might be moving to Valencia in Spain soon is there any chance of receiving free-sat if so what do I need

Peter White's 1 post
Friday, 18 May 2012

Peter White: Yes, but you may need a very large dish to get all the services, in particular the "popular" ones in the UK-focused beam.

If you take a UK "Freesat" box with you this will provide the programme guide and correct channel numbers when you fix it to the dish.

The best thing to do is to consult a local installer.

Briantist's 38,908 posts
Select more comments
Your comment please