How might a 10,000 pound a week local TV channel work?

Brian Butterworth published on UK Free TV
Schedule
A
local TV
channel
running on a budget would not be able to provide a rolling news channel type service as this would be too costly.
A more typical would be for the channel to produce three half-hour programming blocks per day: one at "breakfast", one at "lunchtime" and a final "evening" block. This block could either be produced as a live programme, or almost-live to
save
production costs.
Each half-hour block would then be electronically repeated over the following hours, providing a full-time service.

A typical schedule for the half-hour block might be:
30 seconds identify and titles
2.5 minutes local news headlines
7 minutes local news content
1 minute local weather and traffic information
4 minutes adverts
1 minute headline summary
9 minutes local features
1 minute local weather and traffic information
4 minutes adverts
Costs control
The use of
standard
broadband and internet facilities, rather than the traditional broadcaster-friendly synchronous data
services
will probably be necessary.
A nationally co-ordinated technical order for the necessary hardware to support the local TV
channels
would considerably reduce
capital
and maintenance costs.
The co-location of a newsroom in an existing local newspaper office would also reduce costs (but not increase plurality). Some technical facilities as well as marketing and advertising sales may require cross-locality sharing for the smaller stations.
Technical challenges
There are several technical challenges to getting the channels on air, much of which will be covered by the £25m-a-year from the BBC to cover the
engineering
costs of the local television stations.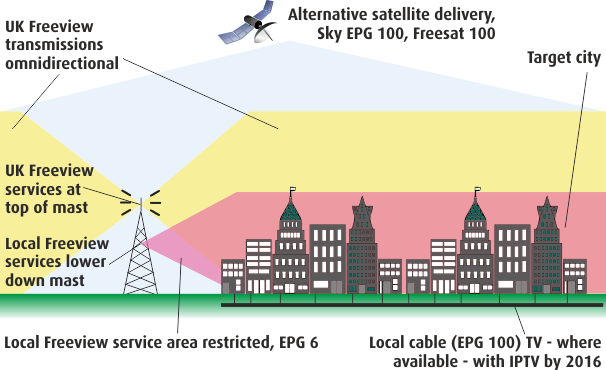 Freeview
For
Freeview
, a single-directional broadcast panel located half-way down a TV
transmitter
will broadcast a
multiplex
in QPSK
mode
, which will provide for a single local channel plus one guest channel. The maths (204 x 1 x 1/4 x 2/3 x 32/33) provides a multiplex capacity of around 8Mbps, about one-third of a "normal
64QAM
" multiplex.
The local channel will appear in the electronic programme guide at position 6. As the local TV multiplexes use restricted frequencies it will not be possible for
reception
of more than one local TV service.
Cable
If the locality has a
cable
TV system, the local TV service can be delivered to the cable company (Virgin Media) where the channel can appear as 106.
Satellite
In addition,
satellite
capacity will need to be found. It might be expected that lower bitrates will be used for local TV services cover smaller populations (as not happens with the BBC and ITV Channel Islands services, for example).
Sky
might require specific ministerial instructions to place the appropriate (based on the registered postcode) local TV at position 106 in the programme guide.
EPG slots 6 and 106
If Sky (or indeed Virgin or
Freesat
) are unwilling to relinquish control of the 106 slot, then channel 100 is unused on all systems at the moment. However, the law does seem to give the Minister the right to demand the slot -
Communications Act 2003
.
Comments
Monday, 15 August 2011

Steve P: I think it's a "don't", but that's what I meant.

I think you're not in the "intended target area" for what is clearly a Liverpool service.

It might be possible to link together a second channel on the Liverpool mux with (there is room for two) with proposed "Mold", " Limavady" and "Bangor" services to provide a larger service area that might actually have enough population to be viable.

Briantist's 38,899 posts

Dunno what is INTENDED - but there is a big red lump on the map which is NE Wales, and would certainly sit far better with Mold - which is only barely a town.

Steve P's 1,173 posts

Steve P: What matters is where an interleaved frequency can be found.

Briantist's 38,899 posts
Thursday, 18 August 2011

I have to laugh when I read this. I have been running three very profitable local TV stations in the US (DC, NJ and Long Island) for five years at costs below these. So much agonizing over nothing.

michael rosenblum's 1 post
Tuesday, 23 August 2011

I think costs and service can be helped by local TV stations sharing features. I agree regional news is a dead loss on a veiwer and an advertiser standpoint. Local news is a different being. this might be successfull if allied to a strong local social presence,and with this in mind use of news gathered by all and sunder with cell phones. I have asked DCMS about what tech standards will apply (no resonse yet). my assumption is we are looking at SD quality which may preclude cell comntent.

David Hazel's 1 post

David Hazel: The Ofcom document states that the service is SD and "will broadcast a multiplex in QPSK mode, which will provide for a single local channel plus one guest channel. The maths (204 x 1 x 1/4 x 2/3 x 32/33) provides a multiplex capacity of around 8Mbps" (from the article above.

It is perfectly possible to use 3G services to provide SD quality content back to the broadcasting centre, but not necessarily in real-time.

Briantist's 38,899 posts
Saturday, 27 August 2011

Hey Brian,

Would love to discuss Local TV with you.

Contactus@noozDesk.com is the best email address to use.

Gari's 1 post
Thursday, 15 December 2011

Nothing new under the sun.
Local, Southampton TV was running in analogue for some time and utterly boring before it just faded away

Allan Isaacs's 15 posts
Friday, 23 March 2012

I think you may as well have these stations online so that you can tune in to any that you want. Otherwise you are bound to have the "I live in x and I can't get xtv but I get ytv" moaning again just like with DSO.

Steve's 27 posts
Steve's:
map
S's Freeview map
terrain
S's terrain plot
waves
S's frequency data
S's Freeview Detailed Coverage
Thursday, 5 April 2012

Steve: It is more than likely that all of the local TV stations will be online, including YouView.

Briantist's 38,899 posts
Select more comments
Your comment please