Switchover starts in the East Midlands

Brian Butterworth published on UK Free TV
This week sees the first stage of the digital television switchover for 813,298 homes in the East Midlands.

From 6am Wednesday 17 August 2011, you must to a perform a "first time installation" retune (sometimes "Factory Reset" or "Shipping Condition") on your Freeview box or television set if you use the Waltham full service Freeview transmitters. This is because the old "multiplex 1" BBC service will be replaced by the BBCA multiplex on the old analogue ITV-1 frequency, C61. Analogue ITV-1 moves to to C64 for two weeks.

If you use the Ambergate, Ashbourne, Ashford in the Water, Belper, Birchover, Bolehill, Darley Dale, Eastwood, Leicester, Little Eaton, Matlock, Parwich, Stamford, or Stanton Moor relay transmitters from mid-morning on Wednesday 17th August 2011 you will be able to receive the BBC Freeview services (with the exception of HD) for the first time, and you will no longer be able to view BBC TWO on analogue.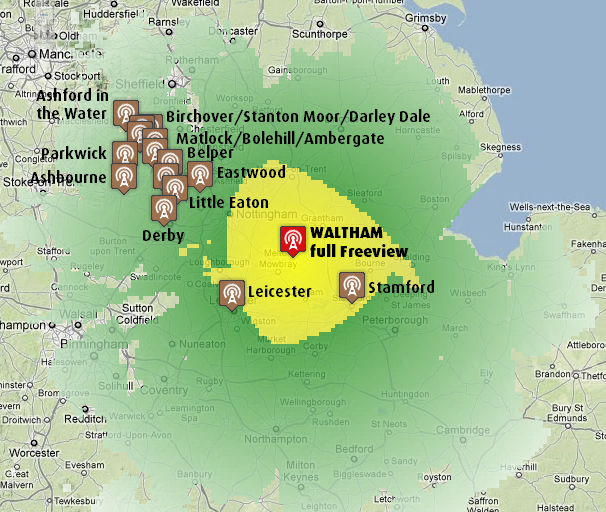 You MAY find that old equipment will no longer work - see TVs and boxes that do not support the 8k-mode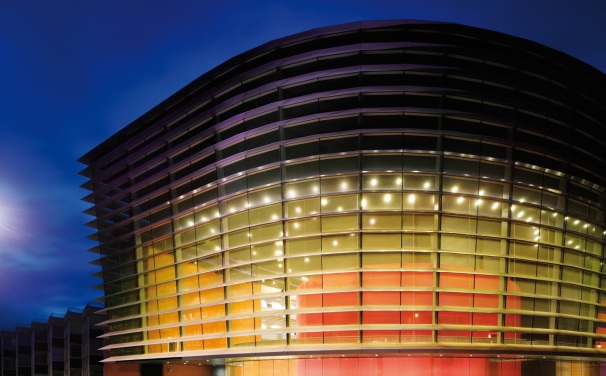 On Wednesday 31th August 2011 will see the second stage of switchover, which provides the final Freeview configuration, including Freeview HD for all transmitters in this region.

On this date, you will need, once again, to do a "first time installation" as indicated above. If you are over 75, you should aleady have been supplied new equipment by the Switchover Help Scheme.
Comments
Tuesday, 23 August 2011

Seems that rather defeats having a digital tuner built into a TV set.

David's 306 posts

It does rather, David.

I have just had to purchase a new Full HD TV for my Mother (due to her previous set 'crashing' at the first stage of DSO on 17th Aug. - and less than one year old!), but was told if she wanted to watch HD, I would still need to buy an HD receiver (for DVB-T2 reception) seperate from that in the TV. Totally pointless, and shortsighted on the part of Manufacturers.

Either that, or even though these latest full HD sets have been manufactured well after it was known a different transmission protocol was to be used for HD, yet more equipment would be necessary. It does rather smell' of profiteering on the part of manufacturers, requireing yet more sales of their equipment.

timonthenet's 38 posts
Wednesday, 24 August 2011

timonthenet: Look out for the Freeview HD logo. New equipment should generally have it. If the Freeview HD logo isn't there, check whether the manual lists DVB-T2. If this model doesn't, return it.

There will still be older models in the marketplace that don't have DVB-T2 support; the manufacturer may have discontinued the model but they will probably stay in the wholesale/distribution channel until sold.

Mike Dimmick's 2,486 posts

timonthenet/David: Probably just worth pointing out that the DVB-T2 standard is a new one.

As it takes many months for sets to be designed, manufactured, shipped, stored and distributed, with the best planning in the world, it would have not been possible to have installed DVB-T2 in all "Full HD" TV sets on sale.

Briantist's 38,899 posts
Thursday, 25 August 2011
R
raymond Bell
12:55 PM
Nottingham

I have recently purchased two Freeview HD boxes. They are both connected to the same ariel however the SHARP box is picking up all the HD channels but the GRUNDIG box isnt ??? (Even tho the Waltham transmitter does not switchover until 31st August 2011. ) My post code is NG13 OHA. The back of both boxes is exactly the same so i'm guessing they are just branded boxes. Do you think the SHARP is picking up the HD signal from another transmitter (ie Not Waltham ??

raymond Bell's 5 posts
raymond's:
map
R's Freeview map
terrain
R's terrain plot
waves
R's frequency data
R's Freeview Detailed Coverage
Tuesday, 30 August 2011

I have retuned my Humax receiver/recorder as recommended - good HD reception but BBC 1 signal now keeps breaking up and is bearly watchable. On channel 50, BBC 1 HD I get a record failure message - everything worked fine prior to this. Can you please help.

NW's 1 post

Switchover doesn't start until midnight - ie, HD on Waltham isn't yet available!

BBC1, etc, might be breaking up because, having moved at the first stage of DSO on 17th August, it is (so I understand) now at Full Power (unlike all other Muxs). You can get breakup for too much signal, just as you can for too little signal. Once other Muxs are Full Power after tonight's final stage of DSO (except for SDN Mux, which remains low power until October), then remove any amplification, or insert an attenuator to reduce excessive signal strength. This hopefully will remedy the problem.

Also, after 06:00 am, the BBC HD Mux should be in place, in which case, you will then receive a good HD signal. If you received an HD signal before tonight, then it wasn't from Waltham! (Nottingham Transmitter went fully digital back in March).

timonthenet's 38 posts
Wednesday, 31 August 2011

raymond Bell: What are the Muxs channels numbers from the Waltham transmitter from today 31/08/2011 for NG15?

Terry R.'s 1 post

Terry R. Waltham now transmits on C61(MuxBBCA), C54(MuxD3+4), C58(HD), C29(MuxA/SDN), C56(MuxArqA) and C57(MuxArqB).

KMJ,Derby's 1,811 posts

Terry R.: Typo.. C54- for MuxD3+4

KMJ,Derby's 1,811 posts
Select more comments
Your comment please