Switchover starts in the East Midlands

Brian Butterworth published on UK Free TV
This week sees the first stage of the digital television switchover for 813,298 homes in the East Midlands.

From 6am Wednesday 17 August 2011, you must to a perform a "first time installation" retune (sometimes "Factory Reset" or "Shipping Condition") on your Freeview box or television set if you use the Waltham full service Freeview transmitters. This is because the old "multiplex 1" BBC service will be replaced by the BBCA multiplex on the old analogue ITV-1 frequency, C61. Analogue ITV-1 moves to to C64 for two weeks.

If you use the Ambergate, Ashbourne, Ashford in the Water, Belper, Birchover, Bolehill, Darley Dale, Eastwood, Leicester, Little Eaton, Matlock, Parwich, Stamford, or Stanton Moor relay transmitters from mid-morning on Wednesday 17th August 2011 you will be able to receive the BBC Freeview services (with the exception of HD) for the first time, and you will no longer be able to view BBC TWO on analogue.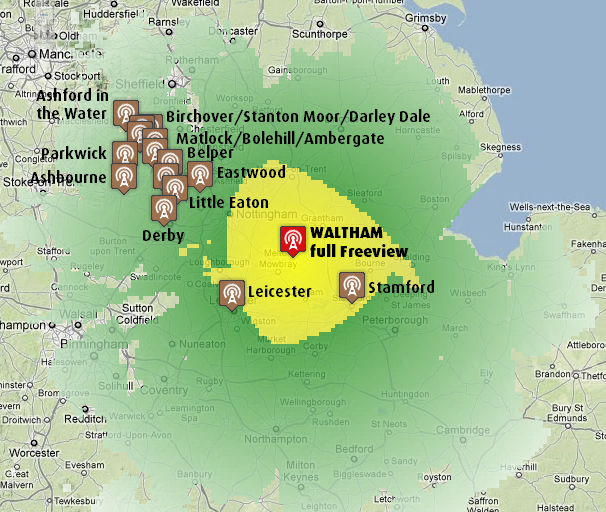 You MAY find that old equipment will no longer work - see TVs and boxes that do not support the 8k-mode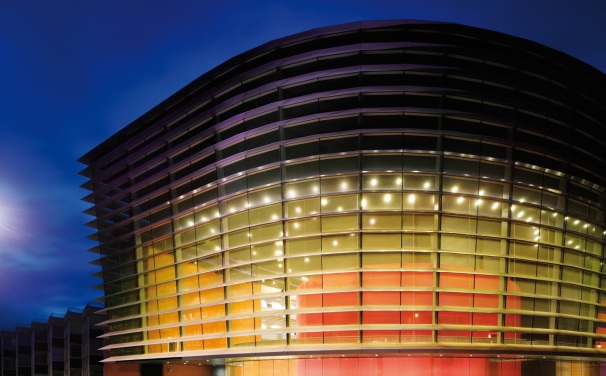 On Wednesday 31th August 2011 will see the second stage of switchover, which provides the final Freeview configuration, including Freeview HD for all transmitters in this region.

On this date, you will need, once again, to do a "first time installation" as indicated above. If you are over 75, you should aleady have been supplied new equipment by the Switchover Help Scheme.
Comments
Thursday, 1 September 2011

David: Have you actually tried manually tuning in Waltham HD on Mux Ch58? as I don't see you having mentioned this.

Best though if you bank out everything stored in the memory first, this done by carrying out a re-scan with the aerial disconnected, as if you then manually tune as suggested it will be the only station in the box so cant get mixed up with anything else.

If by any chance nothing comes in, then have a look at what the signal level is showing as, this observed via the tuning menu.

jb38's 7,179 posts
C
Charles Fox
6:47 PM
Nottingham

jb38: Looks like my problem is similar to David's. I've retuned (auto and manual) both TV and recorder. My manual tuning for Ch 58 770,00 MHz records a signal strength of 10 (max) but signal quality of 0 (from Waltham). Ch 54, 56, 61 all record signal quality of 10. All the web sites I've looked at say Freeview HD switch over is complete and should be available. Is it known that some viewers ARE receiving Ch 56 from Waltham?

Charles Fox's 1 post
Charles's:
map
C's Freeview map
terrain
C's terrain plot
waves
C's frequency data
C's Freeview Detailed Coverage

jb38 - No, it doesn't seem to find anything on Ch58.

I've just noticed something else in my settings:

LNA (Ch48) = On

Does this mean anything, what's "LNA"?!


David's 13 posts
kB Aerials Sheffield
8:22 PM

Charles Fox



Sounds like you may have now got to much signal hitting your equipment

Have you got an amplifier connected on the system - possibly you don't need it now - but before you go ripping it out is it a set back one or one that distributes to several sets

If its a set back one (do not remove a box that states POWER SUPPLY that may (or may not) sit behind your tv as you will lose everything) then try bypassing it and connecting the aerial direct to your tv

if its an amplifier in the loft or outdoors then thats going to be tougher to do

if you cant get to your amp try using whats called an ATTENUATOR these reduce the signal strength - ideally placing one before your amplifier is the best route but if you cant then plug it direct into the back of the tv theyre about £6 from maplin electronics - try a 12db attenuator - possibly an 18db? (buy both ask if you can return the unused one)

If you have no amplifier - still try the attenuator as the signal has increased phenomenally place the attenuator on the first piece of equipment it connects too ie if you have a pvr the aerial usually goes in there and is looped round to your tv

Keith KB Aerials

Sheffield 07946481125

kB Aerials Sheffield's 274 posts

Charles Fox: I just rigged a test aerial up facing Waltham and can confirm that HD is definitely perfectly OK on Mux Ch58, so I am inclined to agree with KB as regards to an over powerful signal being your problem, as a 100% indication of strength coupled to no quality being shown is a classic sign of this occurring.

jb38's 7,179 posts

David: As you may have noticed on my reply to Charles Fox I can confirm that Walthams HD service on Mux Ch58 is OK. Regarding your LNA (Ch48)= ON, I am afraid you have got me stumped there unless its something connected to a setting on your receiving equipment, so maybe you could give some info on what you are using, as I forgot to request this info on my 5.35PM posting. (brand / model)

jb38's 7,179 posts
kB Aerials Sheffield
10:04 PM

jb38

I am so glad that LNA got you stumped as I was going to ask the same question but didn't want to sound thick by not knowing-- I have seen it on a few pieces of equipment but couldn't answer what it stood for!


HE HE

Keith

kB Aerials Sheffield's 274 posts
kB Aerials Sheffield
10:20 PM

JB38 --- and other people obviously just done a bit of googling andf came across the meaning of

LNA

Some TV's have a built in aerial booster, this feature is called LNA (Low Noise Amplifier) depending on the strength of the transmission signal in your area this feature can be switched on or off within the TV menu. For example, if your signal is strong or that you have an external aerial booster, LNA should be switched off as if left on it may cause tuning problems.


KB aerials

Sheffield 07946481125

kB Aerials Sheffield's 274 posts
Friday, 2 September 2011

kB Aerials Sheffield: Yes, you are quite correct on that Keith, and I likewise had similar thoughts to yourself about mentioning the fact in case it was something ridiculously simple, the point that got me though was where the Ch48 came into the equation? as it was Ch58 that David was supposed to be scanning. (Could have been a typo though!)

jb38's 7,179 posts
kB Aerials Sheffield
10:31 AM

JB 38

Where are you based? what kind of installs do you do - ?


Regards

Keith

kB Aerials Sheffield's 274 posts
Select more comments
Your comment please