Tacolneston (East Anglia) transmitter Freeview retune

Brian Butterworth published on UK Free TV
If you live in East Anglia and use Freeview from the Tacolneston transmitter, you will need to perform a retune on Wednesday 17th August 2011.

At around midnight, multiplex B (BBC Four, CBeebies, BBC Parliament, 303, BBC Radio 1, BBC 1Xtra, BBC Radio 2, BBC Radio 3, BBC Radio 4, BBC Radio 5 Live, BBC Radio 5 Live Sports Extra, BBC 6 Music, BBC Radio 4 Extra, BBC Asian Network, and BBC World Service) moves from C58 moves to C66, and Multiplex C (PICK TV, Dave, Really, E4+1, Big Deal, Create and Craft, Price Drop TV, Gems TV 1, PICK TV +1, Daystar TV, Food Network and Sky News) from C61 to C68.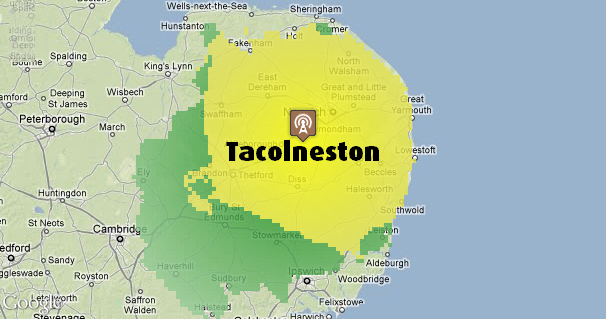 From 6am Wednesday 17 August 2011, you must to a perform a "first time installation" retune (sometimes "Factory Reset" or "Shipping Condition") on your Freeview box or television set

This is NOT the digital switchover for Tacolneston - that starts on Wednesday 9th November 2011 and completes on Wednesday 23rd November 2011.

These changes are required to protect the BBC multiplexes on the Waltham transmitter.
Comments
Saturday, 26 November 2011

Mr A Sherreard

In Colchester you'll be using Sudbury - not Tacolneston.

me's 13 posts

Mr.A.Sherreard: Yesterday and Film 4 that you are referring to are transmitting from a very low powered multiplex at Sudbury, and which is something that is the cause of numerous complaints from many people located at various distances from the transmitter, including such as you are yourself @ 11mls.

Unfortunately there is nothing really you can technically do to improve the situation without the danger of causing an overload situation in your TV / box from the stations main multiplexes, these radiating on 100Kw compared to the 1.1Kw used by the Mux EPG's 12/15 etc are on.

Its really a hit and miss situation as to whether or not a person can receive a reasonable signal from there, this dependant on various factors including just how good the tuner is in their receiving equipment.

The situation is temporary until mid 2012.

jb38's 7,179 posts
Wednesday, 30 November 2011

Briantist: I succesfully retuned my Digivox Freeview TV USB dongle from Chiang Mai in northern Thailand by remote desktop access, and was delighted to find that all the programmes I had set to record were waiting for me when I got home last Sunday!
An added complication was that a scheduled power cut was in force when we left for our holiday, and so I had had to set up my computer carefully to ensure that it would reboot as soon as the power returned, and that the necessary applications would also restart. Now all I have to do is to find time to watch them :-)
Thanks again for your advice - Mike

Mike Challis's 4 posts
Wednesday, 14 December 2011

Mike Challis: I am very pleased to hear that worked for you.

Briantist's 38,907 posts
Select more comments
Your comment please