Last switchover dates for England confirmed - Tyne and Tees, 26 September 2012

Brian Butterworth published on UK Free TV
Today Digital UK priovided the final switchover dates for England - all of the transmitters in the North East of England will switch to high-power, digital-only transmissions on the 26th September 2012.

Two weeks before, on the 12th September 2012, the first stage of switchover will see the closing of BBC TWO analogue and the low power digital multiplex 1 service on the Pontop Pike, Bilsdale, Chatton and Fenham transmitters and the start of the BBCA high power transmissions.

Also on 12th September 2012, BBC TWO analogue will close on Aislaby, Allenheads, Alston, Bainbridge, Bellingham, Berwick, Blaydon Burn, Burnhope, Byrness,Castleton, Catton Beacon, Durham, Esh, Eston Nab, Falstone, Felling, Fenham, Grinton Lodge,Guisborough, Haydon Bridge, Hedleyhope, Humshaugh, Ireshopeburn, Kielder, Limber Hill, Morpeth,Newton, Peterlee, Ravenscar, Romaldkirk, Rookhope, Rosedale Abbey, Rothbury, Seaham, Shotleyfield, Skinningrove, Staithes, Sunderland, Wall, Weardale, West Burton, Whitaside, Whitby and Wooler to be replaced with the BBCA digital service for the first time.




At Bainbridge, Catton Beacon, Esh, Guisborough, Humshaugh, Ireshopeburn, Morpeth, Peterlee, Pontop Pike, Rothbury, Seaham, Shotleyfield, Weardale and Whitby viewers will find ITV1 analogue on the BBC TWO analogue frequency for the two switchover weeks.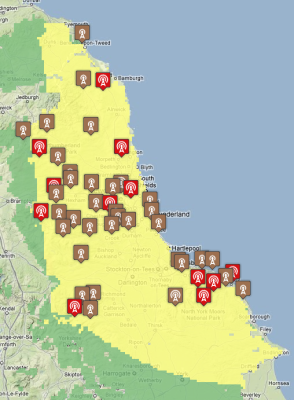 In addition, the Burnhope transmitter will stop television services on 26th September 2012.
Comments
Monday, 12 September 2011

Dreading Bilsdale going high power after all this trouble Belmont giving me on my Emley Moor BBC stations.

David's 306 posts

The speculation on Digital Spy was that there is a lockdown on alterations while the Olympics and Paralympics are happening. The Paralympics end on 9 September 2012, so this really is the first opportunity!

Mike Dimmick's 2,486 posts

Mike Dimmick: I don't think it is speculation, but normal policy - I have in the past seen a BBC document that says there must never be any planned engineering works on transmitters when a major "listed" (ie, expensive) sporting event is taking place.

This has certainly been BBC policy for the last couple of decades as far as I know, as the BBC also expects the same from any networks used to supply to it during such periods.

Briantist's 38,899 posts

Strange, I was going to ask the other day whether anyone knew when the switchover dates for the TTTV region would be announced as I used to live in Darlington. I think some people down there are a bit disappointed that they won't have full power freeview for the Olympics but we've known that would be the case for a long time now.

Will's 39 posts
Tuesday, 13 September 2011

Can you enlighten me on how much better, if at all, the FREEVIEW signal / picture will be on full power.

I have FREESAT HD and the quality is fine, so will FREEVIEW pictures equal that quality and will the picture stop pixelating?

I run out of Pontop Pike

Alan's 11 posts

Alan: As it says under "Comparison of analogue and digital signal levels" on Freeview on Pontop Pike TV transmitter | ukfree.tv - independent free digital TV advice :

All multiplexes at Pontop Pike increase from 10kW now to 100kW (that's +10dB), except SDN, ARQB which are 50kW (+7dB).

Briantist's 38,899 posts

Alan,
At first HD on Fresat was a lot better than normal version, then I noticed BBC HD went down in quaulity. Asking why I learnt that HD on Terrestrial would not be giving the quaulity that had previously been on Satelite.
So I await someone giving me a demonstration.
My wife allways tunes Freesat TV to normal versions as they easiers to find numbers and when I retune to HD number she says what was the piont the sound is now too low!

David's 306 posts

Alan: Should have said, there is no relationship whatsoever between the signal strength and picture quality - the system is digital, not analogue. See How digital television works | ukfree.tv - independent free digital TV advice if you want to know more.

There is also How signal stregth, quality and bitrate relate | ukfree.tv - independent free digital TV advice if you want more.

Briantist's 38,899 posts
S
Steven Oliver
9:43 AM
Duns

The claim that Sunderland is a digital blackspot is slightly miseleading. Most of the city can receive signals direct from Pontop Pike, with some areas receiving from Bilsdale. The main problem is in the south-east of the city, in the Leechmere area, where the Tunstall Hills prevent reception from either of the two main masts, viewers there receiving from the Maiden Paps relay transmitter on the northern edge of the Tunstall Hills. I remember a similar misleading claim being made when that transmitter started carrying Channel 4 in 1986.

Steven Oliver's 40 posts
Steven's:
map
S's Freeview map
terrain
S's terrain plot
waves
S's frequency data
S's Freeview Detailed Coverage

Are you sure Berwick-upon-Tweed can't receive Freeview now? We certainly can from the Chatton relay transmitter which is in the middle of nowhere between Alnwick and Berwick and we have been able to for years.

GS's 2 posts
Select more comments
Your comment please