Switchover starts in the Oxford area

Brian Butterworth published on UK Free TV
This week sees the first stage of the digital television switchover for 415,700 homes in the Oxford area - one year after the only true problem during the whole of the UK pre-switchover process, the Oxford transmitter fire.

From 6am Wednesday 14th September 2011, you must to a perform a "first time installation" retune (sometimes "Factory Reset" or "Shipping Condition") on your Freeview box or television set if you use the Oxford full service Freeview transmitter.

This is because the old low power "multiplex 1" BBC service (on C34) will be replaced by the high power BBCA multiplex on the old analogue Channel 4 frequency, C53. Analogue Channel 4 moves to C63 for two weeks. Also multiplex C will move from C48 to C34 for two weeks as well.

If you use the Ascott under Wychwood (3pm), Charlbury (noon), Guiting Power (9am), Icomb Hill (9am) or Over Norton (9am) relay transmitters from mid-morning on Wednesday 14th September 2011 you will be able to receive the BBC Freeview services (with the exception of HD) for the first time, and you will no longer be able to view BBC TWO on analogue.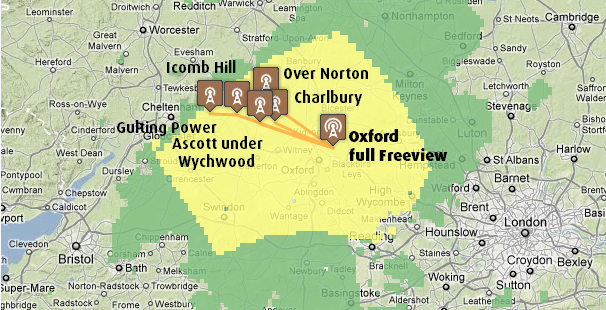 You MAY find that old equipment will no longer work - see TVs and boxes that do not support the 8k-mode

Another common problem at switchover is the ten-fold increase in signal from 10kW to 100kW will overload amplifiers and over-the-top aerial installations. If this is the case you will have to remove the booster or amplifier from the system, or perhaps fit an attenuator if you have no amplification.




On Wednesday 28th September 2011 will see the second stage of switchover, which provides the final Freeview configuration, including Freeview HD for all transmitters in this region.

On this date, you will need, once again, to do a "first time installation" as indicated above.

If you are over 75, you should already have been supplied new equipment by the Switchover Help Scheme.
Comments
Tuesday, 13 September 2011

after the switch over will i be able to recieve itv 1 and channel 4 through an arial

dave's 1 post

dave: Yes, from Wednesday 28th September 2011 everyone will be able to as long as they have a Freeview receiver.

Briantist's 38,908 posts
Wednesday, 14 September 2011

I have retuned this morning. However, ITV, C4 and related channels are poor/interrupted reception. Was this expected.

Sam Millar's 1 post

Sam exactly the same problem for us after several a little stability. Who knows what is normal, all I can say is in our case New television, new aerial, new cabling F connects, and still problems. BBC Channels absolute fine. Not even a flicker on the signal strength monitor for ITV, assuming of course they are still on 68 which is not actually clear from the information.

Robert's 75 posts
Robert's:
map
R's Freeview map
terrain
R's terrain plot
waves
R's frequency data
R's Freeview Detailed Coverage

After retune lost BBC on Humax PVR 9200T. Did a manual retune on channel 53. Found BBC, but now on Channel 800. Long term solution appears to be a new box.

Alan's 3 posts

As an installer I have found Humax's need a complete reboot when coming from another transmission area try going to default settings start as brand new let us know how you get on

Paul Ewers, Brill's 2 posts

Alan: Yes, you need to ensure the existing channels are deleted on switchover days, and the easiest way to do this is through Default Setting.

Mike Dimmick's 2,486 posts

Hi , so far I have experienced worse transmission reception than before. BT Vision would not retune so that does not work on free view. Reset TV & now can't get itv1 channel 4 & channel 5. I am in Aylesbury , should this be a problem?

Tom Thomas's 2 posts

After todays retune ITV1, CH4 & Five have gone completely. Thought it might be the amp, so have taken it out, but no difference. 1.1 miles from tranmitter, clear line of sight. Nothing else in the signal path within the house.

alex c's 6 posts
alex's:
map
A's Freeview map
terrain
A's terrain plot
waves
A's frequency data
A's Freeview Detailed Coverage

Sam Millar, Robert: Some boxes do have trouble with very different levels between the multiplexes, which will be the case for the next two weeks.

Mike Dimmick's 2,486 posts
Select more comments
Your comment please