Switchover starts in the Oxford area

Brian Butterworth published on UK Free TV
This week sees the first stage of the digital television switchover for 415,700 homes in the Oxford area - one year after the only true problem during the whole of the UK pre-switchover process, the Oxford transmitter fire.

From 6am Wednesday 14th September 2011, you must to a perform a "first time installation" retune (sometimes "Factory Reset" or "Shipping Condition") on your Freeview box or television set if you use the Oxford full service Freeview transmitter.

This is because the old low power "multiplex 1" BBC service (on C34) will be replaced by the high power BBCA multiplex on the old analogue Channel 4 frequency, C53. Analogue Channel 4 moves to C63 for two weeks. Also multiplex C will move from C48 to C34 for two weeks as well.

If you use the Ascott under Wychwood (3pm), Charlbury (noon), Guiting Power (9am), Icomb Hill (9am) or Over Norton (9am) relay transmitters from mid-morning on Wednesday 14th September 2011 you will be able to receive the BBC Freeview services (with the exception of HD) for the first time, and you will no longer be able to view BBC TWO on analogue.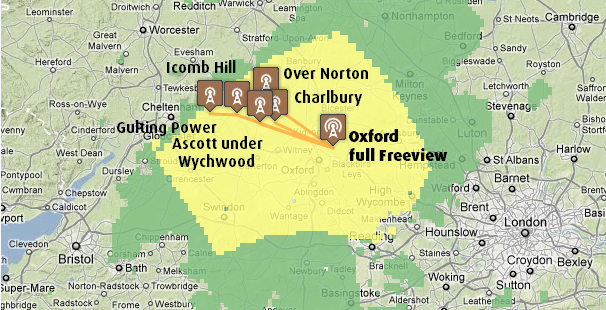 You MAY find that old equipment will no longer work - see TVs and boxes that do not support the 8k-mode

Another common problem at switchover is the ten-fold increase in signal from 10kW to 100kW will overload amplifiers and over-the-top aerial installations. If this is the case you will have to remove the booster or amplifier from the system, or perhaps fit an attenuator if you have no amplification.




On Wednesday 28th September 2011 will see the second stage of switchover, which provides the final Freeview configuration, including Freeview HD for all transmitters in this region.

On this date, you will need, once again, to do a "first time installation" as indicated above.

If you are over 75, you should already have been supplied new equipment by the Switchover Help Scheme.
Comments
Wednesday, 14 September 2011

Sam Millar, Robert: Some boxes do have trouble with very different levels between the multiplexes, which will be the case for the next two weeks.

Mike Dimmick's 2,486 posts

Alan: Long-term your Humax PVR 9200T will be OK, you just need to CLEAR ALL THE channels before you do a manual add. It should work OK again in two weeks time.

Briantist's 38,907 posts

Thanks folk for the advice. By going to the factory defaults, manually tuning C53, auto tune the rest, it is almost back to the pre-switchover. BBC4 and couple of others still misplaced in the 800 channels. All other devices in the house re-tuned OK. Since Freeview appears to have a re-tune a number of times a year I think I would be better off with cable. It is a case you get what you pay for.

Alan's 3 posts

Completed switchover this morning for BBC only . ITV etc comes in two weeks time. However I now switch between Digital & Annalogue, but find I can now only get BBc1 & ITV1. Channel 4 has gone ! How can I get it back manually ?

Bob

Robert Smith's 1 post

Robert Smith: Channel 4 analogue will show where BBC TWO analogue was.

Briantist's 38,907 posts

I have also virtually no reception at all on ITV1, ITV2, Channel 4, 5 and related channels since switchover this morning. Mind you, ITV reception has not been brilliant for the last two or three weeks - for no reason that I can see. I am just hoping all will be worth it on 28th September, otherwise satellite will be an expensive option.

Tigminor's 28 posts

I have no reception at all on ITV1, Channel 4 or 5 since switchover for the tv in my bedroom with built in freeview.
I have retuned 3 times and still no joy. They were all working perfectly ok yesterday. At least I have sky for my main tv. Will the channels come back on the 28th?
I was discussing with colleagues at work today, many have the same problem.

Julie H's 1 post

Shouldn't it show 'Meridian' on your pages for the ITV region for Oxford? And not 'Thames Valley (Central South)'?
Likewise, shouldn't Sky's channel name for the ITV region for Oxford show 'Meridian' and not 'Central S'?

The fact that Meridian Tonight is the ITV news programme for the Oxford region (I watched Fred Dineage talk about the Oxford switchover last night!), then I would've thought that the channel name would show as Meridian or Meridian Oxford or Meridian Thames Valley?

Also, why is ITV1 +1 showing on your page as ITV Meridian Southampton?
Shouldn't both ITV1 and ITV1 +1 show as the same region as each other?
Does any name change take place after switchover to either ITV1 or ITV1 +1?
If not, why not?

Hope someone can explain to make things a bit clearer.
Thanks.

Stuart O.'s 156 posts
Stuart's:
map
S's Freeview map
terrain
S's terrain plot
waves
S's frequency data
S's Freeview Detailed Coverage

Stuart O.: The ITV1+1 information is correct - see ITV1+1, ITV1HD, BBC One HD regional services on Freeview | ukfree.tv - independent free digital TV advice .

At some point in the past ITV plc merged the "Central South" (ie, Oxford) region with the "Merdian North" (ie, Hannington) regions and called them "ITV Thames Valley".

ITV Thames Valley - Wikipedia, the free encyclopedia

On Friday 6 February 2009, "ITV Thames Valley" became part of Meridian (ie, Central South disappeared).

I never got around to removing the vestage of the name from the database, because there are still four micro-regions of Meridian listed for satellite: ITV 1 Meridian Sussex, ITV 1 Meridian North, ITV 1 Meridian South East, ITV 1 Meridian South.

I will change the database to call "Thames Valley" by the "Meridian North" name.

Briantist's 38,907 posts
Select more comments
Your comment please