Freeview signals: too much of a good thing is bad for you

Brian Butterworth published on UK Free TV
Most people will experience nothing but simplicity and joy with the digital switchover - the process that turns off the old five high power analogue signals, and the existing six low power digital services and replaces them with six new high power Freeview multiplexes.

For those with problems, there are generally three issues.


Eliminating other possible problems first
The first is that very, very old equipment will not function with the digital signals split into 6,817 sub-signals, as it was only designed to work with 1,705 sub-signals. This is known as the "8k
mode
issue" - see
TVs and boxes that do not support the 8k
It is also common that people do not clear out the old
channel list
(by selecting "first time installation" retune, "Factory Reset" or "Shipping Condition") before doing an "autoscan" for the available broadcast frequencies, and this results in everything from missing
channels
to no subtitles, programme guide, wrong channel numbers and no text services. If you can't find how to do it see either
Freeview Retune - list of manuals
or do it this way:
My Freeview box has no EPG, is blank, has no sound or the channel line up is wrong
.
A third problem is caused by having signals from more than one
transmitter
- see
Digital Region Overlap
.
The final very common issue is "too much
signal
".
Transmitters have much more digital power after switchover
At most transmitters, the digital signals after switchover are considerably more powerful than before. This was because when the analogue and digital services ran together, the digital services were kept low to prevent appearing as snowy
interference
on television sets using analogue
reception
.
Here is an example, from
Sutton Coldfield
, of how the signals change at switchover:

4,000kW of analogue signals are turned off, and the digital services increase in total power from 48kW to 1,200kW - that is an increase of 25 times in numerical terms, also know as +14dB. (The reduction of -7dB from the analogue strength is intended - the digital services require less power to cover the same number of homes).
This large increase in power should cause no effect for most people. A stronger signal does not increase the
picture
quality
(you need
Freeview HD
for that), sound levels - the only effect should be that more homes that are further away from the transmitter
mast
can receive a stable digital signal.
High gain aerials and signal boosters
However, many people have been tempted into buying one both high
gain
aerials and signal boosters.

High-gain aerials were very suitable for places where the Freeview signal before switchover was very weak indeed, but if you have one of these and you are located closer to the transmitter, you will probably now have a signal overload.
Generally speaking, signal
booster
devices are never
really
much use for Freeview reception, and much of the time they actually amplify the interference more than they do the signal, causing reception to get worse, not better.
How to tell if you have too much signal
There are almost as many ways for a Freeview box to display the "signal strength" and "signal quality" as there are types of Freeview box. Here are some of them: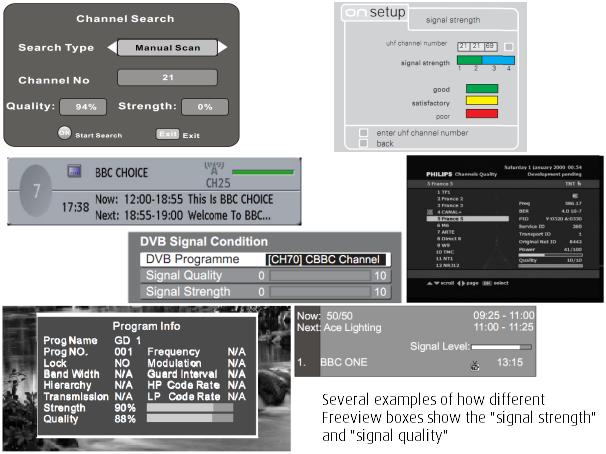 Speaking generally, there will be two indicators:
One is
signal strength
- this shows the power level of the signal entering the Freeview box. Often "0" is the lowest and "10" the highest, but sometimes it can be a percentage, sometimes coloured boxes and so on.
The signal strength should be around 75% - more than this indicates too much signal.
The other measure is the
signal quality
and this is much more important to high-quality Freeview viewing. Any measures that increase this to the maximum will provide for uninterrupted viewing, lower values will result in "bit errors" that cause the picture to freeze and the sound to mute out.
One problem with over powerful signals is the overload can sometimes show as a low signal because the receiver circuitry will enter a "blown fuse" state to protect itself.
How to deal with too much signal
First, if you have a booster or
amplifier
- remove it from your system. Don't just unplug the power, as this will result in
no signal
getting though the device.
If you can't just disconnect the
output
cable
and connect it to the input cable, you might need a coax female-female coupler to connect two male connectors together.

If you don't have a booster or amplifier, you might have to fit an attenuator onto the cable. They come in two types, either a "single attenuator", around five pounds, or a variable attenuator, for around ten pounds. The variable sort has a knob that can be turned to select the required level of signal dampening.
Comments
Wednesday, 14 September 2011

Ok so after losing half my freeview channels today (september 14th) after many rescans and factory resets and still no luck....i just checked my signal quality and signal strength....

My signal quality is a 10 outer 10 (Green bar)

My singal strength sais its 10 outer 10 (grey bar) BUT the flashing bar meter is at roughly 75%

Ive also tried manual retune.

Stations ive lost are Dave,Dave +1, E4+1,Sky News,Realy,Babestation and others.

Soooo....what now? =).

Matt's 17 posts

Matt: Do what it says at the top of the page and remove boosters, amplifiers or fit attenuation.

Briantist's 38,908 posts

Thanks Briantist.

Gary's 2 posts
B
Brian Springthorpe
6:08 PM

You can buy attenuators from ebay for next to nowt.

They even look like the ones in the picture.

There are two types that both simply fit in line. One is adjustable the other is fixed.

If you choose the fixed and it is not enough, all that is needed is to attach another to it of a similar attenuation until the result is good.

It is far better though to first find out how strong the signal is. you can do this using a signal finder with a meter. Again you can buy these off ebay or you can go to Maplin. Trouble is you will only probably need to do this once or twice, so it would be better if you could perhaps share the use and therefore the cost with friend who is having similar problems.

I have forgotten what the ideal strength range is but if you ask a local aerial installer who isn't too bothered about losing the work to you, they will probably be able to help you. Failing that, I would have thought someone on this forum would have the knowledge to hand.

I had a signal amplifer before I moved to digital which was necessary, when digital came I found that by turning it right down I got a much better signal.

I have since revamped the system in my loft, (yes - the aerial works in my loft space so no weather variance effects!), and I have 3 TVs connected up to the one aerial via a simple splitter and it all works great.

I still get a bit of bounce though at certain times of day, usually around high tide, (I live by the coast and my transmitter is Llandonna on Anglesey). I get around that by switching over to FreeSat for a while.

Brian Springthorpe's 76 posts

I live in ox18 and can't get bbc1, 2, 3 or BBC news. I have removed the booster that I previously needed and have a mixed signal strength now across various channels. Any thoughts / advice?

Dean's 3 posts

Dean: Did you check your box isn't on this list TVs and boxes that do not support the 8k-mode | ukfree.tv - independent free digital TV advice ?

Briantist's 38,908 posts

Thanks for the suggestion. I have checked the list and cannot see my TV on it - Sony KD32DX50U. I am getting all of the other channels & did so before today, I am missing the from channel 53 (BBC 1, 2, 3, news).

Dean's 3 posts

Dean: In that case, you will need to get a Freeview or Freeview+ box to continue to watch television.

Briantist's 38,908 posts

Braintist You've made my wife very happy; she can't wait to get rid of this big old CRT! I have also found or model on another list!

Thank you for the advice/help.
Dean.

Dean's 3 posts

Dean: In that case you can get yourself a nice Freeview HD set, the picture quality is rather nice and there should be a fifth HD channel by Christmas.

Briantist's 38,908 posts
Select more comments
Your comment please