Freeview signals: too much of a good thing is bad for you

Brian Butterworth published on UK Free TV
Most people will experience nothing but simplicity and joy with the digital switchover - the process that turns off the old five high power analogue signals, and the existing six low power digital services and replaces them with six new high power Freeview multiplexes.

For those with problems, there are generally three issues.


Eliminating other possible problems first
The first is that very, very old equipment will not function with the digital signals split into 6,817 sub-signals, as it was only designed to work with 1,705 sub-signals. This is known as the "8k
mode
issue" - see
TVs and boxes that do not support the 8k
It is also common that people do not clear out the old
channel list
(by selecting "first time installation" retune, "Factory Reset" or "Shipping Condition") before doing an "autoscan" for the available broadcast frequencies, and this results in everything from missing
channels
to no subtitles, programme guide, wrong channel numbers and no text services. If you can't find how to do it see either
Freeview Retune - list of manuals
or do it this way:
My Freeview box has no EPG, is blank, has no sound or the channel line up is wrong
.
A third problem is caused by having signals from more than one
transmitter
- see
Digital Region Overlap
.
The final very common issue is "too much
signal
".
Transmitters have much more digital power after switchover
At most transmitters, the digital signals after switchover are considerably more powerful than before. This was because when the analogue and digital services ran together, the digital services were kept low to prevent appearing as snowy
interference
on television sets using analogue
reception
.
Here is an example, from
Sutton Coldfield
, of how the signals change at switchover:

4,000kW of analogue signals are turned off, and the digital services increase in total power from 48kW to 1,200kW - that is an increase of 25 times in numerical terms, also know as +14dB. (The reduction of -7dB from the analogue strength is intended - the digital services require less power to cover the same number of homes).
This large increase in power should cause no effect for most people. A stronger signal does not increase the
picture
quality
(you need
Freeview HD
for that), sound levels - the only effect should be that more homes that are further away from the transmitter
mast
can receive a stable digital signal.
High gain aerials and signal boosters
However, many people have been tempted into buying one both high
gain
aerials and signal boosters.

High-gain aerials were very suitable for places where the Freeview signal before switchover was very weak indeed, but if you have one of these and you are located closer to the transmitter, you will probably now have a signal overload.
Generally speaking, signal
booster
devices are never
really
much use for Freeview reception, and much of the time they actually amplify the interference more than they do the signal, causing reception to get worse, not better.
How to tell if you have too much signal
There are almost as many ways for a Freeview box to display the "signal strength" and "signal quality" as there are types of Freeview box. Here are some of them: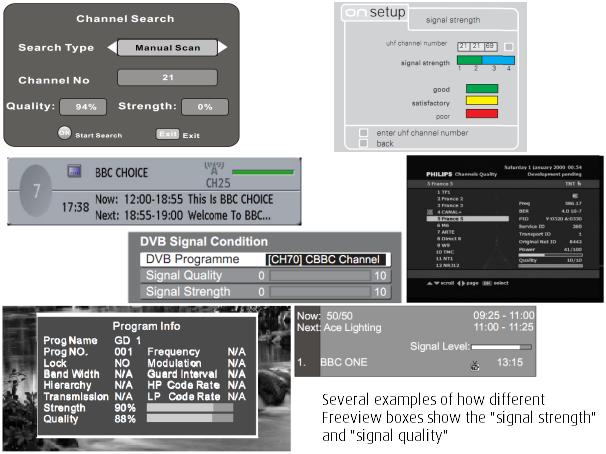 Speaking generally, there will be two indicators:
One is
signal strength
- this shows the power level of the signal entering the Freeview box. Often "0" is the lowest and "10" the highest, but sometimes it can be a percentage, sometimes coloured boxes and so on.
The signal strength should be around 75% - more than this indicates too much signal.
The other measure is the
signal quality
and this is much more important to high-quality Freeview viewing. Any measures that increase this to the maximum will provide for uninterrupted viewing, lower values will result in "bit errors" that cause the picture to freeze and the sound to mute out.
One problem with over powerful signals is the overload can sometimes show as a low signal because the receiver circuitry will enter a "blown fuse" state to protect itself.
How to deal with too much signal
First, if you have a booster or
amplifier
- remove it from your system. Don't just unplug the power, as this will result in
no signal
getting though the device.
If you can't just disconnect the
output
cable
and connect it to the input cable, you might need a coax female-female coupler to connect two male connectors together.

If you don't have a booster or amplifier, you might have to fit an attenuator onto the cable. They come in two types, either a "single attenuator", around five pounds, or a variable attenuator, for around ten pounds. The variable sort has a knob that can be turned to select the required level of signal dampening.
Comments
Tuesday, 20 September 2011

Canukinuk: Check whether it's a model that uses GuidePlus rather than the standard Freeview EPG. If you're having trouble getting Multiplex A - the information is attached to the bid.tv channel - this may explain the problem.

You might see if it's possible to put the TV in 'standard Freeview' mode.

Otherwise, if you're experiencing break-up on the BBC channels and the other affected channels, but not on other channels, it could be too much signal (see above). However, all multiplexes carry regular Freeview EPG data for all other multiplexes, though the services on the same multiplex are prioritised.

Some equipment gets confused if there are multiple copies of the same channels. Ensure you do a full retune/full reset/first-time installation/default setting/'virgin mode'/reinstall all channels, to clear out everything it previously thought it knew. If you still have duplicates after that, see Digital Region Overlap.

Mike Dimmick's 2,486 posts
Tuesday, 27 September 2011
A
Andrew Hill
12:36 PM
Broseley

Is Channel 46 (Challenge) available from the wrekin transmitter and if it is, is on reduced power?

Andrew Hill's 1 post
Andrew's:
map
A's Freeview map
terrain
A's terrain plot
waves
A's frequency data
A's Freeview Detailed Coverage
Thursday, 29 September 2011

Andrew Hill: Yes it available, no it is not on reduced power. Please try My Freeview box has no EPG, is blank on FIVE, ITV3, ITV4, ITV2+1, has no sound or the channel line up is wrong | ukfree.tv - independent free digital TV advice .

Briantist's 38,899 posts
Friday, 30 September 2011

Signal quality on freeview film 4 channel,
sheffield area. I have very good signal strength but very poor qualty. so much so that my LG DVDHD recorder will not pick up the signal. The Tv is sony Bravia.

fedak's 1 post
fedak's:
map
F's Freeview map
terrain
F's terrain plot
waves
F's frequency data
F's Freeview Detailed Coverage

fedak: See the above article please.

Briantist's 38,899 posts

We live near Reading, on top of the Chilterns. Since the Oxford switchover we have had poor reception, BBC1 particularly but also other channels, e.g Yesterday. Our digibox says it is picking up West Midlands BBC on 1 and 2 - signal strength 70% but quality varying from 0 to 50%. On 800 it says Oxford and Bucks and the signal quality is better, with a similar strength. How can I stop it picking the wrong transmitter?

Peter Robinson's 1 post

Peter Robinson: To get over the problem you first of all have to blank out all the channels stored, this usually done by re-scanning without the aerial being connected, although a factory re-set is the guaranteed way of removing them. Then BEFORE reconnecting the aerial start another rescan, immediately watching the channels as they rise in the progress bar, and as soon as you see them passing Ch50 reconnect the aerial and that will load Oxfords multiplexes, rather than what I suspect were previously from Sutton Coldfield.

If by any chance BBC1 / ITV1 doesn't load properly then you could be receiving a signal that's too strong, but only a post code would assist in determining this possibility.

jb38's 7,179 posts
B
bushistush
9:59 PM
Wallingford

I live in Oxford area, have always been able to recieve all channels, and still can since the switchover. signal strength / quality is about 70 / 75 for all multiplexes. The problem is my tv now crashes, usually after a few seconds or when accessing epg or changing channel, but only when on PSB2
D3+4 multiplex channel 4, more 4 etc. All other channels on all other multiplexes are fine. The TV is a bush IDLCD26TV07HD. I have wiped channels, retuned, reset the tuner, but still crashes. Is there anything I can do? Do Bush send out over-air updates...?

bushistush's 5 posts
bushistush's:
map
B's Freeview map
terrain
B's terrain plot
waves
B's frequency data
B's Freeview Detailed Coverage
Saturday, 1 October 2011

bushistush: Although not having personal experience of this model, I am aware that these models (made by Beko) are notorious for this type of problem, and is reportedly caused by a fault on the power board that supplies the memory channel chip.

In other words, its not something a user can rectify, nor is it connected to any switchover that may have taken place.

jb38's 7,179 posts
B
bushistush
9:00 AM
Wallingford

Thanks jb38 - yes, I am aware that this type of problem seems common with this particularly cheap brand - but it seems strange to me that every channel on the PSB2 D3+4 multiplex will cause the TV to crash, whereas no other channel on any other multiplex causes any problem. The PSB2 D3+4 uses a frequency plumb in the middle of the others, and uses the same encoding / tranmission mode - is there any other factor that could differentiate PSB2 D3+4 from the other multiplexes?

I appreciate that it is more than likely some sort of bug / hardware fault that causes the tv to crash, but it seems clear that there must be some sort of difference with the PSB2 D3+4 multiplex as this is the only one causing a problem....

bushistush's 5 posts
bushistush's:
map
B's Freeview map
terrain
B's terrain plot
waves
B's frequency data
B's Freeview Detailed Coverage
Select more comments
Your comment please