More Freeview capacity - COM7, COM8 and COM9 - in the 600MHz band

Brian Butterworth published on UK Free TV
Following on from More Freeview capacity coming 2012-2016 article I posted on 17th August 2011, Ofcom has now official announced the proposals for the 600MHz spectrum - Ofcom - 600 MHz band and geographic interleaved spectrum.

The new proposals will make for the provision of three new Freeview multiplexes, which I have provisionally called com7, com8 and com9 for the purpose of showing something on UK Free TV:





The proposals now suggest that the seven frequencies (C31 to C37) are split into three networks: two multiple-frequency networks and a national single-frequency network on C36.

The post-switchover UK Freeview comprises of two types of service - the public service multiplexes which are broadcast from all main and relay transmitters, and the so-called commercial multiplexes that broadcast from 80 "main" masts: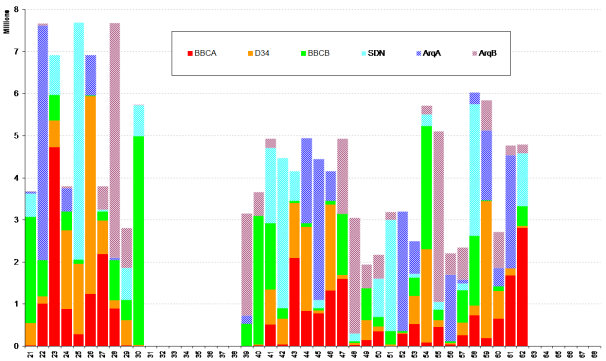 Arqiva, providing a solution to Ofcom have come up with a method of simplifying the 80-transmitter network plan to allow just three frequencies to be used to provide a further national multiplex. This is done by a number of techniques which include merging some areas into small single-frequency networks, as well as reducing the power level and using the DVB-T2 transmission system.

The reduced network configuration looks like this: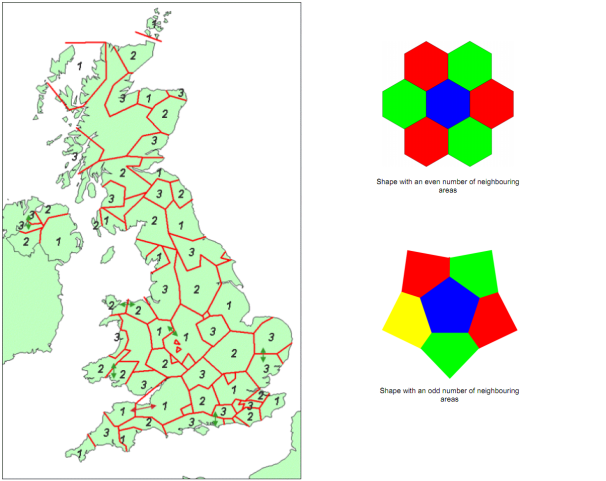 This allows for almost all homes that currently have access to the current commercial multiplexes (ArqA, ArqB and SDN) to be served by the two multiplexes. In addition C36 is configured for a national signle-frequency network. The provided level of coverage is shown on these maps: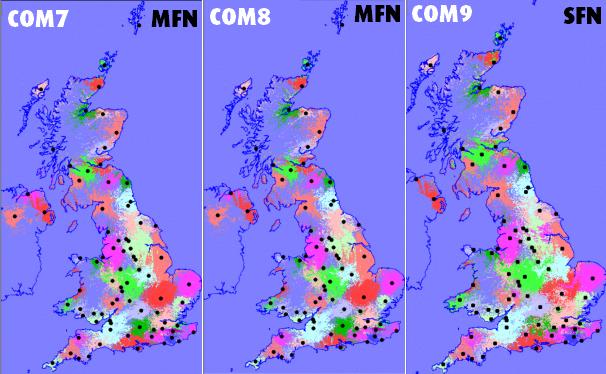 Comments
Friday, 23 September 2011

Does this mean they can improve the picture quality on some of the existing main standard Freeview channels which can be pretty poor ?

Nedbod's 619 posts

Nedbod: Not in any way at all, this has no effect on existing services.

It may mean that HD versions of existing Freeview channels can be provided.

Briantist's 38,908 posts

I can see one unfortunate issue with this. Many more people with grouped aerials will need to get a wideband aerial to receive all the muxes. There surely won't be that many of the main transmitters left that will transmit all 9 muxes within their old group. That could cause a headache for people who don't realise this.

The people who will be laughing are the ones who receive their TV from a group A transmitter (which continued to be a group A transmitter post-DSO). Fortunately, I am one of those people!

Will's 39 posts

Will: Yes, that's correct. That is why the "official line" for the last decade has been to fit a wideband aerial and not use a grouped one, despite the apparent benefits of grouped aerials.

I shall refrain from using the phrase "I told you so...".

Briantist's 38,908 posts

I don't really know anything about the transmitters but is there capacity within the existing antennae and feeder cables to add an extra 3 high power muxes? I'd be surprised if there is unless this was considered prior to the modifications for DSO.

In other words, is this going to involve another analogue C5 style modification i.e. the installation of new antennae about 3/4 of the way up the mast which therefore provide less coverage?

Will's 39 posts

Will: Specifically, no there is not the capacity, the final model assumes transmission from lower down the mast at reduced power levels (-10dB). This is part of the way that 3-channel MFN networks can be provided to around 90% of the current homes served by the PSBs from the 80-main transmitters.

It's not like C5 at really as it mostly used the old VHF ITV masts.

Briantist's 38,908 posts

Fair point. I was forgetting that.

The old ITV VHF transmitter became the UHF transmitter here. The C5 antennae were installed fairly low down on the mast and transmitted at a lower power level (-7dB with respect to the other 4 analogue channels' power levels). This provided woeful, almost useless coverage. This set up was more of the exception rather than the rule though.

Will's 39 posts

Will: Yes, but it was because Channel 5 had to make the network using just C35 and C37, which was many less than the nine-ish that were allocated to the other four analogue channels. The lower power levels were fully intentional.

Oddly, at some sites such as Whitehawk Hill, Channel 5 came though louder than all the analogue channels...

Briantist's 38,908 posts

As Will said, I'd need to get a Wideband aerial to take advantage of these new Muxes (as well as the proposed 'local' Mux). If I did, it might make Bilsdale and Belmont's transmissions strong enough to be picked up here, and I'd end up with 3 sets of channels in addition to these new Muxes.

Is there any hint as to what these new Muxes will carry? Will they just be duplicating services that are normally available on Sky and Cable?

With regards to C5, I've never had a GOOD picture from that analogue channel since it first started up, but it was watchable.

Thomas's 61 posts
Thomas's:
map
T's Freeview map
terrain
T's terrain plot
waves
T's frequency data
T's Freeview Detailed Coverage
Saturday, 24 September 2011
M
MickO
1:04 AM
Milton Keynes

Doh, more retuning of UHF modulators to avoid the new mux freq's! I have quite a few "customers" that use UHF modulators to carry SAT TV around the home TV network. Having to do Digital retunes and re-channelling the modulators is becoming a habit!

MickO's 26 posts
MickO's:
map
M's Freeview map
terrain
M's terrain plot
waves
M's frequency data
M's Freeview Detailed Coverage
Select more comments
Your comment please