More Freeview capacity - COM7, COM8 and COM9 - in the 600MHz band

Brian Butterworth published on UK Free TV
Following on from More Freeview capacity coming 2012-2016 article I posted on 17th August 2011, Ofcom has now official announced the proposals for the 600MHz spectrum - Ofcom - 600 MHz band and geographic interleaved spectrum.

The new proposals will make for the provision of three new Freeview multiplexes, which I have provisionally called com7, com8 and com9 for the purpose of showing something on UK Free TV:





The proposals now suggest that the seven frequencies (C31 to C37) are split into three networks: two multiple-frequency networks and a national single-frequency network on C36.

The post-switchover UK Freeview comprises of two types of service - the public service multiplexes which are broadcast from all main and relay transmitters, and the so-called commercial multiplexes that broadcast from 80 "main" masts: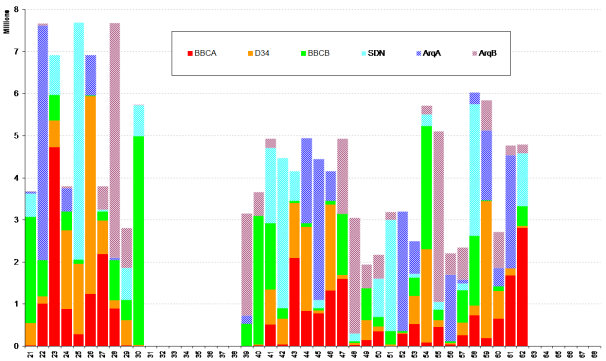 Arqiva, providing a solution to Ofcom have come up with a method of simplifying the 80-transmitter network plan to allow just three frequencies to be used to provide a further national multiplex. This is done by a number of techniques which include merging some areas into small single-frequency networks, as well as reducing the power level and using the DVB-T2 transmission system.

The reduced network configuration looks like this: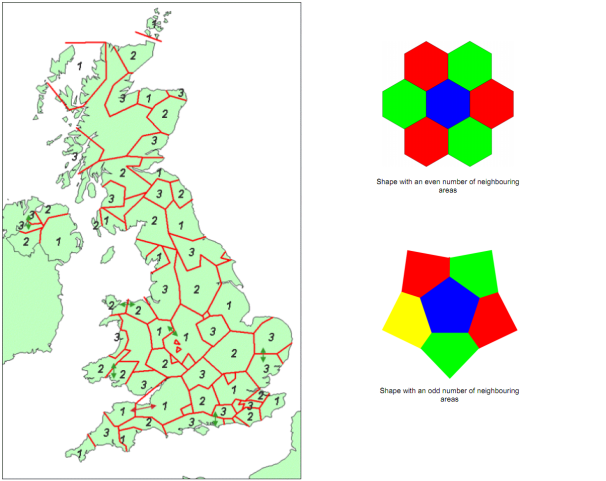 This allows for almost all homes that currently have access to the current commercial multiplexes (ArqA, ArqB and SDN) to be served by the two multiplexes. In addition C36 is configured for a national signle-frequency network. The provided level of coverage is shown on these maps: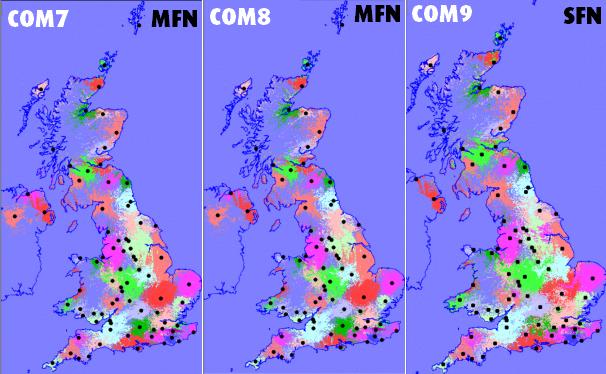 Comments
Sunday, 15 January 2012

Charles Stuart: For DVB-T2 capacities, see Freeview signals: too much of a good thing is bad for you | ukfree.tv - independent free digital TV advice .

Freeview HD is 1080-line services, not 720p.

TV services are statistically multiplexed, and cannot easily be compared with fixed bandwidth audio services, please see How signal stregth, quality and bitrate relate | ukfree.tv - independent free digital TV advice .

Briantist's 38,908 posts
Wednesday, 18 January 2012
C
Charles Stuart
10:40 PM
Kettering

Briantist, thank you for your answer. However, though the articles are interesting, they only part answer my question. I think that from your comment, "Freeview HD is 1080-line services, not 720p", you've misread my question. I'll try to clarify what I'm asking.

Let's say that COM9 will be transmitted in DVB-T2. As I understand it, that it will be transmitted in DVB-T2 does not mean that it has to transmit 1080p channels. The operator could transmit in 576i, 576p or 720p. Let's say that the operator decides to make it available for transmissions in 576i at the same bit rate as SD BBC1. All channels are national and can be statistically multiplexed. How many channels can the SFN support without any risk of compromising picture quality? If the operator were to choose 720p, how many channels could be transmitted at the bit rate for the best picture quality that that standard can support without any risk of picture degradation?

I realise that some assumptions may need to be made to answer my question but, now I've set some parameters, I think that some type of answer is possible.

Charles Stuart's 159 posts
Charles's:
map
C's Freeview map
terrain
C's terrain plot
waves
C's frequency data
C's Freeview Detailed Coverage

Charles Stuart: I was going to point you in the general direction of this document http://stakeholders.ofcom….pdf but it seems to be very out of date, as it only has three DVB-T/T2 options and there are now 11 in D-Book 7.

Ofcom's *policy* is that only HD services will be carried on DVB-T2 multiplexes. This is not a technical limitation of the system - it's just a bitstream at the end of the day.

The idea is that all services will migrate to MPEG4/DVB-T2 over time, and the provision of three new DVB-T2 multiplexes will assist with this.

No timetable will be published until the end of this year, but I would expect that services will migrate over time, however:

The two Arqiva multiplex (aka C/D) are to be renewed for 12 year from 16 November 2014, and no provision has been made in their licences to require a switchover to DVB-T2 on them, so that might mean 2026..

Multiplex A/SDN was renewed in 2010 for 12 years, so that would be .. 2022 unless Ofcom gets the powers, or SDN Ltd wishes to apply to change the transmission mode.

The BBC owns BBCB/B until 2022 also, but this is already DVB-T2, and the BBC owns Mux BBCA/1 in perpetuity, and this would be the last to switch to DVB-T2 due to the "universality" rules.

Briantist's 38,908 posts
Thursday, 19 January 2012

Briantist: The BBC have not yet applied to renew BBC B, it runs out in 2014. The renewal, if they take it up, will run to 2026.

Mux 1/BBC A will be 'until the Royal Charter is renewed', the next renewal is in 2017. I agree that it's likely to be the last to be replaced.

I'm also not sure about 'only HD carried in DVB-T2', implying that SD services would be excluded. Perhaps you meant 'HD only carried in DVB-T2', meaning HD wouldn't appear on a DVB-T multiplex, but SD could be carried on DVB-T2.

Charles Stuart: I would expect that if SD *was* carried on DVB-T2, it would be encoded with MPEG-4 AVC (aka H.264, MPEG-4 Part 10, ISO/IEC 14496-10) as HD is. That could reduce the data rate required substantially, compared to MPEG-2 Video as used for current SD services, but it all depends on content and the abilities of the decoder.

Currently the number of video streams per mux varies from seven (BBC A) to 11 (SDN) in approximately 24 Mbps. If layers 7 and 8 were deployed with the suggested mode capacity of 38 Mbps you could get 11 to 17 MPEG-2 SD video streams; with additional efficiency of AVC you might get 20 to 30. Layer 9 is expected to provide 35.8 Mbps providing 10-16 SD MPEG-2 streams.

HD has five times as many pixels as SD (comparing 1920x1080 to 720x576), the BBC usually run at 1440x1080 which is 3.75x. HD bitrate for video averages 8 Mbps - but the BBC think they can squash to 6-7 Mbps, allowing one more service - compared to about 3 for BBC One SD. So we should perhaps expect AVC to deliver similar results with around 40-50% of the bit rate of MPEG-2, for the same number of pixels.

Mike Dimmick's 2,486 posts
C
Charles Stuart
6:40 PM
Kettering

@ Mike Dimmick - you've given me the answer I was seeking. I'm just wondering that if all multiplexes were converted to DVB-T2, would anyone have any need for cable or satellite? I find the number of channels already available on Freeview more than I need. Other than BBC1, BBC2, ITV1, Channel 4 and Channel Five, the only channels that I watch with any regularity are BBC News, Sky News, BBC Parliament, RT, More 4, BBC HD, BBC Four and rarely Film 4 and BBC Three. I do also watch +1 services sometimes. I just wonder with what they'll fill all the space created by COMs 7, 8 & 9, plus possible conversion of existing multiplexes from DVB-T to DVB-T2.

Will there come a point where DVB-T3 is developed that makes DVB-T2 look wasteful of bandwidth? Will there then be a new conversion and another Digital Dividend Review?

Charles Stuart's 159 posts
Charles's:
map
C's Freeview map
terrain
C's terrain plot
waves
C's frequency data
C's Freeview Detailed Coverage
Friday, 20 January 2012

Mike Dimmick: Yes, the BBCB multiplex that carries the Freeview HD service may have to have a new legal arrangement if the BBC don't wish to take the "lead role" in owning it, like the "Digital 3&4" arrangement for Muxliplex 2.

I did actually mean that SD services would not be transmitted using DVB-T2, as I understand that the "consumer proposition" will require only HD services to be carried - the new switchover process, which will require everyone to get a new box (again) will need the "all HD" banner. This is my understanding from what I have been told.

Briantist's 38,908 posts

Briantist: Agreed, there has to be a substantial amount of voluntary take-up - just like the switch to digital - before there can be any mandatory switch-off plan. To get voluntary take-up there has to be a compelling reason to do so.

However, many surveys have indicated that people are more interested in greater choice than in better picture quality. There are some people vocally against reductions in quality to cram in more channels, but the majority would seem to prefer more choice. Perhaps a bit more of both is what's needed.

Mike Dimmick's 2,486 posts
C
Charles Stuart
10:19 PM
Kettering

"Perhaps a bit more of both is what's needed."

That's precisely what I'd support. If or when all multiplexes are converted to DVB-T2, I'd like each of the PSB providers to have three 1080p HD channels, with another six open to all comers. The remaining space should be given over to SD channels. My guess is that would be 18 HD channels and 55 SD channels, with no need for duplication of HD channels in SD form. In addition to nine multiplexes, there'd also be whichever local channels exist. I think that would be more channels than anyone could ever imagine using.

Charles Stuart's 159 posts
Charles's:
map
C's Freeview map
terrain
C's terrain plot
waves
C's frequency data
C's Freeview Detailed Coverage
Saturday, 21 January 2012

Mike Dimmick: I saw this DTG :: News :: Report: Standard Definition switch off looms in 'developed markets' the other day and I think the "general consensus" is that there will be a move to "all HD" over the coming decade.

There are huge numbers of "HD Ready" sets in the UK, and even with Sky+HD and Freeview HD, the vast majority are not connected to an HD service and even when they are the viewing for the HD channels (BBC One HD, ITV1 HD etc) is actually pitiful.

Briantist's 38,908 posts
Tuesday, 24 January 2012
C
Charles Stuart
10:24 PM
Kettering

Interesting that you say viewing for HD channels is pitiful. Since I got a Freeview HD box, I'd guess that 90% or more of my viewing has been of the four HD channels. I regret that Channel Five hasn't been able to take its slot because I'd love to see CSI in HD. I have no intention of getting Sky, Virgin or Freesat.

Charles Stuart's 159 posts
Charles's:
map
C's Freeview map
terrain
C's terrain plot
waves
C's frequency data
C's Freeview Detailed Coverage
Select more comments
Your comment please