Switchover starts in Norfolk

Brian Butterworth published on UK Free TV
This week sees the first stage of the digital television switchover for 387,500 homes in Norfolk.

From 6am Wednesday 9th November 2011, you must perform a "first time installation" retune (sometimes "Factory Reset" or "Shipping Condition") on your Freeview box or television set if you use the Tacolneston full service Freeview transmitter.

This is because the old low power "multiplex 1" BBC service (on C63) will be replaced by the high power BBCA multiplex on the old analogue BBC TWO frequency, C55.

On Wednesday 9th November 2011 if you use the Aldeburgh at 10am, Bramford at 6am, Burnham noon, Bury St Edmunds at 6am, Creake at 3pm, Gorleston on Sea at 6am, Great Yarmouth (new transmitter) noon, Kings Lynn at 9am, Linnet Valley at 6am, Little Walsingham at 6am, Lowestoft (new transmitter) at 8am, Norwich Central at 9am, Overstrand noon, Thetford at 6am, Wells next the Sea at 3pm or West Runton at 9am relay transmitters you will be able to receive the BBC Freeview services (with the exception of HD) for the first time, and you will no longer be able to view BBC TWO on analogue.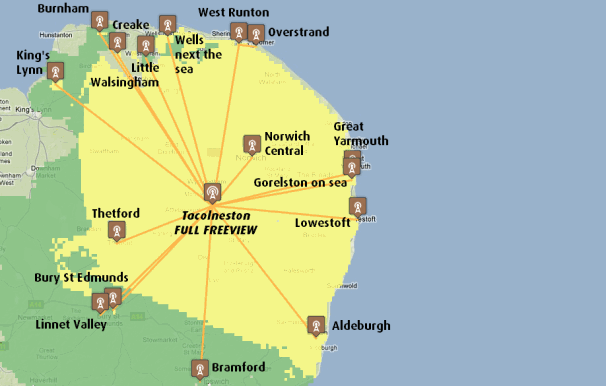 You MAY find that old equipment will no longer work - see TVs and boxes that do not support the 8k-mode

Another common problem at switchover is the ten-fold increase in signal from 10kW to 100kW will overload amplifiers and over-the-top aerial installations. If this is the case you will have to remove the booster or amplifier from the system, or perhaps fit an attenuator if you have no amplification. - see Freeview signals: too much of a good thing is bad for you.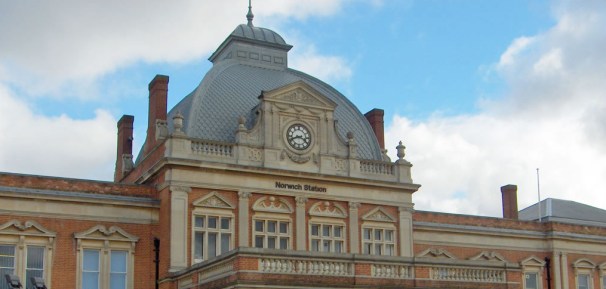 On Wednesday 23rd November 2011 will see the second stage of switchover, which provides the final Freeview configuration, including Freeview HD for all transmitters in this region.

On this date, you will need, once again, to do a "first time installation" as indicated above.

If you are over 75, you should already have been supplied new equipment by the Switchover Help Scheme.
Comments
Friday, 11 November 2011
D
Dick Sibley
2:36 PM
Norwich

Re Tacolneston transmitter; I've re-tuned and have all channels except freeview HD channels, is there anything obvious I'm missing. Should the HD be available now or later.

I have a brand new Samsung HD ready TV so don't think its a tuner problem.

Any thoughts or comments greatly received.

Dick Sibley's 1 post
Dick's:
map
D's Freeview map
terrain
D's terrain plot
waves
D's frequency data
D's Freeview Detailed Coverage

Dick,

The HD channels will not be available until stage two of the switch over which will be on the 23rd November at which time you will need to Factory reset your television.

Please note that your TV being HD ready will not necessarily mean that you receive the HD channels,your TV will need to have a DVB-T2 tuner in order for these to be received.

This can normally be checked in your instruction manual on the product specifications page.



Matt's 21 posts
Matt's:
map
M's Freeview map
terrain
M's terrain plot
waves
M's frequency data
M's Freeview Detailed Coverage
Saturday, 12 November 2011

Once the UK TV goes fully digital the broadcasters should assume everyone is widescreen and move the DOGs out to the sides.

Lee Donaghy's 14 posts
Sunday, 13 November 2011

ihave lostsome of the freeview channels since the change over on wedesday on the tacoleston transmiter iam at nr65pd .the freeview set up was working ok till then there are 5 tv working though a powered distrubution box ,3 of the set top boxes retuned ok but the others are missing some channels,i have checked the cable and connections and have tryed swappig around the set top boxes and tryed retuning the boxes

mike's 4 posts

mike: Could you be more specific about which channels are missing?

KMJ,Derby's 1,811 posts

iam missing channel 1 2 3 4 5 6 7 mainly , i went to local tv supplier and was told that i should get bbc1 a 2 as they should be operating at 88 percent power now

mike's 4 posts

mike: The change that took place on 9th November 2011 saw the BBC channels change frequency to C55- and commence transmission at high power. There should not have been any change to Mux2 which carries 3, 4, 5 and 6. If you didn't clear the channel list before re-tuning, the BBC channels (now in 8k mode) would be seen as new channels and therefore should have been stored elsewhere in the channel list, usually in the 800s. Try doing a manual tune on C55 and C60 after first clearing the channel list by doing a factory reset. If the BBC channels are not found either the receiver does not support the 8k mode, the signal could be too strong (only likely to be a problem if you have an amplifier on the aerial) or your receiver is one which does not like a mix of 2k and 8k mode signals. If the channels 1 to 7 are then present and correct add the frequencies for the other muxes to restore the remaining channels, leaving out MuxB if you do not subscribe to Sky Sports.

KMJ,Derby's 1,811 posts

done afactory reset on one box and has sorted it one more box to sort out tomorow
many thanks .

mike's 4 posts

Hi,

Im in Hilgay near Downham Market (On the Sandy Heath Transmitter) on 13th November ALL stations have gone down,every single one is freezing,cuting out with "no signal" every few seconds,its totaly unwatchable,its the same with all TV's in the house????

Its been fine for ages untill today?

Were getting a pop up on the screen saying "If you lose stations after the 23rd of November please retune" but we have lost all of our stations on the 13th. lol

Just renewed our TV liecense aswell and we cant even watch bloody telly! =(

Chuck_Norris's 4 posts
Monday, 14 November 2011

Chuck, have you read the notes above re excess signal (do you use an aerial amplifier?) and some boxes not accepting the 8k mode?

Have you tried to tune in manually?

What has happened to your neighbours' reception?

I'm sure Briam will have further thoughts far better than mine.



Richard Baguley's 85 posts
Select more comments
Your comment please