Channel Islands retune to get ITV2 and ITV3, 29th February

Brian Butterworth published on UK Free TV
Viewers in the Channel Islands (see BBC Channel Islands map ) will need to do a "first time retune" on their Freeview boxes from 6am on 29th February 2012.

This is to allow for some changes of frequencies, and for the introduction of two missing channels, ITV2 and ITV3 to the islands.




I have updated UK Free TV to show the correct channel listings for the transmitters in the Channel Islands: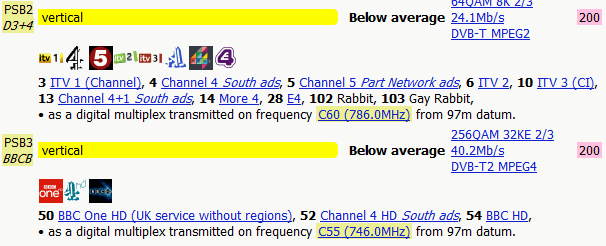 Comments
Wednesday, 29 February 2012

Is it possible to give us the details?above.
For example,i don't understand why viewers on the Channel islands will now be able to receive ITV 3,as this is broadcast on the SDN mux!

Aerialman's 140 posts

I bet that this must have required some intense negotiations with France over frequency planning!

Josh's 97 posts

my mother who lives in west mersea essex used to get yesterday channel before switchover. we tried to re-tune yesterday to get it but couldn't, we also lost loads of channels she could get before on main tv but on her other television in the bedroom (same aerial) she still gets all she used to except yesterday. I understood power was increased on switchover so cannot understand loss of channels?

mike knapp's 1 post

mike knapp: If your mother is receiving her TV from Sudbury, then Arq B ("Arqiva B") multiplex is on low power until 27th June. Many many people have reported issues with picking it up via this website.

For a list of channels on Arq B, see here:

Freeview multiplexes | ukfree.tv - independent free digital TV advice

Dave Lindsay's 5,724 posts

Aerialman : As (now) shown above, multiplex PSB2 in the Channel Islands doesn't have ITV1+1, so this "slot" now carries ITV3.

Briantist's 38,899 posts

Josh: Not really, the 4G clearance is a Europe-wide project.

Briantist's 38,899 posts

Briantist,this seems a very sensible measure,could this not be applied to other Tx's,such as eg Long Mountain,Skriag(which are also main Tx's)
You are giving the viewer more choice!
Particularly,where COM channels cannot be received from a more distant Tx.



Aerialman's 140 posts

Aerialman : No, it can't, in the rest of the UK the multiplex has ITV+1 (or STV+1) and this has to be on the PSB2 multiplex as it requires the regional configuration.

There's details of this on the Freeview retune - poor public service transmitters deal | ukfree.tv - independent free digital TV advice page.

Remember that the Freeview Light transmitters take an off-air feed from the main transmitter for the three multiplexes.

Long Mountain and Skriaig (Skye) are no longer a "main transmitter" in any meaningful sense as the commercial operators don't wish to transmit from them.

Briantist's 38,899 posts

Briantist;can you explain further why ITV+1/STV+1 has to be on PSB2,and the channels relationship with regional configuration?

Aerialman's 140 posts

Aerialman: To cut down on equipment costs, only those multiplexes which need different variants have them.

Mux 1 before switchover, or BBC A after, has these variants, due to BBC One's regional services:

Scotland
Northern Ireland
North East and Cumbria
North West
Yorkshire (Leeds)
Yorkshire & Lincolnshire (Hull)
Wales
West Midlands
East Midlands
South (Oxford opt-out)
South (rest of region)
East (Cambridge opt-out)
East (rest of region)
South West
West
London
South East

Mux 2/D3&4 has these versions, matching ITV1 micro-regions:

STV North
STV Central
Border
Tyne Tees
Ulster
Granada
Yorkshire West (Emley Moor)
Yorkshire East (Belmont)
Wales
Central West
Central East
Central South
Anglia West
Anglia East
Westcountry
West
Meridian Thames Valley
Meridian South Coast
London
Meridian South East

C4 and C5 also have advertising regions, but their borders are based on ITV's regions.

Multiplex A/SDN/COM4 has only two variants: Wales and Not Wales. The Wales variant exists to carry E4, which is displaced from PSB2 in Wales to carry S4C.

Pre-DSO Mux B has only one variant. Post-DSO BBC B has several variants to allow S4C Clirlun to be carried in Wales, STV HD in Scotland, and ITV1 HD macro-regions in England and Wales. UTV are supposed to be launching UTV HD in October.

A multiplex is constructed usually by one statistical multiplexing device per variant, which communicates with one encoder per service to be multiplexed. The encoder feeds the compressed pictures to the multiplexer, with an indication of the difficulty of compression. The multiplexer feeds back the bitrate that the encoder must limit the output to, based on how hard each encoder says it's working. That makes a lot of expensive hardware (real-time compression is difficult) which has to be duplicated for each variant. Each encoder has to be fed from the same playout equipment as well, at a data rate usually of 155 Mbps - more for HD. I believe all the multiplexing is now done centrally, so that the national channels don't have to distribute their content all over the place, and also because satellite uplink has to be done from the same place.

So, ITV plc (which owns SDN) doesn't want to add any more variants of SDN if it can help it. Arqiva are likely to flat-out refuse to carry additional variants of Mux C/ArqA or Mux D/ArqB.

In practice this means any service that carries regionalised content has to go on Mux 1, 2 or (after switchover) B. Mux 1 is dedicated to the BBC and getting any additional channels on there is unlikely. Mux B is licensed to the BBC, but Ofcom are required to dedicate some of the capacity to the other PSBs for HD services, and there's no slack. That leaves Mux 2.

Each multiplex transmitted from a transmitter is required to cross-carry all the tuning and EPG data from all the other multiplexes. This is an interesting problem if the encoded multiplexes only have a few variants. Instead of requiring 18 or so variants of each multiplex, instead the Service Information data is gathered together centrally, then distributed to Service Insertion Points for Service Information [SIPSI] - 26 of the main transmitters, plus a couple of locations where the BBC region is different from the ITV one (Kendal, and from next month, Whitehawk Hill). At the SIPSI, the SI data is combined with each multiplex for that region, then the modified multiplex is sent to the transmitter and any sister transmitters from the same region. (For example, for Anglia East/BBC East [not Cambridge], the SIPSI is Tacolneston, which feeds Sudbury.).

Mike Dimmick's 2,486 posts
Select more comments
Your comment please