Switchover starts in Hampshire, West Sussex coast plus Brighton and Hove

Brian Butterworth published on UK Free TV
This week sees the first stage of the digital television switchover for 721,393 homes in Hampshire and West Sussex plus the 118,500 homes in the city of Brighton and Hove.

From 6am Wednesday 7th March 2012, you must perform a "first time installation" retune (sometimes "Factory Reset" or "Shipping Condition") on your Freeview box or television set if you use the Rowridge, Salisbury or Whitehawk Hill full service Freeview transmitter.

This is because the old low power "multiplex 1" BBC service will be replaced by the high power BBCA multiplex on the old analogue BBC TWO frequency:


Rowridge (starts midnight, ends by 6am) - BBC TWO analogue closes on C24, Mux 1 closes on C34, BBCA starts on C24.
Salisbury (starts midnight, ends by 6am) - BBC TWO analogue closes on C63, ITV 1 analogue moves to C60 from C53, Mux 1 closes on C55, BBCA starts on C57.
Whitehawk Hill (starts midnight, ends by 6am) - BBC TWO analogue C60 closes. ITV 1 analogue swaps to C63 from C60. Multiplex BBCA starts on C60. Multiplex 1 C66 closes. Mux A moves from C55 to C66.
On Wednesday 7th March 2012 if you use the
Bevendean
(noon),
Bovington
(noon),
Brading
(noon),
Brighstone
(noon), Brighton (Central) (noon),
Canford Heath
(2pm),
Cheselbourne
(noon),
Coldean
(3pm),
Corfe Castle
(9am),
Donhead
(6am),
Findon
(9am),
Hangleton
(noon),
Horndean
(9am),
Luccombe
(9am),
Lulworth
(noon),
Luscombe Valley
(9am),
Millbrook
(noon),
Ovingdean
(3pm),
Patcham
(9am),
Piddletrenthide
(3pm), Poole (6am),
Portslade
(9am),
Poulner
(11am),
Saltdean
(9am),
Shrewton
(9am),
Singleton
(6am),
Sutton Row
(9am),
Till Valley
(noon),
Ventnor
(9am),
Westbourne
(noon),
Winterbourne Steepleton
(9am), Winterbourne Stickland (9am)
relay
transmitters you will be able to receive the BBC Freeview
services
(with the exception of HD) for the first time, and you will no longer be able to view BBC TWO on analogue.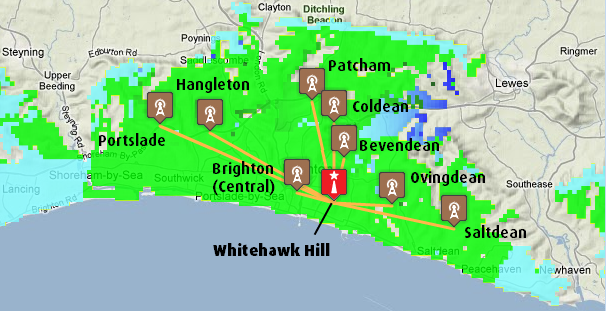 Remember, this is the last two weeks viewers in Brighton and Hove will be part of the BBC "South Today"
region
, as the transmitter will now move to the BBC "South East Today" region (as they are already on
Sky
and
Freesat
) - see
Brighton transmitters will be in BBC South East from March 2012
.
You MAY find that old equipment will no longer work - see
TVs and boxes that do not support the 8k-mode
Another common problem at switchover is the increase in
signal
will overload amplifiers and over-the-top
aerial
installations. If this is the case you will have to remove the
booster
or
amplifier
from the system, or perhaps fit an attenuator if you have no amplification. - see
Freeview signals: too much of a good thing is bad for you
.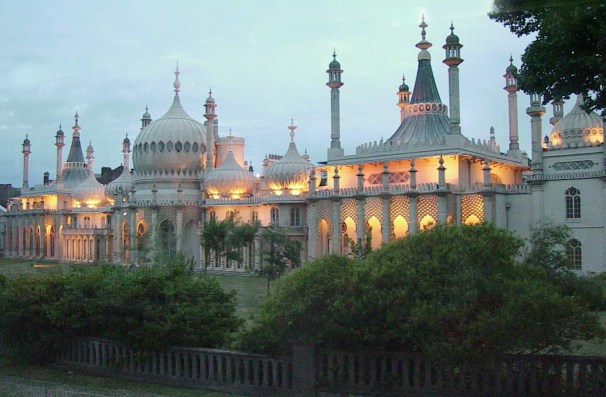 On
Wednesday 21th March 2012
will see the second stage of switchover, which provides the final Freeview configuration, including
Freeview HD
for all transmitters in this region.
On this date, you will need, once again, to do a "first time installation" as indicated above.
If you are over 75, you should already have been supplied new equipment by the
Switchover Help Scheme
.
Comments
Monday, 26 March 2012

I live in the Southwater (just south of Horsham) and have noticed that ITV and a whole host of other channels disappear quite regularly while the BBC and others are fine.
I have my same TV aerial and wondered what the solution is. My aerial points at the Midhurst transmitter.

john ogrady's 1 post
john's:
map
J's Freeview map
terrain
J's terrain plot
waves
J's frequency data
J's Freeview Detailed Coverage
F
Frazer Palmer
6:39 PM
Worthing

Does anyone know if the Whitehawk Hill Brighton transmitter is broadcasting Freeview HD channels?

Frazer Palmer's 4 posts
Frazer's:
map
F's Freeview map
terrain
F's terrain plot
waves
F's frequency data
F's Freeview Detailed Coverage

Frazer Palmer: According to the info I see they should presently be doing on mux Ch51.

jb38's 7,179 posts

Frazer Palmer: Just in addition to that said, if you are using auto-tune you "might" pick up either Rowridge (Ch21) or even more so the more local Findon (Ch47) at 3 miles away, as both these are indicated as having the edge on Whitehawk Hill for reception, and if you do then manually tuning in of the channel required is the only way around the problem.
(Ch47 at)

jb38's 7,179 posts
Friday, 30 March 2012

I am in Hove, on the Rowbridge transmitter. I cannot receive BBc1 and 2 at all or they break up on one digital TV, but the other two tvs are fine. Any ideas would be appreciated.

ks2's 4 posts
M
Mark Fletcher
9:46 PM
Halifax

Fraser Palmer,Worthing.
Yes the Whitehawk major relay is broadcasting Freeview HD channels on multiplex BBCB (HD) frequency 51,vertically polarised since Wednesday 21 March 2012.

Mark Fletcher's 673 posts
Mark's:
map
M's Freeview map
terrain
M's terrain plot
waves
M's frequency data
M's Freeview Detailed Coverage
Monday, 9 April 2012
Monday, 17 November 2014

We live in the Adur district area (west Sussex) since the recent change over we can only now receive the regional BBC news for South East England which most of its content is relating to Kent, can you advise me if there is a Freeview channel number I can manually tune on my TV to receive BBC south? ......and why is it that the BBC think people in this part of southern England want to watch regional news that has no real relevance to us????

Larry & Pauline

larry's 2 posts

larry : If you are receiving from Whitehawk Hill (adjacent to Brighton Racecourse) then its BBC region changed to South East and the editorial region was adjusted accordingly.

Depending on your location you may be able to receive BBC One South from Rowridge on UHF channel 24, this being in roughly the opposite direction to where your aerial faces (assuming it points to Whitehawk).

Dave Lindsay's 5,724 posts
Select more comments
Your comment please